Reclining chairs not only feel good but are incredibly beneficial for your physical and mental health. They are multi-purpose chairs that can be used for reading a novel or watching your favorite team playing football. Recliners release stress because the back is rested and your body is in the perfect position to relax. Furthermore, they are ideal for people who have swollen feet. It improves blood circulation to the feet with just a single touch of a button.
Recliners have earned a high reputation over the years because these are perfect for individuals who face challenges in their daily life. Today, we are going to discuss a signature design by Ashley Yandel. A durable piece of furniture that can solve all the problems. It is one of the best in the market with an excellent price tag.
This is an attractive power lift recliner that takes off pressure from the bones and joints. It covers everything, from design to comfort. It won't disappoint even after using it for several years and is super reliable. A detailed review along with some incredible features are discussed below.
Ashley Yandel Power Lift Recliner Features Review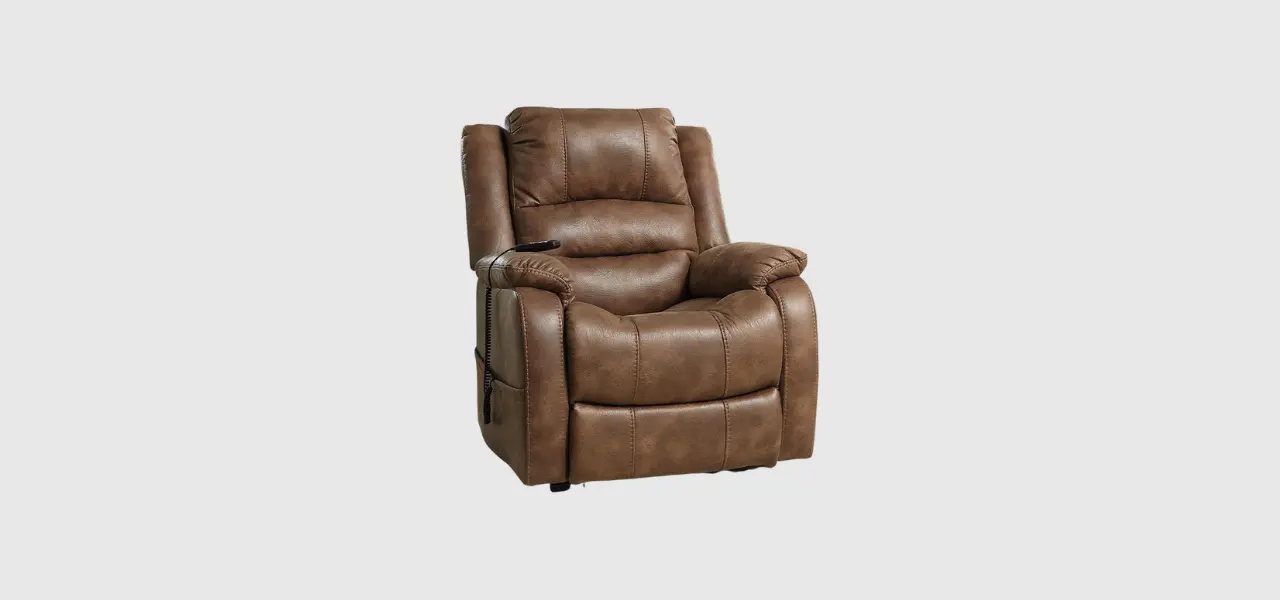 Yandel Power Lift Recliner Specifications Overview
Overall Product Dimensions: 35" x 40" x 42.5"
Seat Height: 20"
Seat Width: 19"
Seat Depth: 21"
Reclined Footrest Height: 19.5"
69" when Fully Reclined
Chair Weight: 121 pounds
Maximum User Weight: 300 pounds
You can also read about How to Fix a Power Recliner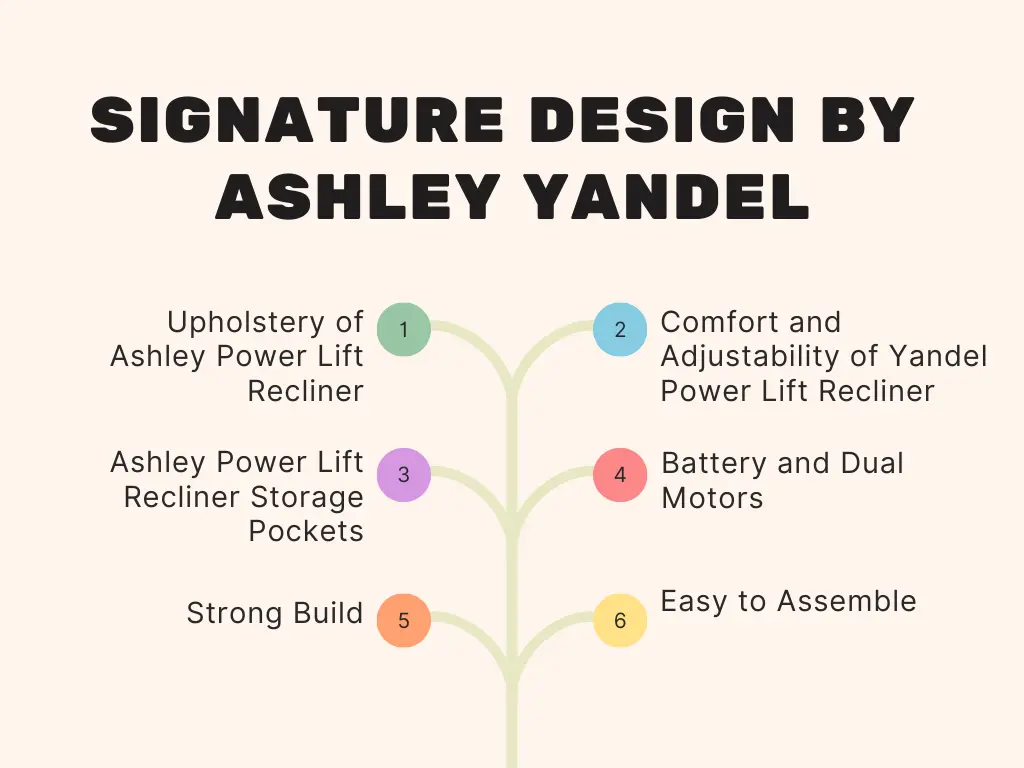 Upholstery of Ashley Power Lift Recliner
It is a handsome piece of furniture and has faux leather covering. The leather covers are durable and do not tear off even if used daily. It does not fade out with time and has incredible strength. The leather makes them look very luxurious, blending nicely with other furniture placed around the room. This even feels soft and does not irritate the skin.
Comfort and Adjustability of Yandel Power Lift Recliner
This chair is highly adjustable and can help customize your positions according to your comfort level. This is an excellent design manufactured with the latest technology. It can solve all your mobility issues adding to the aesthetics of your house. The natural saddle or black color is very attractive and allows reclining motion.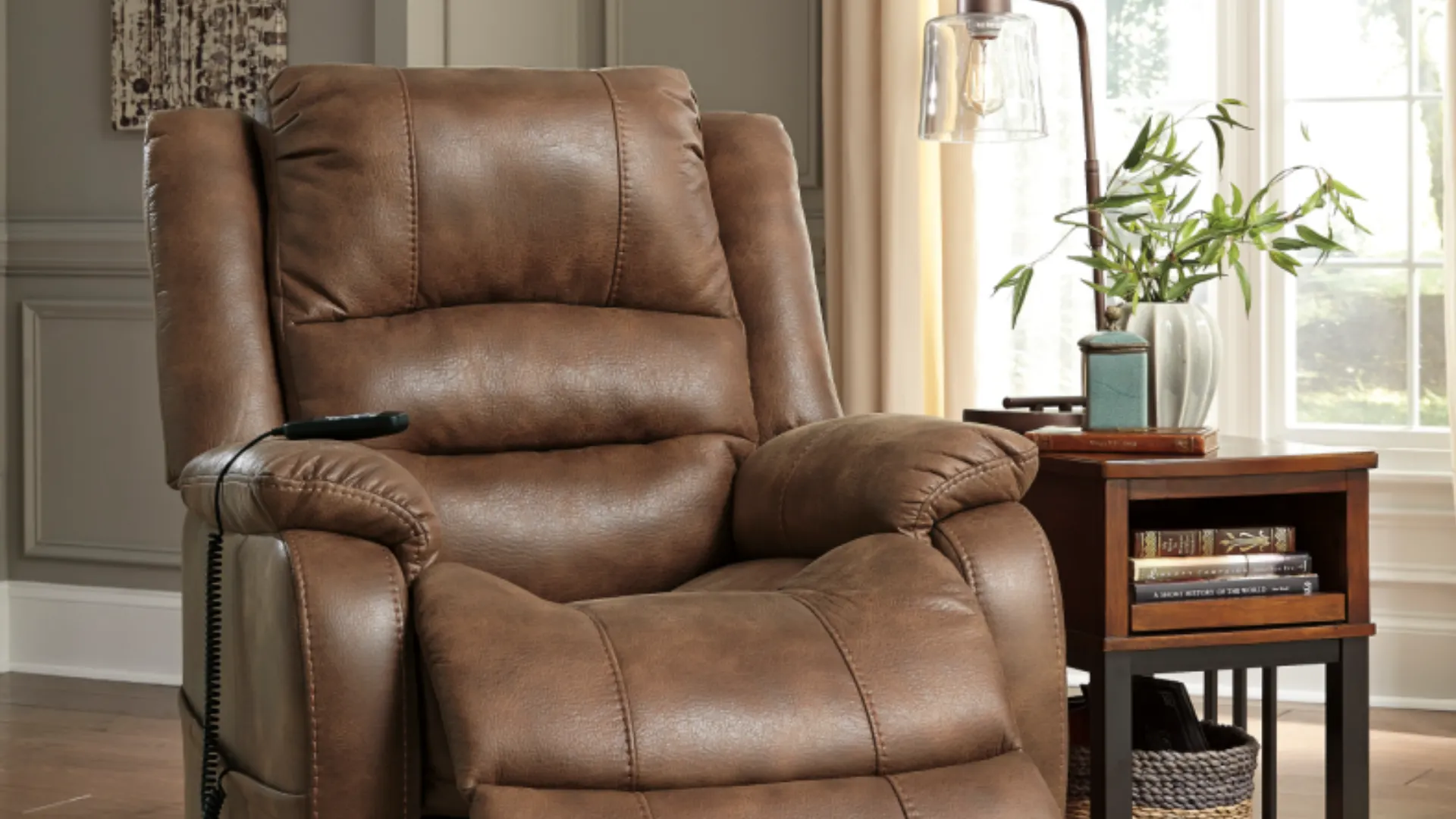 It is an oversized chair with a high backrest. The lower back area gets some extra support from those soft cushions, making it ideal for disabled or older people with back problems. The seat pan has a decent size and is profound and can easily accommodate a person weighing up to 350 pounds.
The footrest and the chair's back have a tilt-lock function and can overall lift the body posture. A remote is attached to the chair, allowing multiple seating arrangements, making your comfort the topmost priority. A short power nap can be taken by fully laying the backrest. It also helps you stretch and relax on the soft padded cushions.
If you are looking for more options by Ashley, Check: Best Ashley Recliners
Ashley Power Lift Recliner Storage Pockets
Both the sides of the chairs have pockets that can be used to store the stuff you like keeping nearby. These are well-sized compartments and can be of great use. All the essentials can be placed in these so you can enjoy some me-time without getting out of the chair to grab stuff.
Battery and Dual Motors
The Ashley Yandel chair is compatible with a nine-volt battery. It is a fantastic feature that can be used when you run out of power. It is a great backup system that helps you enjoy the reclining chair even if there is no electricity. This is an incredible feature uncommon in most reclining chairs.
Moreover, this chair has dual motors. The backrest and the footrest can function separately. All can be controlled independently by sitting straight with the feet hanging down or lying back with feet in an elevated position. It is a perfect chair for catching up on some thriller on a Sunday afternoon.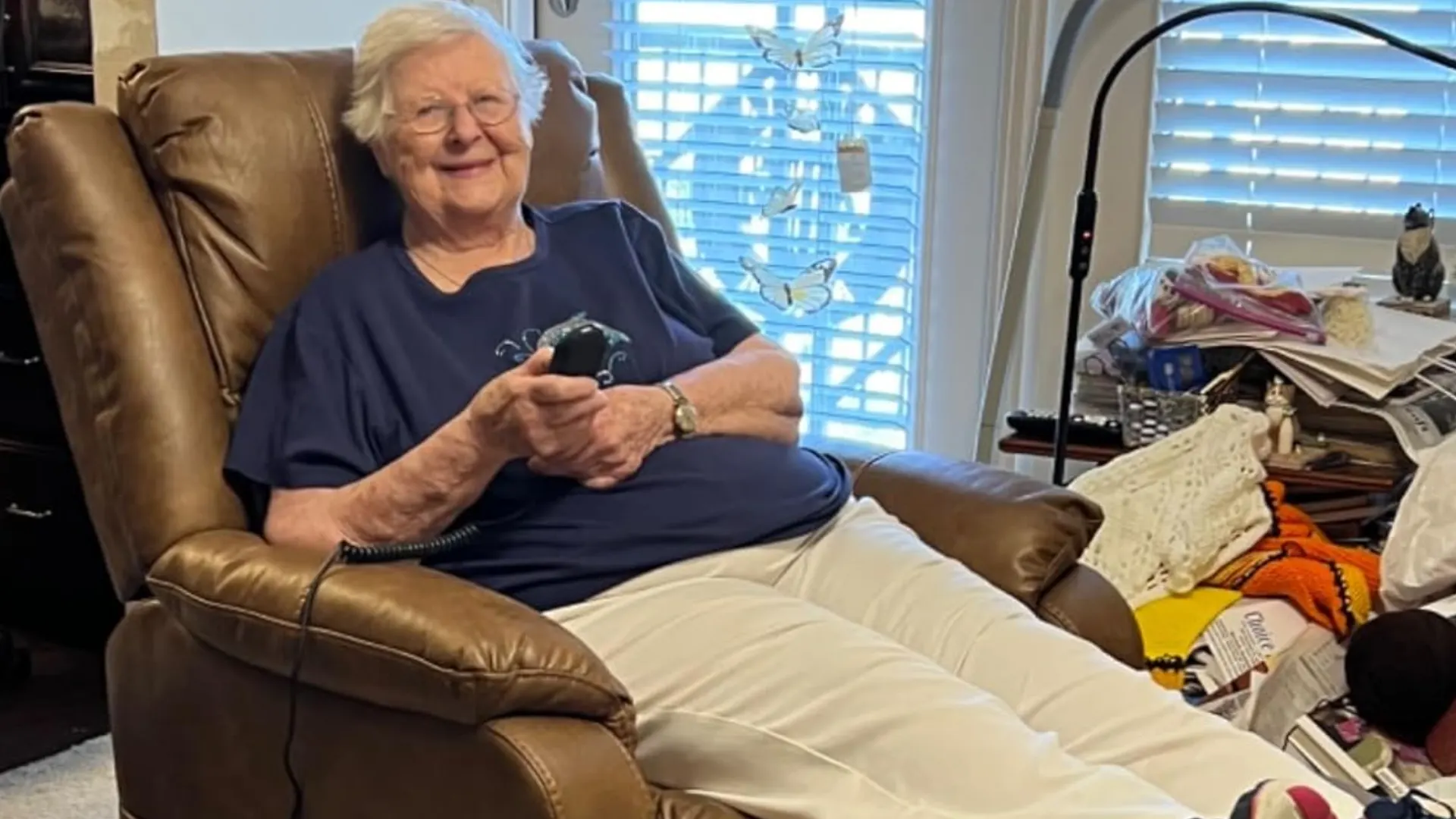 Strong Build
It is manufactured with long-lasting materials that can serve and provide many years of comfort. The leather does not peel or wear off and absorbs weird smells that develop with use over time. It keeps the chair soft and molds into your body. The Ashley Yandel chair comprises wooden planks and blocked frames that are intact throughout. These can bear the heaviest weights and do not become flimsy.
Easy to Assemble
This chair has a straightforward assembly and hardly takes an hour at the most. All the necessary tools, along with the hardware, are present in the box. It is mainly pre-assembled by the manufacturers; you need to set up the batteries, remote, and screw legs to the base. Hence it is an energy-saving and hassle-free process allowing you to hop onto the chair as soon as you plug the cable in the wall.
Pros
The chair is very affordable, keeping in mind the features
It has slow reclining movements ideal for aged people.
The dual motors help customize positions
Hassle-free assembling process
Provides extraordinary comfort in all positions
Cons
The leather material is not breathable enough.
No heating system in the back
It can be sweaty in the summers
Not suitable for long hours sitting
It is not water-resistant
---
Frequently Asked Questions
Why is My Recliner Uncomfortable?
The recliners get uncomfortable after excessive use. This is because the padding on the chair starts losing its shape and deforms. It will eventually sink you into the chair, causing back and neck pains.
How Does A Power Lift Recliner Work?
Power recliners are very simple to use. These have motors that function the back and footrest. So when you recline the back, the feet are elevated. Similarly, when the back is kept straight, the feet automatically go down.
How Long Do Recliners Last?
Recliners can last up to 10 years even if used regularly. The life of the recliners also depends upon the materials used in the manufacturing process. Strong built and high-quality material last longer and keep the recliner in shape as well.
Are Lift Chairs Bad for Elderly?
No, lift chairs are not bad for older people. They are rather good with extraordinary health benefits. These chairs improve mobility while operating with a remote. Even if living alone, these can be of great help.
Does Sleeping in a Recliner Help With Sciatica?
Reclining chairs are far better than the standard chairs. They provide support to the back and keep you comfortable. The different position angles can alleviate many symptoms of sciatica. These have several medical benefits and are recommended by doctors as well.
You can also read about Best Office Chairs For Sciatica Pain
Final Thoughts about Yandel Power Lift Recliner
Reclining chairs mostly fit perfectly and can easily replace your couches. These can make you independent by providing numerous sitting positions and have multiple health benefits. These come with ingenious accessories that can provide comfort and do not allow you to budge. Ashley Yandel Power Lift Chair is one of these. It possesses some incredible features that solve all the troubles from getting up from a seat.
Overall, this is the most comfortable chair that can assist you. The design, style, and features make this stand out, and that too with an affordable price tag. It is a fabulous chair that can work best for people with mobility issues. The Ashley Yandel Power Lift Reclining Chair can get you rid of back pain and muscle stiffness as well. It is best to keep you and your loved ones safe and comfortable.

I'm a furniture and interior enthusiast, I have done Bachelor Degree in Interior Design from Istituto Europeo di Design Barcelona back in 2019, I write about recliners, chairs and all kind of furniture equipment to help ComfySittings readers have the best ones out of the market.