Are you a gamer who is very much interested in gaming and wants to spend most of their time in front of a desktop or PC? But it is a little difficult to select the right chair for use while playing games or spending long hours on the internet.
There are various gamer chairs available online and in stores that will provide you best back support and amazing comfort. But in this article, I will tell you about an amazing gaming chair from the Respawn store, which is not only easy on your wallet but also perfect for your body.
If you want to buy a gaming chair for yourself, respawn 110 gaming chair is an amazing product that you can purchase. In this article, I will explain to you all the features of this astonishing chair in detail. I hope you will find this article helpful as well.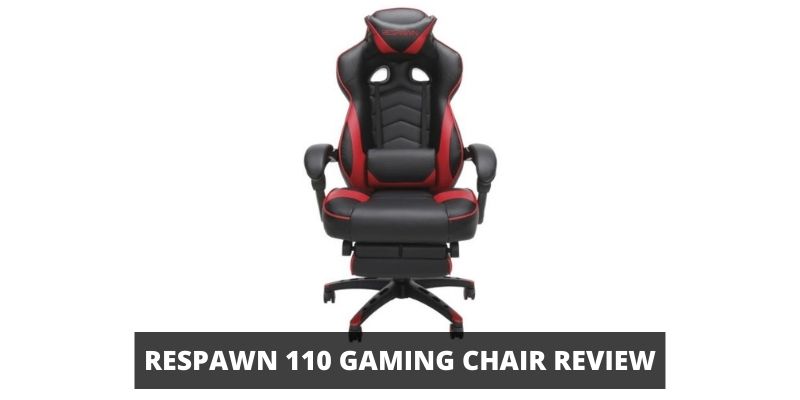 RESPAWN 110 Gaming Chair Reviewed
When it comes to gaming, it is essential to understand that you will need to buy a gaming chair to play comfortably with a good amount of support to your back. It will also be perfect for maintaining your posture and managing your health and wellness as well.
Also Check Best Gaming Chairs Under $150
Made For Comfort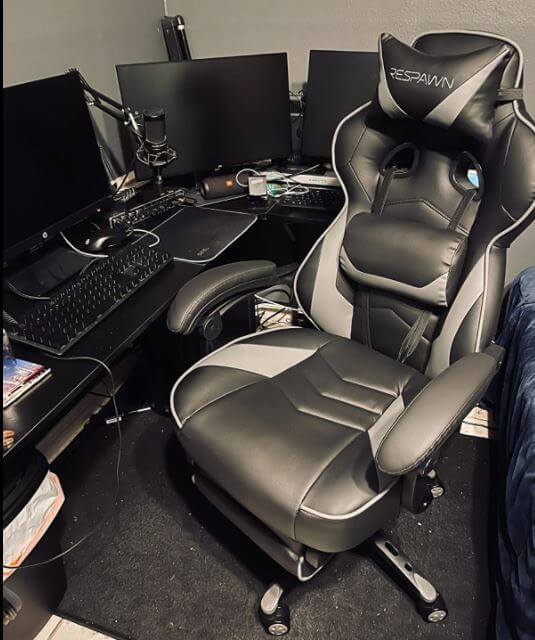 It is an amazingly beautiful chair with bonded leather which provides it killer looks as it is black in color. This extremely dashing and beautiful chair has ergonomic comfort because it comes with a segmented padded design. These pads are present on the back of the chair, which will provide you extreme comfort whether you simply want to lie on the chair while enjoying movies or spending office hours working on that chair. Its unique quantity and quality of back support will provide you next level of comfort.
The seating present on this chair is gamified seating as it provides an extreme luxury feeling and sets up the perfect mood for intense gaming sessions. You will no doubt perform better in games after using this amazing gaming chair for yourself. The style on which this gaming car is based is racecar-style. You can spend your long and lazy weekends while being on this chair and have some amazing time.
You may also be interested to read about: Best Gaming Chairs for PS4 Players 
Footrests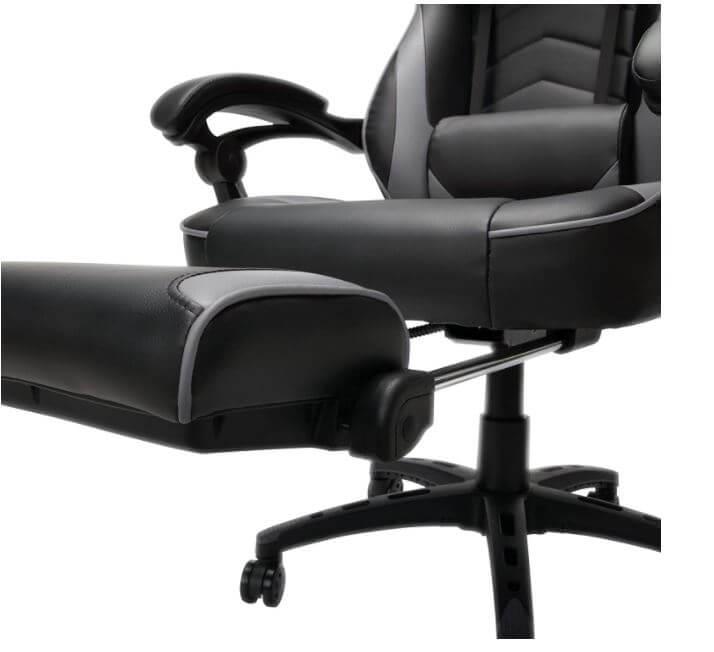 Apart from perfect comfort, this chair also provides an extendable footrest for your feet so that you can spend long hours sitting on this chair easily. With its adjustable lumbar pillow support and the comfortable and super supportive padded armrest, it gives you an overall amazing comfort. It has 4 adjust abilities, and you can do it by raising or lowering the chair until your comfortable positioning spot.
Reclining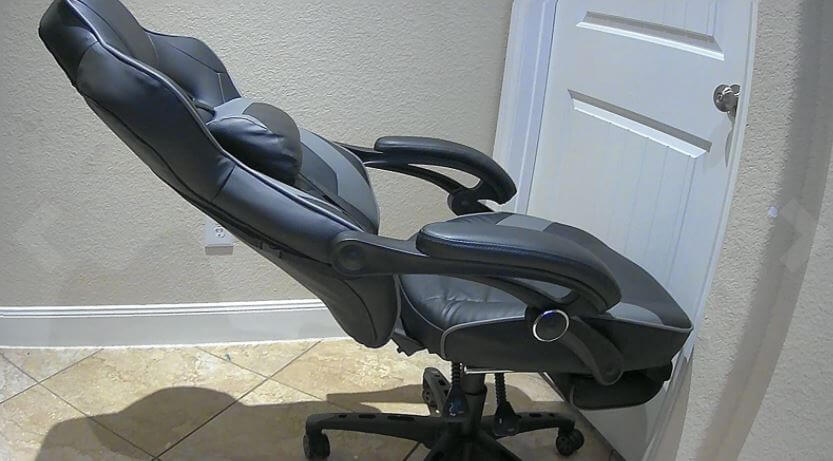 This chair also has an amazing reclining capacity which lies between 90-155 degrees while providing you an amazing range of moving back and playing games comfortably to your heart's content. It has 360 degrees of full rotation and movement, which helps in dynamic rotation. The arm width of this luxury chair includes an arms width of 21-26.75 inches, whereas the height is 27 inches.
Also have a look at: Best Massage Gaming Chairs
Wheels
The wheels of this chair are super smooth as well; they provide good motion and will never provide you any kind of hindrance. But when we consider the size of this gigantic chair, a larger wheel would have made all of the movements very easy and more smooth.
RESPAWN gaming chair maintains its long-term professional use. It is a multi-purpose chair which can be used in the office as an office chair while playing games as a gaming chair and for watching movies it also acts as the best kind of movie chair so you can get all of the benefits in this one mesmerizing chair. It comes in different contrasting colors, which you can select according to your own choice.
Size And Dimensions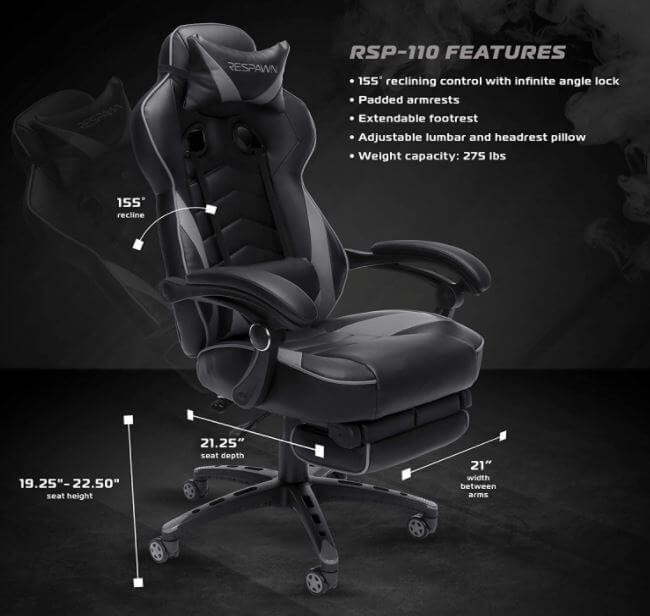 This product is made up of faux leather and weighs around 46lbs. The dimensions of this product are 28.5 x 28 x 51.5 inches. The material is good and resistant to damage. But due to compact structure, the seatback cushions are not breathable, due to which you can have sweating issues during summer times. But apart from that, this chair will come up to all of your desires and demands.
Autofull Gaming Chair offers 330 lbs of support while Killabee Big and Tall 825 comes with a 400 pound weight limit, making them much better options for those who need the extra help.
Finally there's Respawn 110 which isn't tiny either at just under 300 pounds but still packs enough power to meet your gaming demands!
Pros
Multi-purpose
Gamified seating
Extra cushioning on the backside
Easy adjustability
Infinite locking positions
Good looks and professional
Cons
Not breathable
Screws are needed to be tight again after few weeks
The sitting cushion becomes flat quickly
As every product has its pros and cons, similarly this product has its own, apart from few defects that occur in every chair after a span of time. Although this chair is amazing and is made perfectly for use yet, some areas need improvement when it comes to this chair.
As this is a gaming chair, it needs to be more breathable, which it is not. Apart from this, the lower cushioning seats become flat in most cases, which is a major issue for gaming chairs, as you expect them to be super comfortable and easy-going.
Except for a few improvements required in this gaming chair, this is an award-nominated brand that produced exclusive and amazing chairs for its customers. This chair comes with a limited-time warranty which covers every type of defect or default that occurs in this gaming chair within that time. They have an amazing rapid service of delivery and repairing issues, so that will not be an issue if you ever face any problem regarding this chair.
Looking for some affordable gaming chair, Have a look at Best Cheap Gaming Chairs Under $50
---
Respawn 110 vs. Respawn 200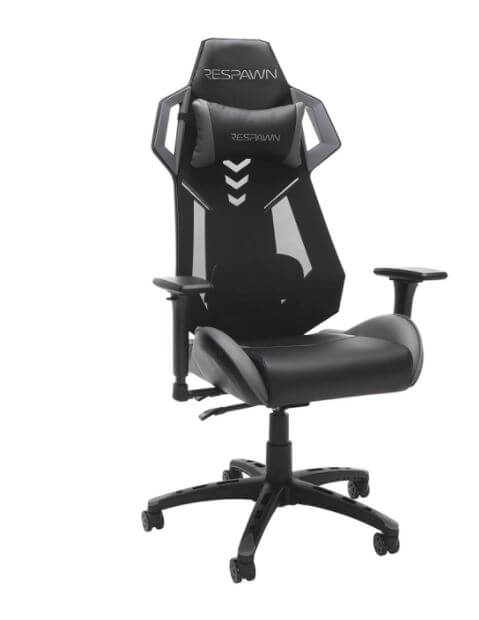 The Respawn 200 is a sleek, slimline chair that takes design cues from its bigger sibling to deliver comfort as well. The large padded seat and backrest make it feel like you're sitting in luxury while the diamond shaped arm rests give this recliner an edgy look for those who want their workout experience go be noticed by others
Mentioning specific qualities of each product isn't necessary when discussing innovations within one company because they all share these same traits
The big difference between 110 and 200 is the way they provide comfort.
The Respawn 200 has an integrated lumbar support system that will infinitely improve your posture and comfort. Rather than providing a padded cushion, it's built into the backrest so you can enjoy proper positioning without any fuss or bother!
The breathable mesh design is what the boldest of these three chairs have to offer. If you're looking for a way to keep your cool during gaming sessions, this could be an excellent option.
Respawn 110 vs. Respawn 100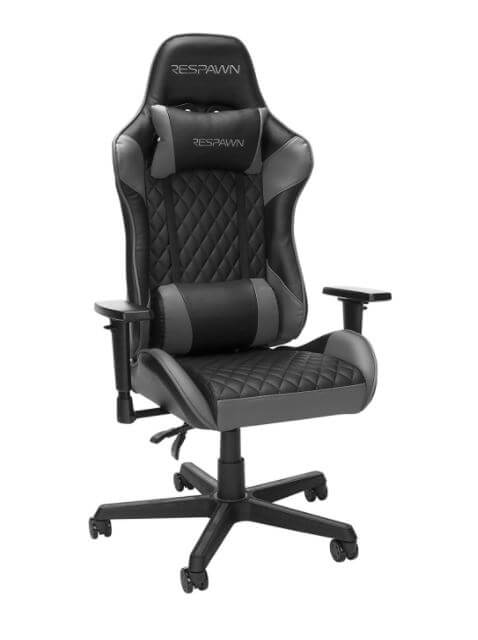 The first difference you will notice is that the Respawn 100 doesn't come with a foot rest. For some people this might be an important feature, but for others it may not matter as much and they could still get by without one just fine.
The Respawn 110 is equipped with an extra long, 150-degree backrest recline compared to the 100's regular 130 degrees.
The 110 is a good fit for casual gamers who want to use it for both gaming and watching TV. The 100's comfortable design makes it perfect choice of more serious gamers looking to get hands on their favorite games.
Frequently Asked Questions (FAQs)
Are Respawn gaming chairs comfortable?
When coming to the level of comfort in any chair, I usually look for its back and lumbar area support. Respawn has a decent and good quality chair which I certainly like, and most of all, it has an amazing back cushioning which feels perfect for my back as I can sit for long hours while playing games or enjoying movies. Hence it is a perfect chair to opt for.
Do Gaming chairs actually do anything?
Yes, they actually do a lot to your health. From maintaining your sitting posture and position to supporting your health and wellness, it is perfect. When you sit in a gaming chair, you will automatically feel that your back will be more calm and relaxed, and your spine and neck cures will be more supported by the cushions on the back of the gaming chair. Apart from all that, it is an excellent product that will boost your vitality and maintain your good posture.
Are Respawn chairs good for your back?
There are various good-quality gaming chairs that you can get for gaming and that are easy on your pocket. When it comes to Respawn, they also make good and decent quality gaming chairs that will provide you the ultimate support and prevent the occurrence of back and neck pains due to excessive playing. These chairs are super comfortable and easy to use as well.
Does Walmart have gaming chairs in stock?
Yes! Walmart is an amazing place where you can get different kinds of furniture and a variety of items at very reliable rates. You can get normal chairs, top-best gaming chairs, and pro-gamer chairs all under one roof. These chairs are of different brands and different price ranges so that you could select according to your own choice.
What is the best gaming chair to buy?
Various companies make amazing gaming chairs; apart from Respawn, other brands with amazing and good quality gaming chairs include Secretlab titan and omega, Logitech G, Neuechair, and Noble chairs hero. They manufacture amazing and best quality chairs that will provide your back amazing support and will provide you an amazing experience of playing games. Each of them has its own specific qualities. Therefore they are special in their own way.
Conclusion
Overall after giving you a detailed review of this chair, I would certainly like to say that it is a pretty decent chair and is good in size, which will provide you an amazing experience. It is one of the coolest chairs that you can get at this price range in the market. If you were looking for this astonishing gaming chair, then I am pleased that you came to this article and have learned about many astonishing features of this gaming chair. I hope this article will certainly help you regarding your decision to buy this chair.

Hi, I'm Françoise and I am a gaming freak. I have multiple gaming machines and spend almost 10-12 hours playing different online games. I got my first gaming PC on my 15th birthday and since then I have used multiple gaming chairs to enjoy the maximum possible comfort.
Unfortunately, I suffered a lot with low quality chairs and that is where I decided to jot down my expertise to facilitate millions of gamers around the world. So I collaborated with Mr. Danny Williams and Solomon Wilson MD. and joined their team on ComfySittings.