In search of a cheaper yet highly efficient gaming chair because of budget constraints? Undoubtedly, the prices of gaming chairs are sky-high. But for our fellow gamers on a budget, we have great news!
After some stressful surfing and scrolling, we bring to you the very best five best gaming chairs, which are under 50. Despite their low price, they equally compete with overpriced gaming chairs in terms of features. These chairs will not affect your budget, neither will break your bank.
So, you would be satisfied with both the cost and the functioning of them. We have also mentioned the pros and cons of each product to narrow down the selection process for you. Now we expect you to put your effort into understanding and reading the article thoroughly to be able to select the best one for you.
Best Cheap Gaming Chairs Under $50 Overview
Our Top 3 Recommendations
EDITOR'S CHOICE
Devoko Ergonomic Swivel Mesh Chair
Ergonomic design

Breathable fabric

Comfortable padding of the seat
PREMIUM PICK
Crew Furniture Classic Video Rocker
Beautiful

Ergonomic design

Portable and lightweight
BUDGET PICK
Furmax Swivel Gaming Chair
Lumbar support

Strong construction

Breathable mesh fabric
5 Best Cheap Gaming Chairs Under $50 Review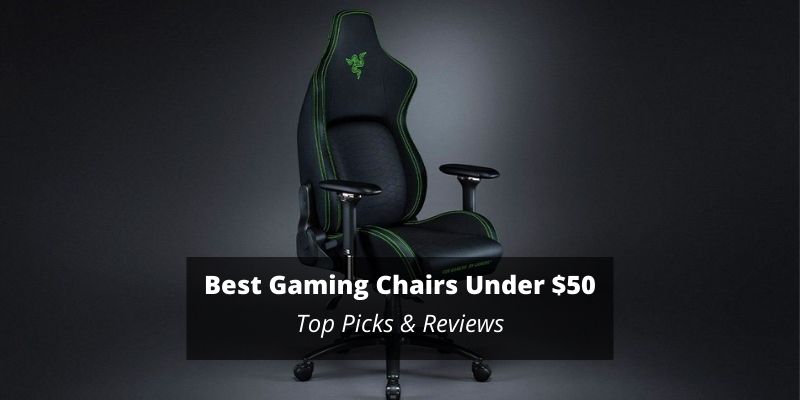 Here is the list of the five best gaming chairs under 50 which are highly functional and make your gaming experience professional.
1. Devoko Ergonomic Mid Back Mesh Chair – Best Economic Gaming Chair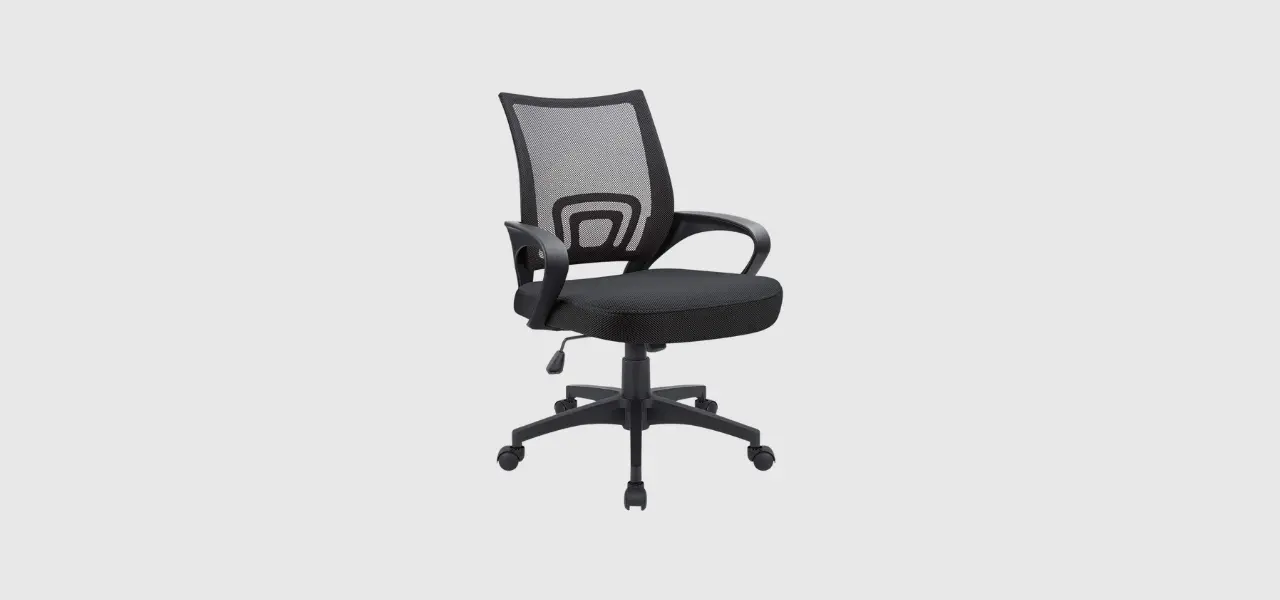 To make sure you are sitting in the perfect posture with maximum computability, we are introducing you to Devoko Ergonomic Mid Back Swivel Mesh Chair. This chair consists of all the features which play an essential role in relaxing sitting during your gameplay. It is an ergonomic chair with all the basic ergonomic features in it.
Although the chair does not consist of luxurious and highly comfortable features but I assure you that at this price, you will enjoy maximum comfort. Additionally, it also consists of breathable mesh fabric at the back to enhance the cooling and comfortability of your body. This fabric allows the crossing of the air, which keeps your body dry and cold in hot temperatures.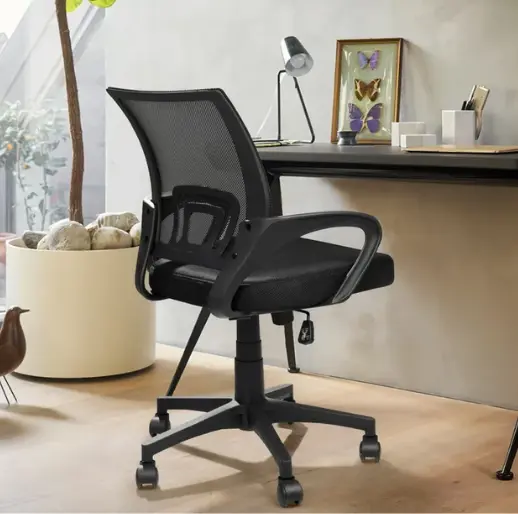 The chair also consists of some basic adjustable features, which give you the option to adjust the chair according to your need. You can adjust the chair's height between 17 inches to 20 inches and can also alter the tilt of the chair according to your preference. The seat of the chair also consists of thick padded cushions, which adds to the comfortability of your sitting.
Pros
Ergonomic design
Breathable fabric
Comfortable padding of the seat
This is the topmost ergonomics chair which is for gamers. At a meager price, it consists of basic ergonomic specifications responsible for providing maximum comfortability and relaxation to you. Moreover, the breathable fabric at the back and comfortable padding in the sitting area add to the comfort of the chair.
If your looking for affordable massage chair: then have a look at my Review on PC Gaming Chairs Under $300
---
2. Crew Furniture Classic Video Rocker – Most Affordable Gaming Chair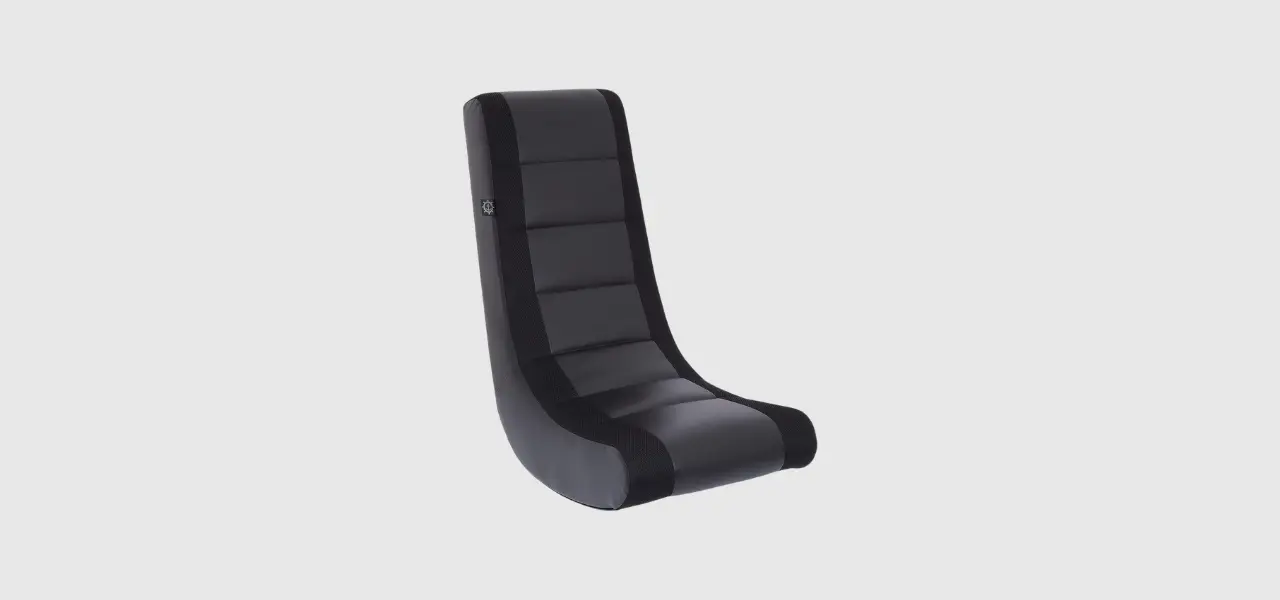 The video rocker gaming chair is the simplest of all on the list, with vital ergonomic features fixed in it. It makes sure you are sitting in the most comfortable position and soft seat throughout your game. The chair is renowned for the back support it provides throughout longer sitting hours.
No assembling is required, so save your time, get this chair, and use it directly after taking it out of the box. The chair is highly portable because it is foldable, and you can carry it from one place to another very conveniently. Definitely go with the selection of this Rocker Gaming Chair if you want to save your money, time, and place.
The fabric used in the construction is a combination of mesh and faux leather vinyl, which makes the chair look beautiful and easy to clean and maintain. Moreover, solid wood is present in the construction of the chair, which makes it highly durable and long-lasting. There are three different colors in combination with black to give you a choice to select your favorite one.
You may also be interested to read about best pc gaming chairs under 200
Pros
Beautiful
Ergonomic design
Portable and lightweight
Cons
It can only be used by smaller people
Crew Furniture Classic Video Rocker is also an ergonomic design gaming chair. It is very simple in look yet wonderful. The chair is affordable and also saves your time as it comes fully assembled. Moreover, there are various colors available for us to choose the best one.
---
3. Furmax Mid Back Swivel Ergonomic Gaming Chair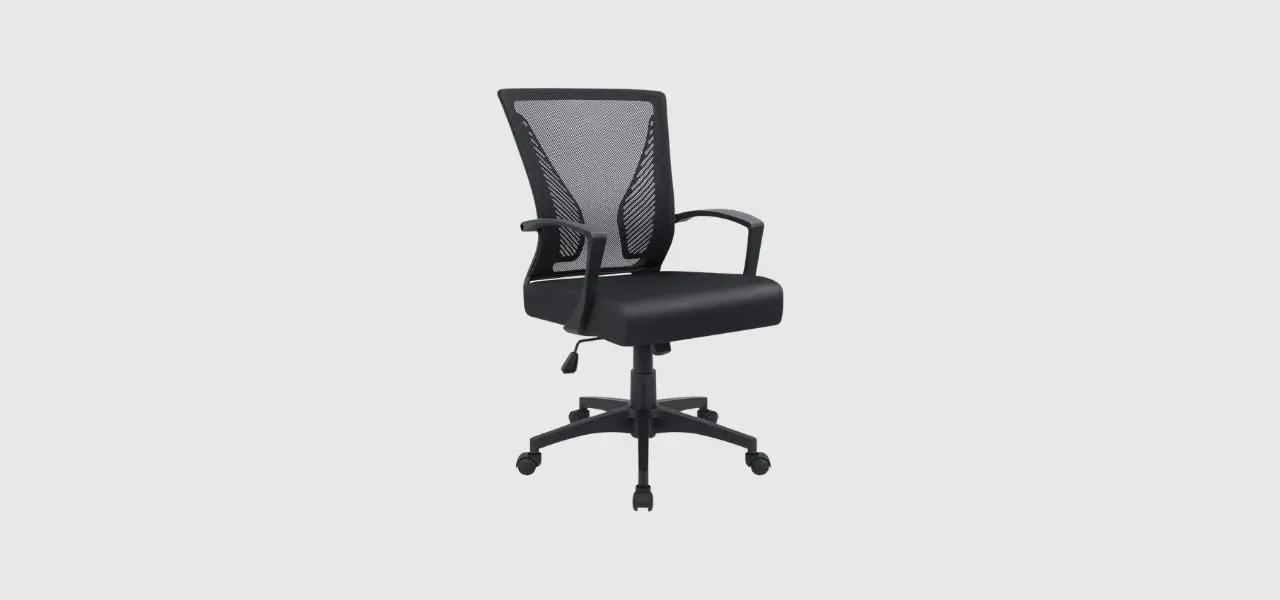 Finding the advanced level customizable and ergonomics features in a gaming chair is quite impossible, specifically under 50. But stop here; we are introducing you to a Furmax Mid Back Swivel Ergonomic Gaming Chair to make these impossibilities possible. The latest technology, high comfortability, and ergonomic features present this chair at an affordable price.
The chair is highly versatile in functioning with reliably robust construction, which makes it solid and durable. You will get the perfect lumbar support with this chair because of the presence of wing back design. Furthermore, the chair consists of breathable mesh fabric, which allows breathability and makes sure to keep you cool with its air crossing features.
You have the option of various colors available for you to select your favorite color. Though the chair only reclines up to 130 degrees but still with this price, it is an ideal chair for you. You can make your sitting and gaming more comfortable and relaxed with the possibility of leaning on the chair in the backward direction and forward direction both.
Pros
Lumbar support
Strong construction
Breathable mesh fabric
This is an ideal chair for gamers who sit for long hours. It allows you to lean in the backward and forward position to give you maximum comfortability and relaxation. It also consists of lumbar support to give support to your lumbar region. Moreover, the robust construction of the chair makes it durable.
If your looking for Furmax High-Back chair: then have a look at Best Gaming Chairs Under $150
---
4. ECR4Kids SoftZone Kids Gaming Rocker – Budget Gaming Chair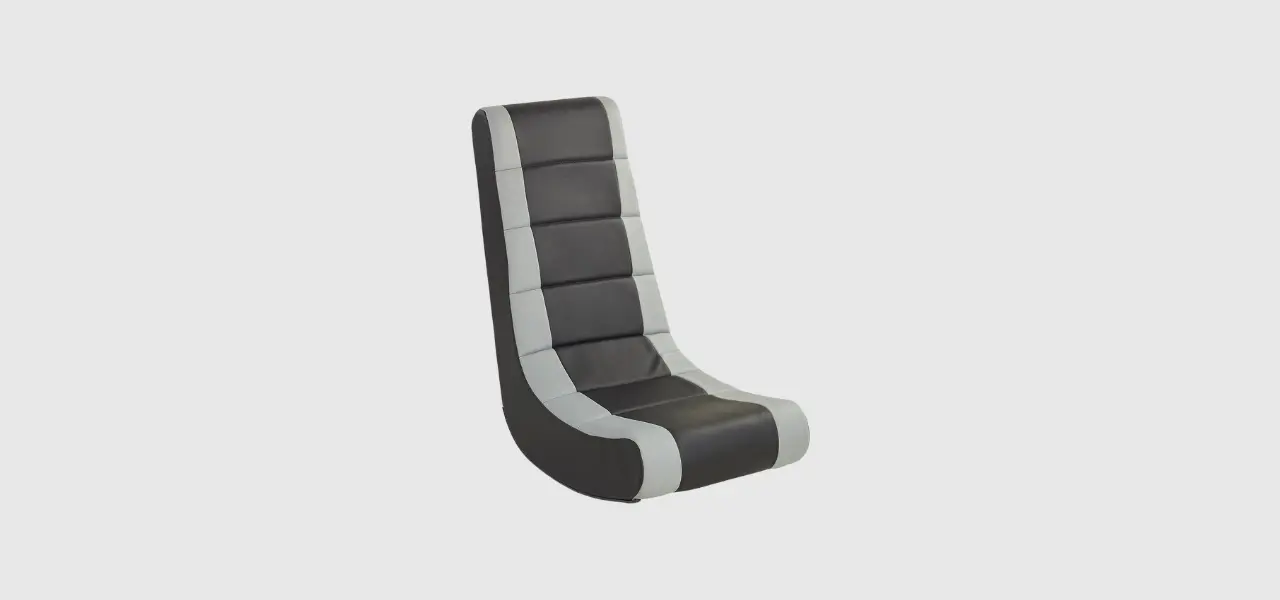 This chair is ideal for the use of children and kids. No doubt, if you have this chair in your home for your children, you would totally be worry-free throughout their gaming. The topmost quality of the product is its polyurethane material which is present in it as a fabric. This material is renowned for spill-free action, which helps you quickly wipe anything spilled on the chair.
I want to insist you should select this chair if you have kids in your home. Super easy to clean and maintain, it is the best gift you can give to your gamer kids.
You would also be highly satisfied when your child sits on the chair because you know your child would be in the most comfortable zone. I am saying this based on the presence of a padded seat in it.
Furthermore, the chair is light in weight which helps you make it easy to move from one place to another without any strenuous efforts. This is a perfect rocking chair with some of the ergonomic features in it. The chair is not very stylish but comfortable to use and lightweight to manage.
Pros
Spill free fabric
Padded sitting
Lighter and portable
Cons
Unfoldable and lack of quality
ECR4Kids SoftZone Kids Gaming Rocker is simple but very comfortable and specifically designed for kids. It consists of basic ergonomic features such as padded seats and polyurethane material fabric in construction. Moreover, the seat is padded and easy to move from one place to another.
Looking for affordable footrest chair: then have a look at Best Gaming Chairs with Footrest
---
5. Cohesion XP 2.1 Gaming Chair with Audio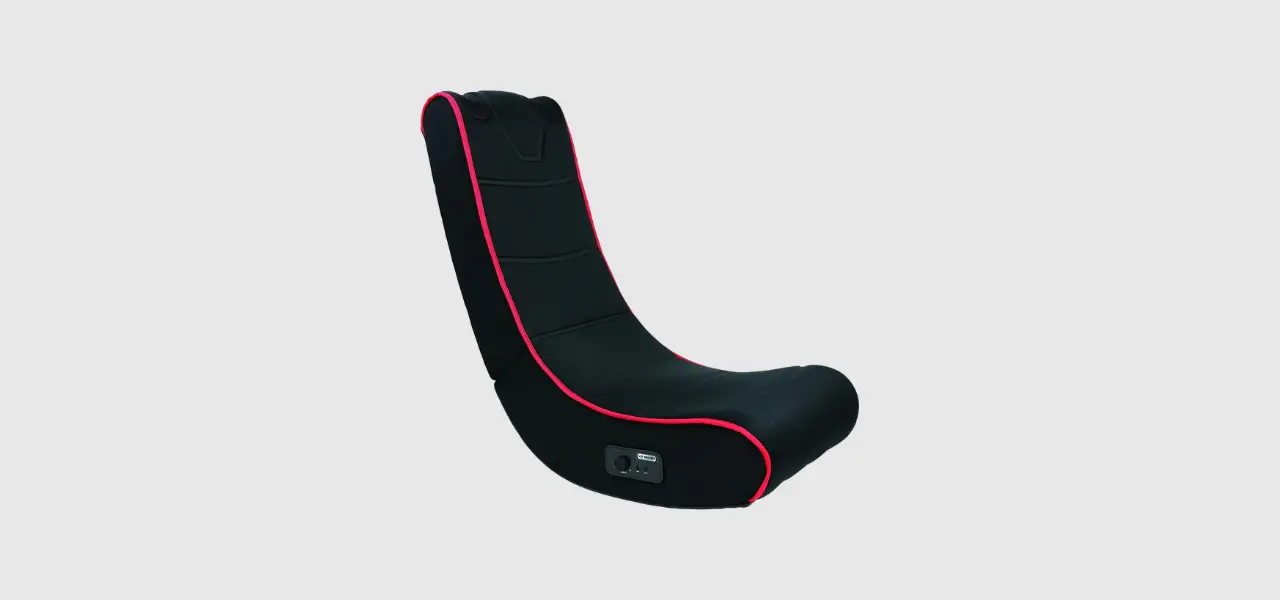 This is the gaming chair which is ideal for those who love to hear the sounds of their game during playing. The speaker system is the most dominant feature in this gaming chair which consists of a 2.1 inbuilt speaker system. This 2.1 speaker system contains dual regular speakers and one subwoofer.
Furthermore, the speakers are adjusted in the headrest of the chair, making it more convenient to hear the perfect audio.
You can also connect your electronic devices with the chair because of the presence of input and output ports. Furthermore, the volume adjuster has correct placement in the range of your hand.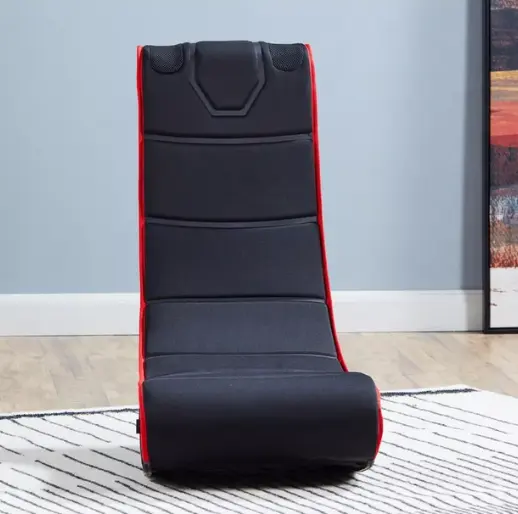 The seat of the chair consists of padded cloth, which makes it soft and comfortable to sit. You can even store the chair in the cupboard as it is foldable and easily portable. Kids and teenagers will get extra benefits with this convenient gaming chair. The chair rocks on the ground and consists of a high back which makes it more comfortable and suitable for a relaxed gaming experience.
Pros
Speaker system
Easily foldable
360 degrees rocking
This chair consists of basic ergonomics features such as high back and rocking. It also has an inbuilt speaker system, which makes the chair ideal for those who prefer sounds during their games. The chair is very convenient to store at any place because of its folding abilities.
---
FAQs about Cheap Gaming Chairs
Are cheap gaming chairs worth it?
Cheap gaming chairs are worthy of your money only if you have selected them after a proper search. You should know what features are present in your gaming chair which you are buying. Go with the selection of cheap gaming chairs if you think the chair consists of the features you demand.
How long do gaming chairs last?
The durability of a gaming chair depends upon the quality and material used in its construction. Good quality material and fabric may last up to 5 years. Whereas if you are picking a cheap gaming chair with low-quality construction, it will only last up to a few months.
What is so special about a gaming chair?
Gaming chairs offer you a pretty comfortable and smooth sitting experience during playing games. You can play more extended sessions of games without getting tired. Moreover, some of them consist of advanced features which help in enhancing the stability and control during the game.
Concluding Cheap Gaming Chairs Under $50 Review
You must have thought that gaming chairs are always expensive and mostly out of range. No, it's not the case; we have proven in the article that there are gaming chairs available from different brands which are only under $50. You can look at the features, specifications, advantages, and disadvantages of all of the above. After attentively understanding the description of each product you would be able to select and buy the one which is according to your need.
As a reviewer, I will recommend,

Hi, I'm Françoise and I am a gaming freak. I have multiple gaming machines and spend almost 10-12 hours playing different online games. I got my first gaming PC on my 15th birthday and since then I have used multiple gaming chairs to enjoy the maximum possible comfort.
Unfortunately, I suffered a lot with low quality chairs and that is where I decided to jot down my expertise to facilitate millions of gamers around the world. So I collaborated with Mr. Danny Williams and Solomon Wilson MD. and joined their team on ComfySittings.