Regular gaming can threaten your lumbar health if you are not opting for the correct seating models. Your health must be put above all factors, and you must go for the high-end chairs from top brands like Arozzi. Thanks to Mjölby, Sweden-based brand Arozzi, you enjoy the comfort and excellent posture for extended hours due to the premium quality material used in the chairs they manufacture. We have been using these chairs for many years, and each chair in the Arozzi collection stood out in different features.
Different gaming chairs from Arozzi might be expensive. However, when you use them, you will understand that the quality justifies the high cost. Choosing the best Arozzi chair can be a bit tricky because they all offer similar and fantastic features.
To help you in this situation, we have done this job of analyzing several Arozzi chairs and wrote down this best Arozzi gaming chairs review for you in addition to its buying guide. Therefore, please scroll down and select the chair that suits maximally with your needs!
Best Arozzi Gaming Chairs Overview
7 Best Arozzi Gaming Chairs Review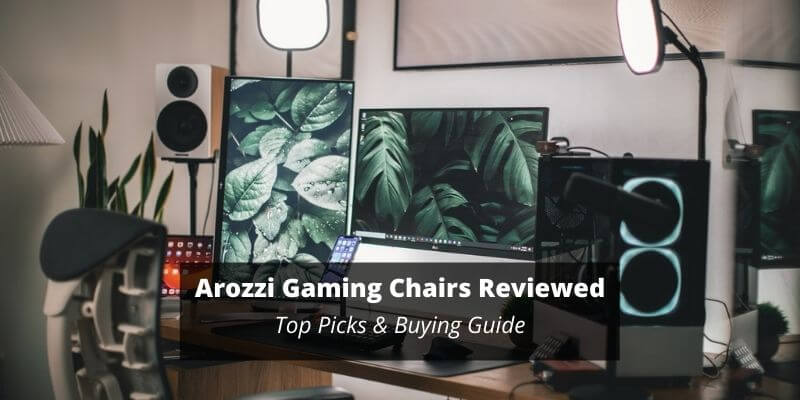 1. Arozzi FORTE-BLACK Chair – Best Arozzi Gaming Chair
You will be glad to learn that Arozzi FORTE comes with the seat of 18.11″ (W) x 18.5″ (D), having a height of 16.5-19.75″. With the backrest of 21.6″ (W) x 32″ (D), you will be able to play adventurous games in comfortable support to your lumbar region. Another good news is that Arozzi FORTE is capable of bearing higher weights up to 320 pounds. The padding of this gaming chair is also exceptional because it is made with resilient foam having a remarkable density of 70 kg/m³.
Arozzi FORTE is an incredible product in the Arozzi line to amaze you with its outstanding features. If you are looking for a gaming chair that allows you perfect recline up to 165 degrees besides offering conventional tilt as you rock, then this chair is made for you. The manufacturers of this gaming chair will be giving you a two years warranty as you purchase it. Enjoy the wide range of features coming with the Arozzi FORTE by grabbing it today!
2. Arozzi VERNAZZA-BK Computer Gaming/Office Chair
With the high-end upholstery, you can expect higher durability. The material used for making it is a woven fabric that is synthetic and has good quality. It is capable of bearing the weight of the game players up to 320 pounds with the seat of 20.5″ (W) x 20.5″ (D), possessing a height of 18.75-22.75″. The dimensions of the comfortable backrest are 21.25″ (W) x 32.75″ (H), offering you support and stability as you play for longer hours.
Arozzi VERNAZZA-BK is the premium quality model coming with the 4D armrest to give you freedom of personalization. Also, another excellent feature of this gaming chair from Arozzi is its recline function up to 145 degrees. Enjoy the perks of using the tilt-lock system with the multi-functionality by grabbing your Arozzi VERNAZZA-BK. The manufacturers will also be providing you with two years of warranty.
3. Arozzi INIZIO-PU-BKRD Computer Gaming/Office Chair
There are comfortable pillows to support your back and neck and hold them firmly. The manufacturers have made use of the snug foam having higher density to make seat having 17.3″ (W) x 20.4″ (D) dimensions and a seat height of 18.5-21.25″. This ergonomic chair will be improving your posture and enable you to play for hours without any back or body pain. The weight-bearing potential of Arozzi INIZIO is 320 pounds.
Arozzi INIZIO is the perfect mixture of versatility and comfortable features to enable you to enjoy your long gaming sessions without any worries of building up strain in your muscles or back pain. This chair is made with premium quality and more oversized casters to help you with easier movement. The frame of the Arozzi INIZIO is metallic to last for many years. In short, purchasing this chair will be the best decision that you can make.
4. Arozzi VERONA-V2-RD Computer Gaming/Office Chair
This gaming chair is distinctive among other choices because it has a padding of the snug foam with 35 kg/m³ of density. The seat dimensions are basic, i.e., 20.3″ (W) x 19.5″ (D) to adjust a gamer with a medium-sized body. At the same time, the backrest is 24″ (W) x 32.5″ (H) with a height of 16-18.9″. We have a piece of exciting news for you regarding the adjustability of this chair. You can adjust the backrest, neck rest, and armrests of this chair easily.
If you are on a tight budget and looking for a great chair thronged with the features to satisfy your gaming chair demands, then you must not look beyond a perfect chair like Arozzi VERONA. Recline it, lock it, and enjoy relaxing in it up to 180 degrees. In addition, enjoy the tension-free motion because it has solid metallic casters ensuring smoother movement.
5. Arozzi Milano Enhanced Gaming Chair
This chair from the Arozzi line is suitable for medium-body game players weighing up to 265 lbs. You will be getting a backrest having 20.5″ (W) x 33.5″ (H) dimensions. The good news about this chair is that it gives you the freedom to adjust its lumbar pillows to improve your posture. In addition to these aspects, you will be able to recline up to 165 degrees in it. It offers you a tilt tension feature with rocking.
We have been using Arozzi Milano for many years, and we love it for its stylish design, excellent upholstery, and adjustability features. If you want to enjoy your long gaming sessions without body aches or medium-body, you need a good body posture, which Arozzi Milano is granting you. Therefore, you must not ignore such a premium quality option. You will love it for sure once you purchase it.
6. Arozzi TORRETTA-SFB-DG Computer Gaming/Office Chair
Arozzi TORRETTA has 20.5 x 26.75 x 53.25 inches and is weighing only 57 pounds. The upholstery material is durable and soft. Also, this material is highly breathable, coming with the ISO tested standard. It will not be tearing or slipping you as you play. You will love the level of control and stability Arozzi TORRETTA provides. The reclining in this seat is fantastic with the four lockable increments.
Having Arozzi TORRETTA in your gaming zone will be an excellent addition because it will relieve your body aches with its ergonomic design. Thanks to the manufacturers of this incredible chair for making it with high-end materials and 3D armrests, allowing you to use it at your convenience. If you plan to invest your money in this fantastic product, we assure you that it will deliver its best performance.
7. Arozzi ENZO-WF-GYBK Computer Gaming/Office Chair
The finishing of this material is so refined that it will catch your heart as you see it. The padding of the Arozzi ENZO is done with the pliant foam having a high density. The seat foam density is 30 kg/m³ while it is 25 kg/m³ in the case of the backrest.
So, sink in the comfortable seat of the Arozzi ENZO for enjoying longer gaming sessions. The feature that we loved the most about this gaming chair is the thicker padding of the armrests. Arozzi manufacturers are mindful of the comfort needs of your forearms and elbows. Therefore, to relax them perfectly, they have used extra padding inside the woven fabric to increase the level of comfort and breathability.
If you search for the premium quality gaming chair in the Arozzi line, you must not ignore Arozzi ENZO. This chair arrives with a complete package of incredible features to enhance your gaming experience comfortably. The thicker padding, rocking action, and breathable fabric are aspects that you need to benefit from by grabbing it.
Pre-Purchase Considerations for Arozzi Chairs for Gaming
After reading the detailed description of the different products in our Arozzi gaming chairs review, you must now understand that these chairs are a masterpiece in many aspects. Therefore, you are free to choose any of these chairs and take benefit from the unique features they offer. However, this is the point where you will be confused about selecting the best chair from the variety of items in the Arozzi line. We understand this situation, and that is why we suggest you take careful notice of the factors that we are going to tell you.
The general impression about Arozzi is that these chairs are expensive. However, we believe that what they offer justifies their cost. Therefore, we suggest you not be skeptical about the price of these chairs but focus on the matchless features they offer you. If you keep these pre-purchase considerations in your mind, then for sure, you will be procuring the best chair that will be not only stylish but also comfortable. Let's get started with these tips and tricks!
Weight Bearing Capacity
The first and most crucial pre-purchase consideration that you must not forget is the weight capacity of the Arozzi gaming chair that you are going to purchase. Have a keen look at the product specifications, especially the weight capacity, before placing your order. Luckily, Arozzi manufacturers understand this factor, and that is why they have manufactured a variety of products suitable for different weight persons.
For example, if you are a guy with a medium height and weight, then Arozzi Milano Enhanced Gaming Chair is best suitable for you because it has 265 lbs. On the other hand, if you have a bigger body and a taller height, you can go for premium quality options with higher weight-bearing capacity. For example, you may grab:
Arozzi FORTE-BLACK Computer Gaming/Office Chair
Arozzi INIZIO-PU-BKRD Computer Gaming/Office Chair
Arozzi VERNAZZA-BK Computer Gaming/Office Chair
Design of the Arozzi Chair
Another critical factor is the built design of the chair that you are going to purchase. Arozzi offers you a range of designs with different features. These designs vary from one another in terms of their upholstery material, finishing, backrest, headrest, armrests, and padding. If you enjoy sitting in a gaming ambiance, you may prefer chairs that come with such themes.
For example, Arozzi Milano Enhanced Gaming Chair comes with racer-style, and thus, it will satisfy your wish for total gaming ambiance. On the other hand, you will find elegant gaming chairs from Arozzi like Arozzi ENZO-WF-GYBK Computer Gaming/Office Chair and Arozzi TORRETTA-SFB-DG Computer Gaming/Office Chair that comes with the fine finishing to enhance your gaming room décor with its elegant colors.
Material of the Upholstery
When you are purchasing furniture for your home, you are always concerned about the upholstery material. Therefore, when you go to purchase the best Arozzi chair for gaming purposes, then here too, you must not forget the upholstery material. Arozzi has comparatively higher costs, and that is why they are providing you with premium quality upholstery no matter if it is polyurethane (PU) leather or woven fabric.
Based on our personal experience, we always prefer our readers to go for fabric-based chairs. These chairs provide your body with a good grip by preventing slipping. Also, you will experience greater breathability in woven fabric chairs in comparison to leather-based chairs. For example, you may opt for Arozzi ENZO-WF-GYBK Computer Gaming/Office Chair and Arozzi TORRETTA-SFB-DG Computer Gaming/Office Chair.
Frequently Asked Questions
Which Arozzi gaming chairs are best to purchase?
Arozzi has set its mark in the production of high-end chairs for gaming. However, you must go for the chairs that are trusted and reliable coming from the Arozzi line. For example, you may go for Arozzi FORTE-BLACK Computer Gaming/Office Chair, Arozzi TORRETTA-SFB-DG Computer Gaming/Office Chair, Arozzi ENZO-WF-GYBK Computer Gaming/Office Chair, Arozzi VERNAZZA-BK Computer Gaming/Office Chair, and Arozzi VERONA-V2-RD Computer Gaming/Office Chair.
Is it possible to purchase spare parts for Arozzi gaming chairs?
Yes, Arozzi is famous for the production of premium quality chairs for gaming and office use. Besides this production, Arozzi is also actively engaged in generating the different types of spare parts. You can purchase them and replace the problematic parts. You will be getting these parts free of cost if the warranty period is intact.
Can I roll in my Arozzi gaming chair?
Yes, Arozzi is making chairs with excellent quality components. Dual wheel casters are one of these components that enables you to roll freely in your chair. The good news is that these metallic casters are floor-friendly, and they won't be destroying the beauty of your wooden floor. You may purchase a floor mat and place your Arozzi chair over it.
Final Verdict On Affordable Arozzi Gaming Chairs Review
Arozzi gaming chairs are remarkably known for their high-end construction, premium quality upholstery, and matchless comfort level. After reading our Arozzi gaming chairs review and buying guide, we hope you will now be in a better position to opt for the best product. Though the products we reviewed for you are all amazing, we opted for the top four products due to their excellent output when we used them. They are:
We look forward to your suggestions, thoughts, and experiences that you can share with us in the comments section. Thank you!