Have you ever wondered why you don't feel relaxed even after lying down for the whole day? Well, the answer to that is you might not be resting in the correct position. Zero gravity effects happen when your legs are positioned slightly above your heart. It has an extremely relaxing effect on your body and calms all your sore muscles.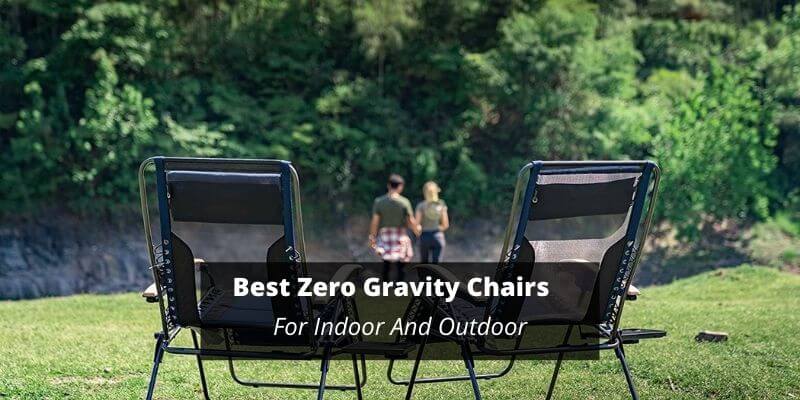 Like us, everyone else would want to experience the weightless zero-gravity effect to release all the stress and tension accumulated in the joints and muscles. Fortunately, you can achieve that easily if you have zero gravity chairs. These chairs are extremely beneficial as they are lightweight, foldable, durable, and multipurpose. We have listed the 7 best zero gravity chairs for indoors and outdoors.
Best Zero Gravity Chair For Indoor And Outdoor Overview
Our Top 3 Picks
7 Best Zero Gravity Chair For Indoor And Outdoor Review
1. Caravan Sports Infinity Zero Gravity Chair – Zero Gravity Lounge Chair
All the reclining positions can be locked and gives you a weightless sensation for extreme comfort. The chair itself is ultra-light, weighing only 20 pounds; you can easily take it with you to elevate your camping experience. Caravan Sports Infinity zero gravity chair has a durable frame as it is made with alloy steel to last you long.
The fabric is super breathable; therefore, you wouldn't feel uncomfortable while resting in it. That isn't all about it; this zero gravity chair also comes with lumbar support and headrest so that your neck and lower back don't feel tension at all. You can also use this chair as a lounge chair or a daytime resting chair inside the house. Last but not least, it comes with a dual fingertip locking system which makes it extremely easy to adjust the reclining position.
Caravan Sports Infinity has to be one of the best zero gravity chairs for indoors and outdoors because of its supreme features. It features a durable alloy steel frame and a durable Textilene fabric that is suitable for outdoor use. Additionally, it comes with locking reclining features which allows you to relax as much as you can. Lastly, it supports up to 300lbs of weight which is incredible.
2. Amazon Basics Textilene Adjustable Zero Gravity Chair
This chair is made up of alloy steel which makes it extremely durable. Other than that, it is suitable for people weighing up to 300 pounds. The fabric itself is super comfortable and breathable, perfect for outdoor and indoor conditions. The double bungee system and reclination position give you a stress-free and relaxed time that you have never experienced before.
Also Check Best zero gravity chair for back pain
The fabric of the Amazon Basic Zero Gravity chair is weather resistant which makes it apt for outdoor use. Not only that, the chair comes with a headrest to ensure you don't experience any discomfort even for seconds. The slightly contoured armrest provides full comfort to your arms so that you feel stress-free at all times. Last but not least, this product is easy to assemble and fold, which makes it easy to store when not in use.
Overall, if you are looking for an affordable zero gravity chair with some amazing features, then AmazonBasics Zero Gravity chair is your best bet. It is utterly durable, as it comes with a powder-coated alloy steel frame. Other than that, this chair has a breathable and comfortable fabric allowing you to feet up and relax for as much time as you want.
3. Lafuma Futura Zero Gravity Patio Recliner
Not only that, but you also get a comforting armrest to have the best time of your life relaxing on it. The chair is foldable, allowing you to store and transport it easily. You can use Lafuma Futura outdoors as it is weather-resistant; therefore, the colors wouldn't fade away due to sun damage or weathering. You can also use this gravity chair for lounging because it is a multipurpose chair.
Overall, the ultimate Lafuma Futura Zero Gravity chair will change your whole resting game. It offers all the comfort in the world with its zero-gravity positions. This chair is foldable and lightweight, which makes it easy to store and transport. Other than that, this zero gravity chair is weather-resistant and can be used indoors and outdoors.
4. Timber Ridge Balsam Deluxe Zero Gravity Lounger
The chair is fully reclined, and it is easy to change and adjust the positions.
Moreover, there is a locking system that allows you to lock the chair in a certain position for maximum comfort. Other than that, you get a headrest and lumbar support so that you can rest up for as long as you want. The headrest is removable for your convenience. It also comes with a cup holder, which elevates your camping experience.
Overall, the Timber Ridge Balsam Deluxe gravity chair is a good option if you mean to buy a zero gravity chair. It offers various uses; you can use it indoors as well as outdoors. This chair can be set up in a position that gives you a zero-gravity effect for deep relaxation. Lastly, this chair is extremely durable to provide long-lasting comfort.
5. AsterOutdoor Padded Zero Gravity Chair
 Its locking system ensures complete safety and long-lasting comfort. In addition to that, you can conveniently rest your arms on its comfortable armrests. AsterOutdoor zero gravity chair features a 29 inches backrest with layered fabric and padding to allow extreme comfort.
Also Check How To Hang A Hammock Chair
Moreover, this zero gravity chair comes with a side table with a cup holder and phone holder, allowing you to keep your essentials close to you. Its durable steel frame supports 350lbs of weight which is incredible. Other than that, the fabric is super tough and is supported by double bungee for added comfort and security.
Overall, this incredible zero gravity chair by AsterOutdoor is all you need for your patios to enjoy and relax. It has multiple adjustable positions that make it multipurpose. Moreover, it comes with an adjustable headrest which can also be used as a lumbar pillow. Lastly, this zero gravity chair has a tough steel frame that supports 350 lbs of weight.
6. Coastrail Outdoor Zero Gravity Chair
This extra wide zero gravity chair supports up to 400lbs of weight which is unbelievable. People can purchase it to relax without having to worry about their weight and size.
An additional feature includes a side table that has a cup holding slot. You can also place your cell phone on the side table so that it can be close to you at all times. Its padded 600D polyester fabric allows for great comfort. Not only that, but it also comes with a headrest which you can slide down to have lumbar support. In a nutshell, this is one of the best gravity chairs you can find in the market.
Also have a look at Best Fishing Chair
If you need a huge chair with a great weight holding capacity, then Coastrail outdoor zero gravity chair is your way to go. The best thing about it is that it can stand up to 400 lbs of weight which is amazing. Other than that, it comes with a headrest which can also be used as lumbar support. Last but not least, the fabric and overall structure of this zero gravity chair are amazing.
7. Portal Zero Gravity Recliner Lounge Chair
You can even sit on it in a fully upright position as it offers many adjustable positions.
Its comfortable armrests have locking clips beneath them which allows you to lock the desired position conveniently. On top of that, it comes with a headrest which can also be used as a lumbar pillow for ultimate comfort. Last but not least, the Portal Zero Gravity chair features a cup holder; therefore, you can keep your favorite drinks within reach when you are enjoying and relaxing.
You may also be interested to read about Best Ergonomic Office Chairs under $300
Overall, this is a nice affordable zero gravity chair for your lounge rooms, gardens, and patios. It is made with high-quality material to ensure safety and durability. This chair also comes with a headrest that supports your lumbar area as it is removable. Lastly, you get a cup holder with it to keep your drinks close by.
Frequently Asked Questions
Why are zero gravity chairs useful?
Zero gravity chairs have a soothing effect on your body. When reclined to the correct position, your legs rest in a position slightly above your heart which relaxes your muscles and eases your joints. Your body goes into a deep resting position; consequently, you feel utterly relaxed afterward. Therefore zero gravity chairs are very useful.
What is the best zero gravity chair?
There are thousands of brands that manufacture top-of-the-line zero gravity chairs. All of them serve the same purpose; however, to pick one of the best, it has to be the Caravan Sports Infinity Zero Gravity Chair. This chair is extremely durable and lightweight. The fabric is all-weather; therefore, this chair will last you longer than you have imagined.
Can you use the above-mentioned chairs indoors?
Yes, you can definitely use the zero gravity chairs mentioned above indoors. They are multipurpose; therefore, you can use them in your lounge rooms, bedrooms, gardens, patios, and much more. Since most of these chairs are foldable, you can even take them along when you are traveling.
Final Note On Zero Gravity Chairs Review
Zero gravity chairs serve a lot of purposes and are beneficial to your body. Any other chair cannot render the effect it has on the body. You feel refreshed resting in it even if you have had a hectic day. We have mentioned some of the best zero gravity chairs, out of which these three are our favorite ones.
All in all, zero gravity chairs allow for great comfort and relaxation due to their zero-gravity effect on your body. We have picked some of the best products in the above section to choose the right one for yourself. They are manufactured by the leading brands that guarantee reliability, durability, and style. We hope you have a good time reading this article.