If you don't know who PewDiePie is, then let me tell you. PewDiePie is the highest-earning YouTuber on Earth. His YouTube channel, in which he posts videos of himself playing video games and commenting on them, has broken records for viewership and earnings.
What is so interesting about PewDiePie's gaming chair? Well, one of the most popular gamers on YouTube uses it. And that made this specific model even more famous than before. This review will tell you everything there is to know about ClutchChairz Throttle Series Gaming Chair.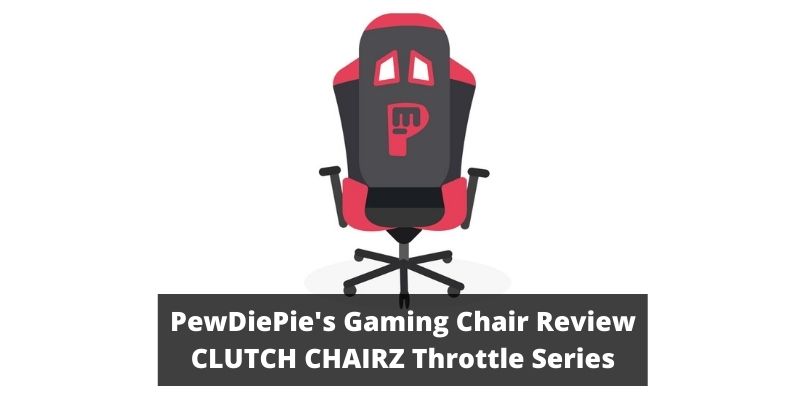 Pewdiepie's Gaming Chair – What Gaming Chair Does PewDiePie Use?
Starting with a short introduction, Pewdiepie is a gaming chair by ClitchChairz's throttle series. It is made in collaboration with Swedish YouTuber Felix Arvid Ulf Kjellberg, also known as Pewdiepie. This gaming chair is popular for its extreme comfort, lumbar support, headrest, and comfortable armrests. Let us do an in-depth review of Pewdiepie's gaming chair.
Overview
As we know, that Pewdiepie chair is manufactured by ClutchChairz, which is a well-known brand celebrated for its top-of-the-line gaming chairs and other gaming accessories. They make sure their gaming chairs meet all the needs and requirements of the gamers and provide maximum comfort to them. One of their best gaming chairs series is called the throttle series, out of which Pewdiepie is the most popular one. It is made in collaboration with the top Youtuber whose name is Felix Arvid Ulf Kjellberg. He has many followers on social media, and his gaming chair has also gained popularity.
Are you looking for an affordable gaming chair? Have a look at my review on best gaming chairs under $300!
CLUTCH CHAIRZ Throttle Series Pewdiepie Edition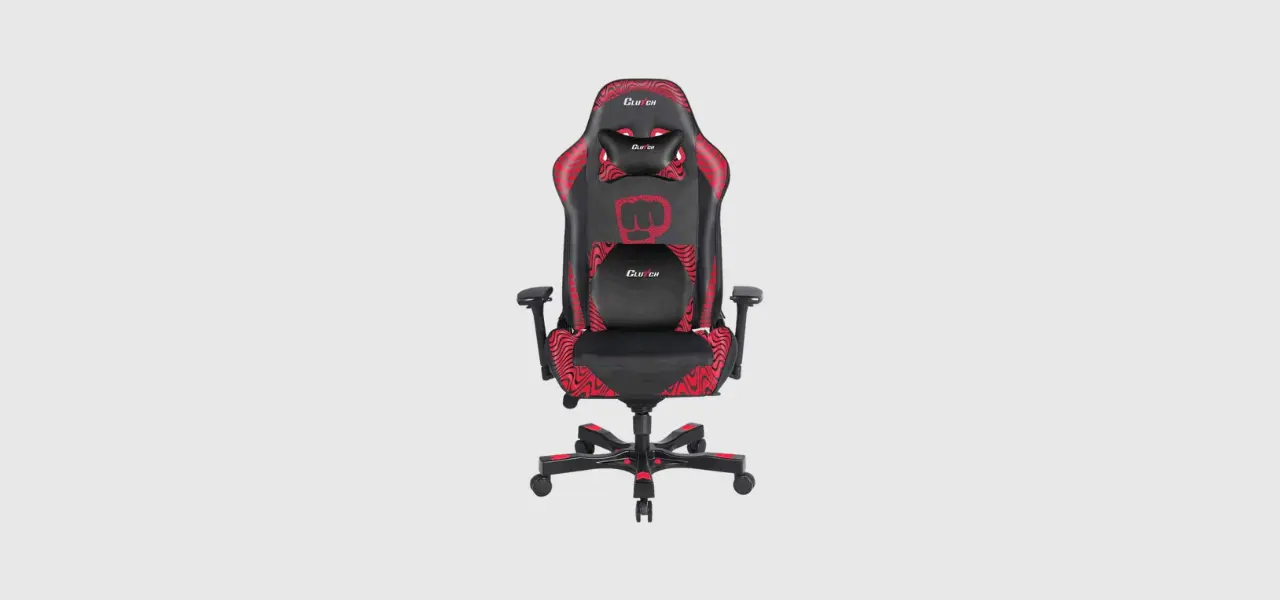 | | |
| --- | --- |
| Brand | CLUTCH CHAIRZ |
| Weight limit | 150kg/330lbs |
| Material | Upholstery PU Leather |
| Frame | Forged aluminum |
| Backrest recline | 85 -135 degrees |
| Headrest | Yes |
| Armrest, back | Yes |
If you haven't tried Pewdiepie's chair for gaming, you are missing out on so much. It's high time you get a hold of this incredible chair, and trust us; you will never regret it. We absolutely love the color combination and its attractive contemporary look. It comes in various colors, and all of them will adorn your game space like never before. Its fierce contrasting colors make it perfect for high-paced intense gaming sessions. That doesn't mean it is only specific to gaming; you can also use it for your office space and study rooms.
Also Check Out: Best Gaming Chairs With Footrest and Massage
Construction
Now coming to its technical ends, this gaming chair is made after a very well-thought-out process. It has great finishing and is topped with PU leather, which looks sleek, ultra-durable, and easy to clean. You might feel a bit sweaty if the room temperature is higher, but if you look at the durability, you wouldn't mind because PU leather keeps its integrity for a longer time.
Comfort
Now for the comfort side, your mind will be blown when you feel the comfort it provides. We wouldn't say that you wouldn't feel dull aches if you sit in these chairs for hours, but it surely does minimize them 10 times. The reason why is because it is fully padded and consists of high-quality cold-cured density foam to relax every inch of your body. Other than that, you also get a lumbar pillow that perfectly adjusts with your lumbar area to give you lasting comfort and support. On top of that, you also get a headrest which allows you to relax fully.
On the plus side, the head and lumbar pillows are removable; therefore, you can get rid of them anytime you don't want them. You also get armrests which is an essential feature in a gaming chair because you need to rest your arms and elbows; otherwise, you will get serious neck and shoulder pain. Pewdiepie's chair reclines between 85 to 135 degrees so that you can feet up and relax a bit.
Features Of PewdiePie Gaming Chair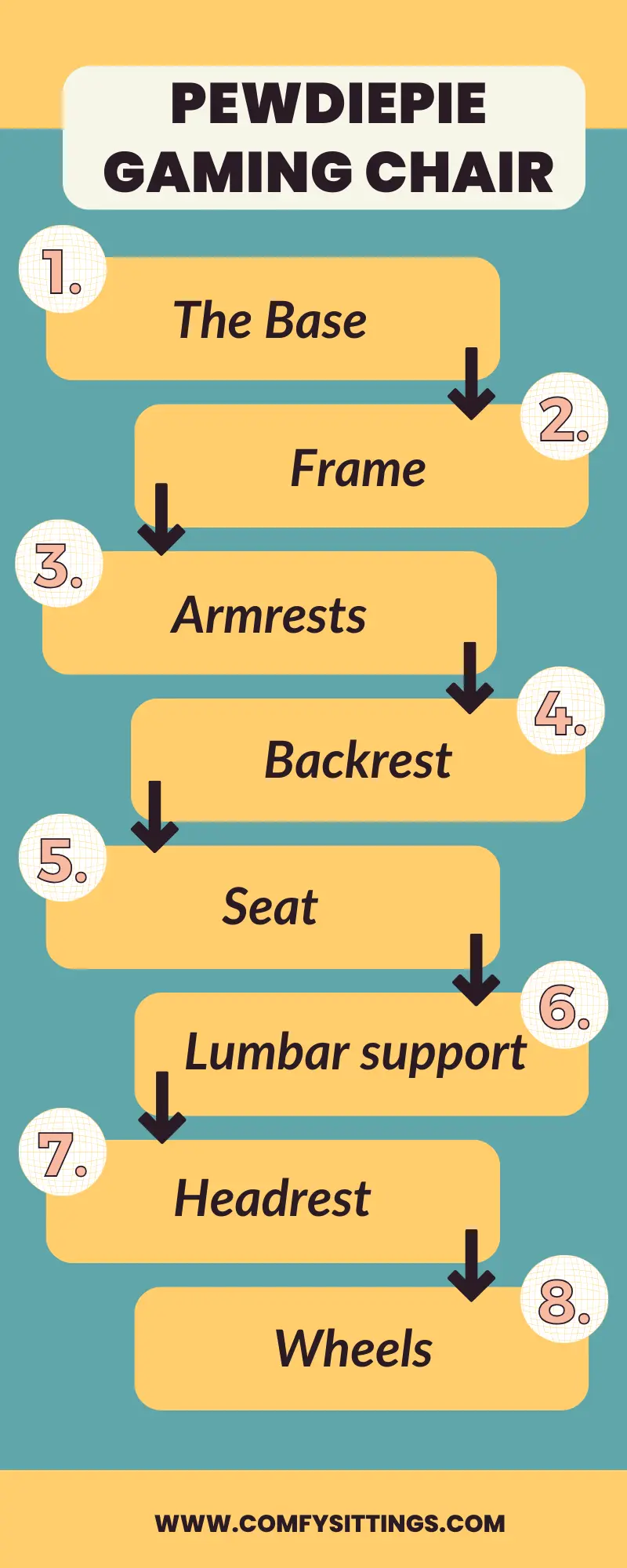 The Base
The heavy-duty base of this chair allows for a broad range of ergonomic and functional components. It comes in 70cm diameter, perfect to support the weightiest users comfortably without wear or tear due to its sturdy design.
The best part about the base is that it's made from forged aluminum. What users experience is an extreme level of strength and durability, which makes this a very stable product: resistant to tipping or slanting. The base itself forms the foundation for your system; unlike other bases, you can be sure it'll hold everything together firmly without any problems!
The two-ton weight capacity is a real claim, as the base has undergone various tests to prove its strength. The chair itself looks sturdy and durable with polyurethane coating on castors that glide smoothly across most surfaces without leaving marks behind. If you want an office chair at home or one for gaming sessions where there's wood flooring, it'll be easy to clean up after yourself because of this feature!
Frame
Now, if we look at the frame and base, you will be happy to know that Pewdiepie's chair is ultra sturdy. Its tubular steel frame has an ergonomic shape and is strengthened to support heavyweights. Moreover, the forged aluminum base is extremely robust and tested to withstand up to 330 pounds of weight which is incredible. Other than that, its smooth-rolling caster wheels and swiveling capability make the mobility extremely smooth and convenient.
Armrests
The armrests on the Throttle Series are padded and can be moved around in all directions. There is a ¼ inch layer of padding that prevents any pain, which makes for a smooth experience with your elbows.
The side-to-side adjustment feature on one of the armrest glides smoothly – giving you an easy time adjusting it – but not so much as to work against its purpose or functionality. However, there's no such thing regarding the left hand rest; thus making them more difficult to adjust at times when necessary – even though they're still quite solid without having buttons for this function built into them too .
Have a look also at: Best Pink Gaming Chairs for Girls
Backrest
The back of this chair fits my body almost perfectly. The recline is smooth and easy to use, which I like as a big guy. Although it has some features that might be useful for gamers (e.g., the flat reclining position), those aren't things I personally care about in a chair so they don't really affect me much one way or another
Seat
The ClutchChairz Throttle Series has a relatively wide seat which goes higher and lower than most of the other chairs, making it good for people with different heights. The whole chair is controlled from the bottom where you will find a knob that adjusts rocking tension (it's large and easy to use). The padding on this chair becomes thinner towards its backrest; When sitting in it I noticed how there's also an uncomfortable bar right at my back which sticks out while seated. Disappointingly this isn't one of those features I like about it.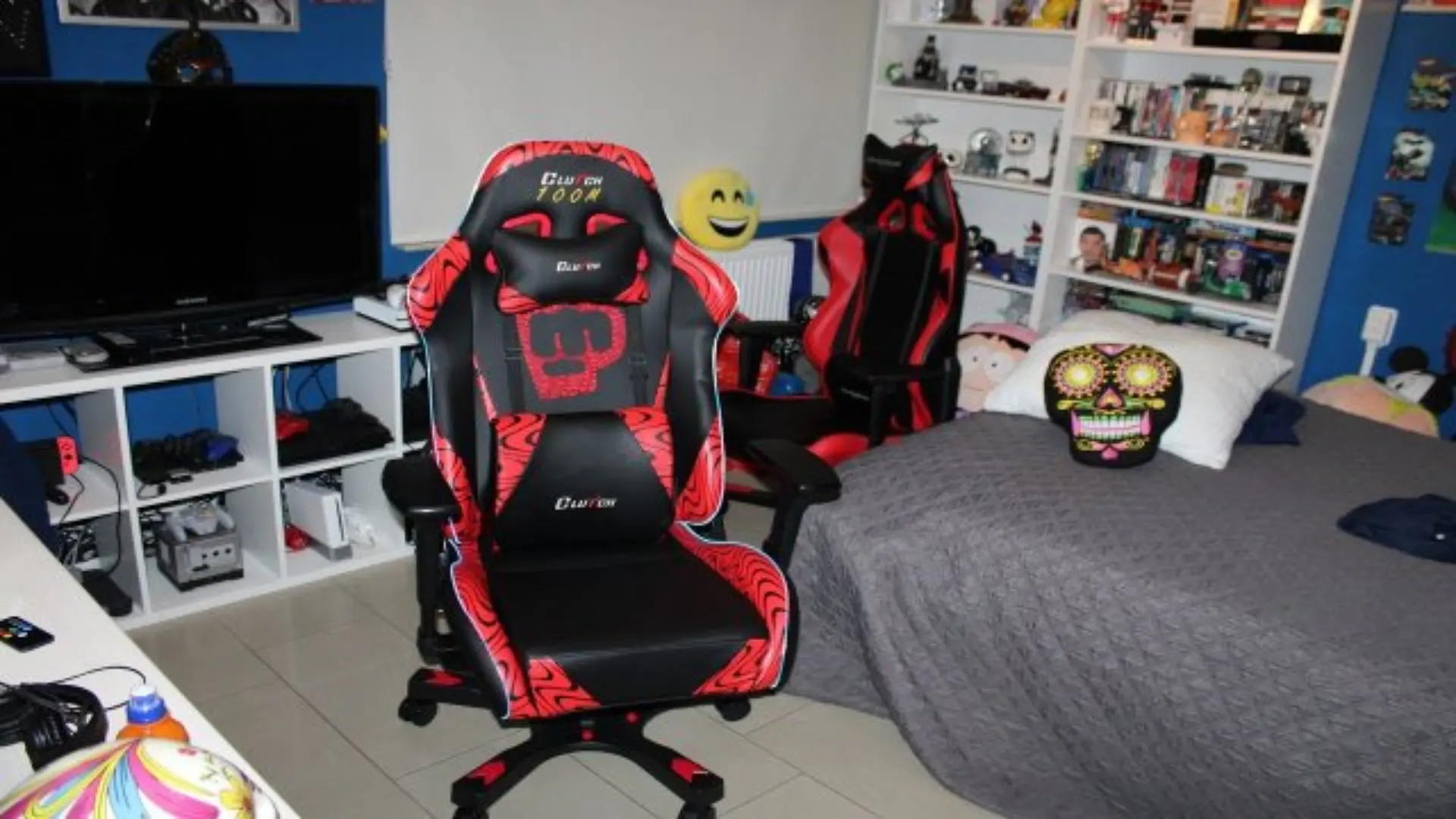 Lumbar support
The lumbar pillow takes up most of the chair, which is larger than many chairs I've sat in. The straps that tie it to my back are elastic like on other gaming chairs.
Headrest
The headrest is standard as in other chairs, with elastic straps that clip through holes on the back. Both of the pillows are useful – manufactured from memory foam which isn't too supportive but still nice to have my neck hugged by it at times. Memory foams can be improved upon further though!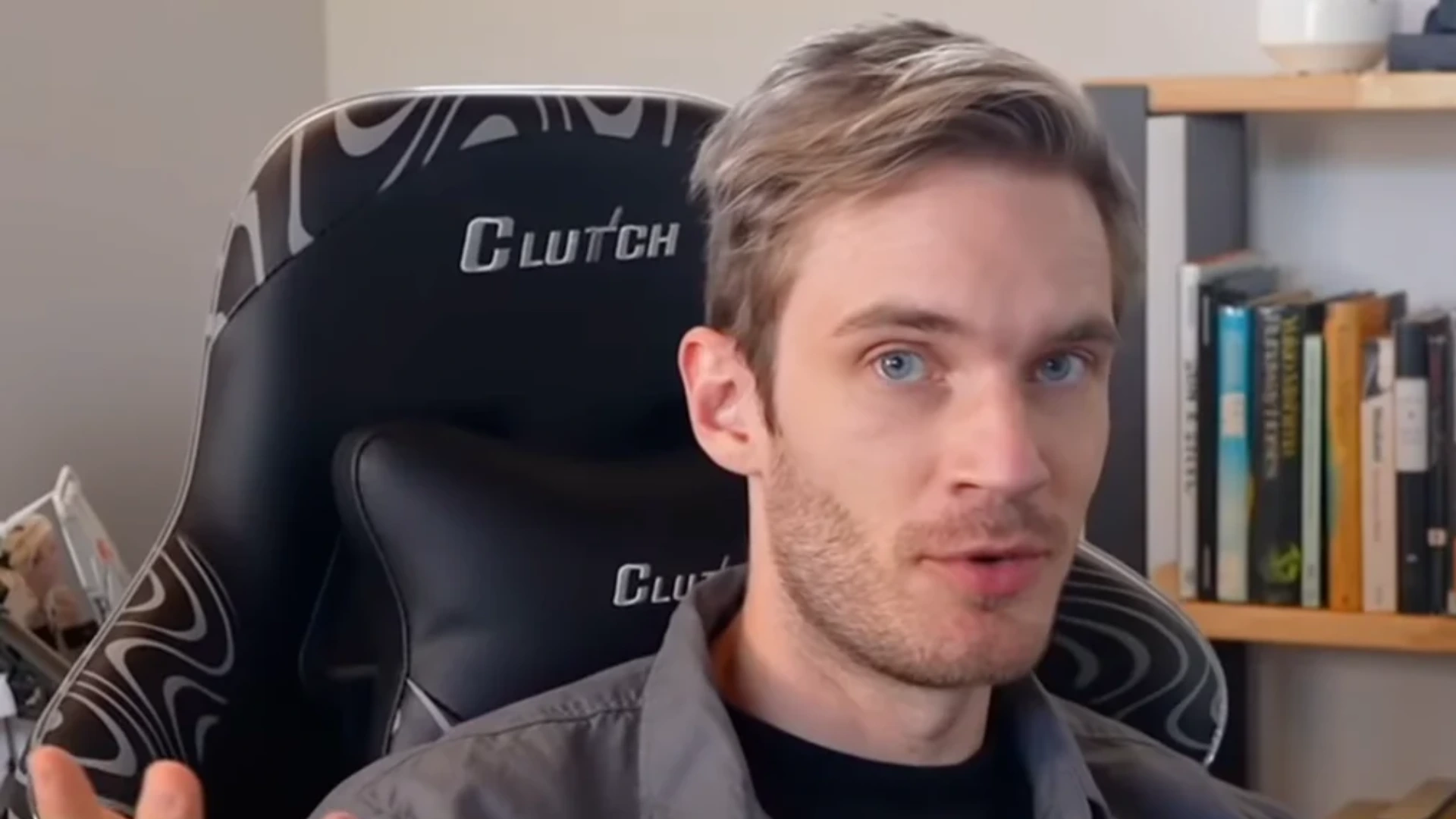 Wheels
Although the wheels are a bit larger than most, it's easy to install them into your chair. The only thing they don't do as smoothly on carpeted surfaces is moving around – you may need some force for this.
Also Check Out : Respawn Gaming Chair 110 Review
Assembling The ClutchChairs Throttle Series PewDiePie Edition
I was surprised at how quickly I assembled the chair. There were some bolts and a small allen tool inside the box, as well as extra bolts in case something went wrong during assembly which seems like great foresight from ClutchChairz.
The manufacturer pre-installed the bolts in the bottom of your chair for easy assembly. I don't know why they decided to package some and not others, but overall this process is simple enough that beginners shouldn't have any problems figuring it out!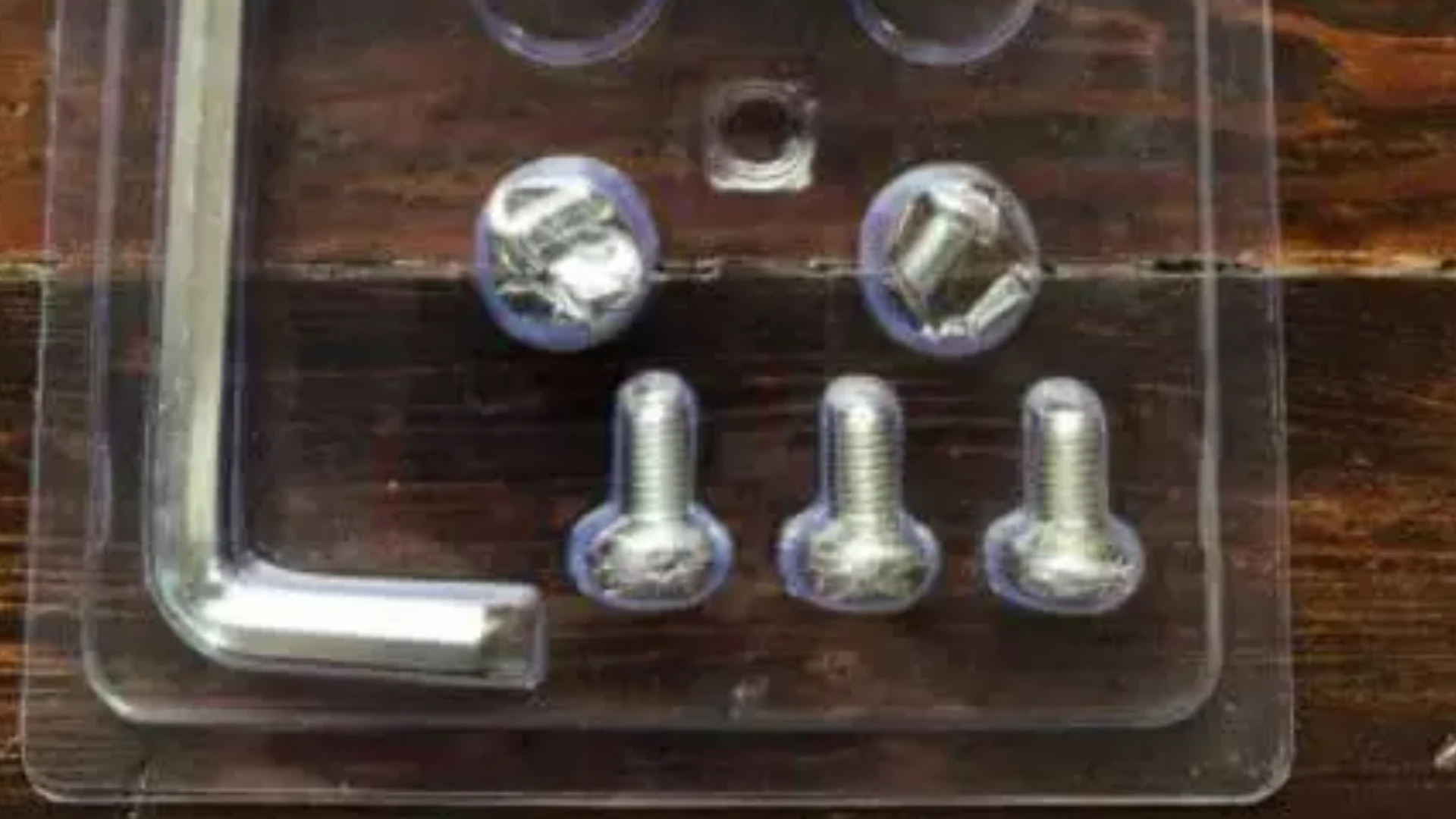 When I first installed the tilting mechanism, there were some issues with attaching the armrests. They came pre-assembled very close to each other in their factory packaging so it was difficult for me to fit them together. To fix this problem, I had to loosen up one of my chair's arm rests and move it further away before connecting both components onto the chair.
The ClutchChairz Throttle Series comes with a detailed instruction manual that is easy to follow. The booklet does not lack any information and includes every step of the assembly process in detail so you are never left wondering what's next or how it should be done. It took me around half an hour to assemble everything, even though I experienced some small issues due to my own errors.
Pros
Attractive look
Durable built
Great weight capacity
Head and lumbar support included
Reclinable
Comfortable armrests
Cons
Some parts are plastic
It might get hot in humid weather
Overall, Pewdipie's gaming chair is a multi-purpose chair with some great features to showcase. It comes with a high-density cold-cured foam that provides ultimate comfort. It also has an ergonomic backrest with soft padding, lumbar support, and a headrest. You also get a reclinable backrest to relax. Last but not least, Pewdiepie's chair is durable and strengthened to last you long enough.
---
FAQs
Is Pewdiepie's chair worth the money?
Pewdiepie's gaming chair is worth all the money you spend on it if you are a hardcore gamer and looking for a featureful chair. It comes with an amazing combination of features, making it the best on the market. For instance, it is equipped with high-density foam, which is cold forged; therefore, it wouldn't deflate or lose its shape. Moreover, you get a comfortable lumbar and head pillow for lasting comfort. Lastly, it is durably built so that it may last you a long time.
Why is a Pewdiepie chair so expensive?
Pewdiepie's chair is slightly overpriced because it is made in collaboration with a celebrity for one. Besides, it is made using premium quality material in the making of the frame to ensure strength and durability. Moreover, it is upholstered using PU leather which is easy to clean and keeps its integrity along.
How much weight can a Pewdiepie's chair support?
Pewdiepie's chair has a durable structure; it is made with stainless steel, molded into an ergonomic design to support your posture. Other than that, its base is made with strengthened aluminum which holds a lot of weight. The maximum weight Pewdiepie's chair can hold is 330 pounds which is incredible.
Final Note On Pewdiepie's Chair
In a nutshell, gaming chairs provide the necessary comfort and support you need for long gaming sessions. Pewdiepie is one amazing chair made in collaboration with a famous Youtuber by ClutchChairz. It is widely used across the world, and even Pewdiepie uses it himself. Pewdiepie chair reviews are positive most of the time because it renders maximum lumbar support and extreme comfort. Other than that, it has an ultra-durable built, which allows for maximum weight holding capacity.

Hi, I'm Françoise and I am a gaming freak. I have multiple gaming machines and spend almost 10-12 hours playing different online games. I got my first gaming PC on my 15th birthday and since then I have used multiple gaming chairs to enjoy the maximum possible comfort.
Unfortunately, I suffered a lot with low quality chairs and that is where I decided to jot down my expertise to facilitate millions of gamers around the world. So I collaborated with Mr. Danny Williams and Solomon Wilson MD. and joined their team on ComfySittings.