Are you in search of a gaming chair promising utmost adjustability, neck support, and great lumbar support? Well, you have hit the right spot! Killabee, the reputed brand, has been manufacturing Killabee gaming chairs with astounding features and incredible qualities.
These large, well-cushioned chairs are one of every user's favorite. It enhances the gaming experience. When purchasing these chairs, one needs to look at the sizing, upholstery, and other aspects. A thorough and complete comparison will let you decide which chair will fit your needs.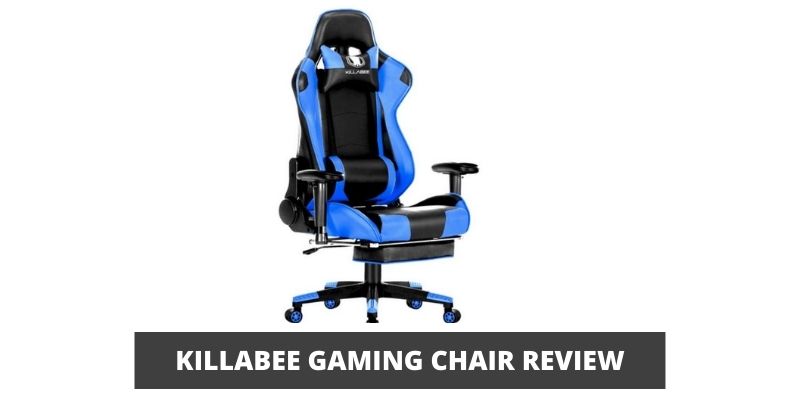 Killabee Gaming Chair Review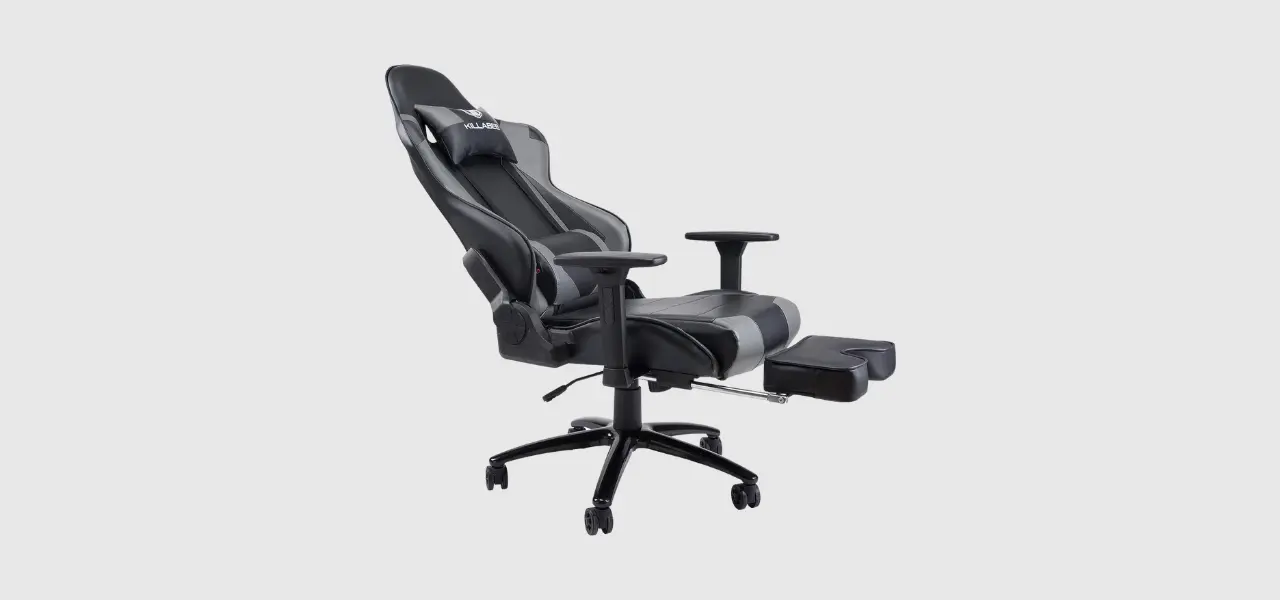 Specifications:
Material: Metal frame, PU leather
Product dimensions: 27.6 x 27.1 x 48.4- 51.2 inches
360 degree swivel rotation
90-175 degree adjustable backrest
250 lbs weight capacity
Adjustable footrest, USB electric massager
Memory foam padding on top of the existing seat
The killabee gaming chair review below discusses all the features and aspects. Dive in and get to know about your right gaming partner.
About Killabee Brand
Having a humble beginning in China, the brand started flourishing in the year 2001. The motive behind it is the extreme back pain of the staff member after long sessions of playing. This encouraged them with the idea of coming up with a brand that promises incredible relaxation.
One requires the right posture, which largely depends on the chair you use. The entire team began to develop the prototypes of the gaming chair. It was in the year 2014 that Killabee unleashed its 9015 footrest gaming model. This was their first success and made their name in the market. The brand now has a range of multiple economical gaming chairs.
Are you looking for an affordable gaming chair? Have a look at my review on Best Cheap Gaming Chairs Under $50
Features of Killabee Chairs
The section discusses and analyzes the features and qualities of Killabee chairs.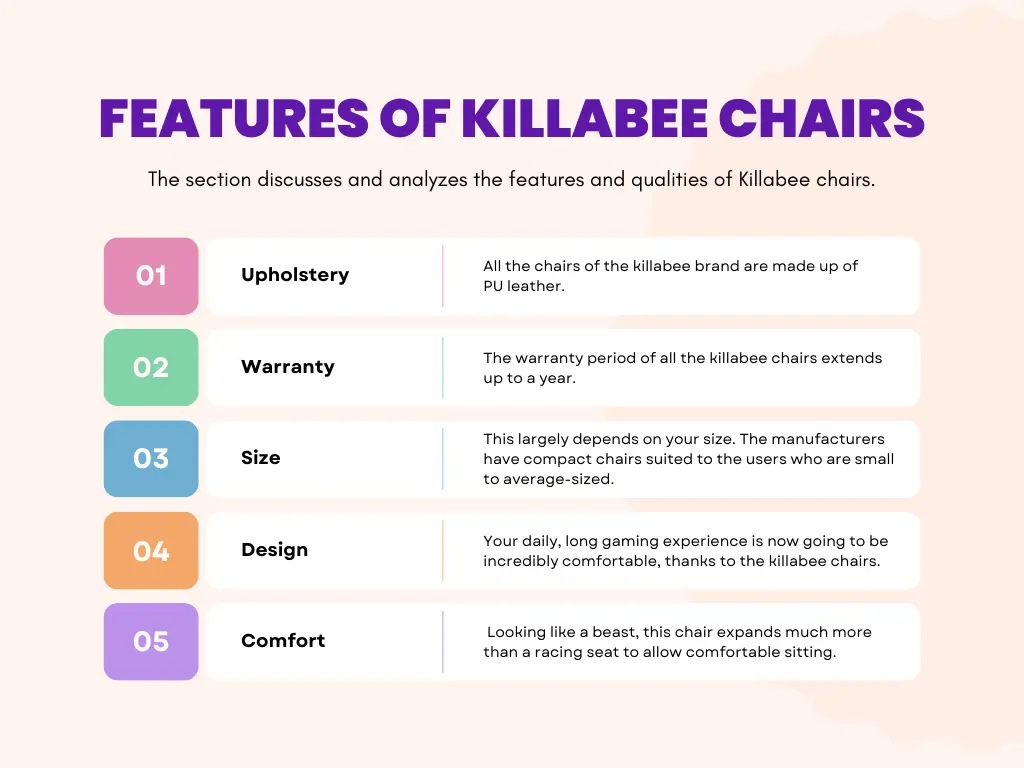 Upholstery
All the chairs of the killabee brand are made up of PU leather. While this will make the manufacturing easy, it is effortless to clean. The material is water-resistant and moisture resistant, which prevents dirt. The patterns and the various colors make these so attractive.
The exterior of these chairs is astounding due to the catchy, patterned fabric. The leather is 100 percent original which enhances the durability. The fabric used is added thick for additional reliability. It also is made breathable so that it provides comfort.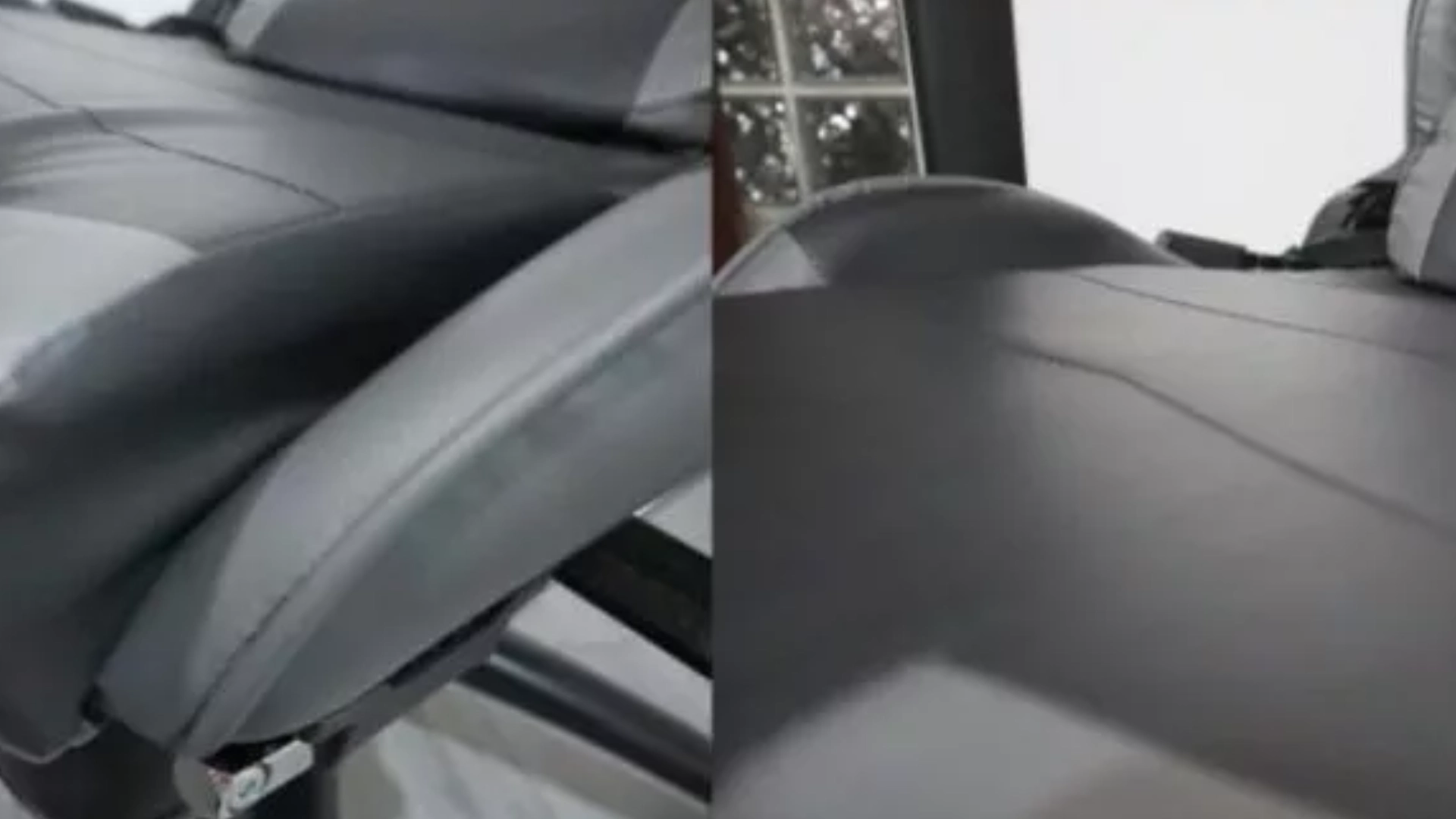 Under a thick layer of high-quality leather, the layers of shape memory are added. The density of memory is low. It possesses great strength. The astounding mechanical properties of the inside material further enhances durability.
The weight will be perfectly distributed and will have density well-distributed. These dense material weights will greatly enhance reliability. The comfort is unrivaled due to thick cushioning. The choice of material deserves appreciation as it is surely one of the best combinations.
Gaming requires a longer period of sitting and relaxation. The chair allows you to attain the right posture, which eliminates back pain. The padding is resistant and offers great comfort. The shape will be the same even after a lot of years. The padding is amazing, too but needs to be improved. You can expect the padding to be thin and flattened out after a couple of years.
The material extends to the legs of the chair, which provides it an eye-appealing exterior look. It will also give the chair a formed and premium look. The upholstery is top-notch and is designed to provide you first-class comfort.
Also have a look at Best Massage Gaming Chairs
Warranty
The warranty period of all the killabee chairs extends up to a year. This has been laid out and stated that this covers about 40 hours in a week. This has been clearly stated on their warranty page.
One can differentiate between the costly gaming chairs and the cheap ones through the padding used. It plays a great role as it determines the shape together with comfort. The strong and durable padding will ensure the right design even after long hours of use. The cheap one will be subjected to flattening.
Killabee promises and guarantees that their chair will adhere to the former one. The company claims their chair is the best when it comes to padding. This is due to the high-quality material used. The chairs have been produced carefully by analyzing every aspect. It makes every feature oh-so-perfect. This is the reason for their brand being so very successful.
Enjoy your utmost gaming experience and have an incredible sitting with none other than killabee chairs. The right posture, ultimate comfort, and incredible support make these chairs so dear and our absolute favorite.
Size
The chairs come in a wide range of sizes. It is versatile and can be used for a wide variety of purposes. These chairs are incredibly versatile, from gaming to school work, from taking online lectures to sitting on random.
This largely depends on your size. The manufacturers have compact chairs suited to the users who are small to average-sized. If you are a tall or healthy person who wants a comfortable experience, spacious chairs are also available.
The extreme versatility will fit everyone's needs and requirements. Whether you are a petite person or a tall one demanding comfort, these chairs will provide you additional comfort. The legroom is spacious. It will allow you to place your legs either crossed or straight with ease. The relaxation it guarantees is unparalleled.
You may also be interested to read about: Best Gaming Chairs Under $100
Design
Your daily, long gaming experience is now going to be incredibly comfortable, thanks to the killabee chairs. These chairs are big, tall, and massive, guaranteeing extreme ease and quality time. The chairs are so constructed as to provide the users superior time.
Even if you are a person of small height, this is an incredible option for you. The versatility is astounding. It comes in multiple sizes to satisfy your needs and wants. The comfort is greatly enhanced through the right design.
A cushion padding comfort is great but even greater is what you get with memory foam. The memory foam will provide durability. The multiple layers of it make the chair bumpy. The right amount of cushioning is provided through that.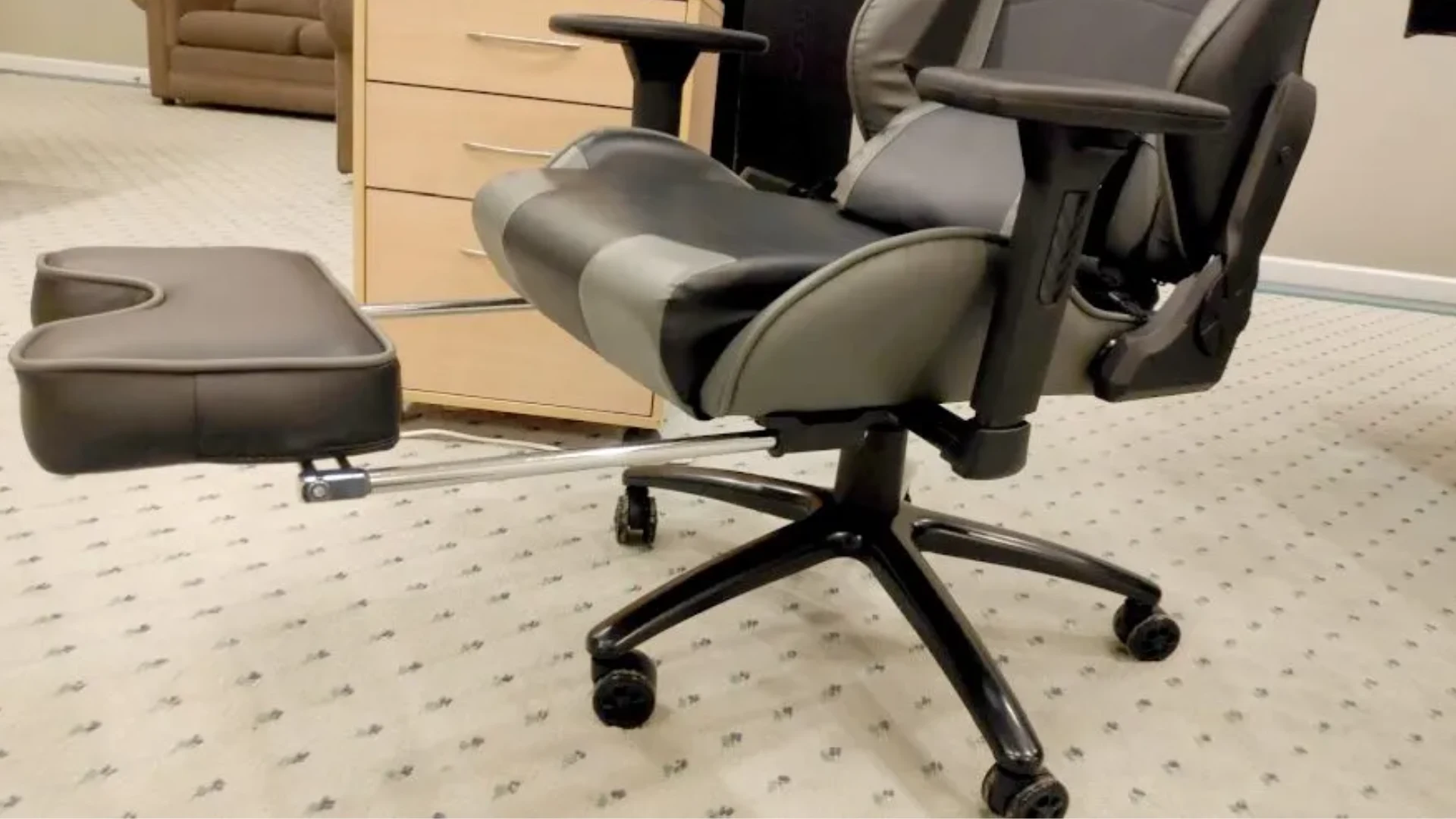 The large chair suited to tall persons has a weight capacity extending to 440 pounds. Incredible! Isn't it? The minimum height which is required is 5'4''. It is strongly advised to go for these if you have a height greater than that.
The exterior is catchy with a racer-type appearance. It appears to be a high-end, superior race car. It provides you right exterior. It drives you to give your best. You perform well during games if comfortable. This is very spacious and substantial.
The subtle and sophisticated colors make the appearance even better. The variations are present. While some models come in black, some come in white. Some models are gray, which is very subtle. The chairs have a minimalistic look, which appears great.
Comfort
To promise you to experience like a king, the fit of the chair is exceptional. Looking like a beast, this chair expands much more than a racing seat to allow comfortable sitting. To ensure that all users enjoy gaming, the chairs have a robust design. It is flexible to accommodate everyone, no matter what the size is or shape is.
The density is well-distributed. The cushioning is even. This ensures that your weight doesn't damage the chair looks. The cushioning is thick and strong. Very flexible and very bumpy, extreme experience is promised.
No matter how long do you intend to play, your chair will be right in shape. To ensure comfort, the seat can be angled up to 150 degrees which allows ease. Apart from gaming, if you have a duty of work from home, you can use this to your needs.
Whether it's long online gaming sessions to online lectures, these chairs are your comfortable bed. The headrest will provide the right support to your head. The lumbar support will provide adequate support to the lower back. This will eliminate back pain. The lumbar pillows will provide extreme support and relaxation to reduce the gap between your back and the chair.
The material used is incredibly soft cotton. Apart from providing comfort, it also controls moisture. It is very durable and reliable. The waterproof lumber pillows will keep the sweat away. It drys away and keeps away the sweat.
Offering great adjustability, the design is ergonomic and promises ease. This is premium and superior quality with high flexibility. This is a feature-rich chair. You surely won't be disappointed with your decision.
---
Also Check: Gt Racing Gaming Chair Review
---
Other Features
Top-notch and premium features that drive you to give your best performance during long gaming sessions. It enhances your standard gaming to superior levels. The variations in sizes and shapes are what show the creative side of the manufacturer.
Coming up with some adaptations and twists, the robust design will enhance the design and exterior. The frame is composed of steel. The steel supports the entire structure and enhances its durability. With reliability, optimal weight, steel is certainly the best material chosen for the frame.
With economic efficiency and the right flexibility, the frame is incredibly reliable. Guaranteeing great strength, the frame supports you right and makes the chair last long. It can withstand a maximum weight of 440 pounds which is astounding. This can take your weight no matter how tall or heavy you are.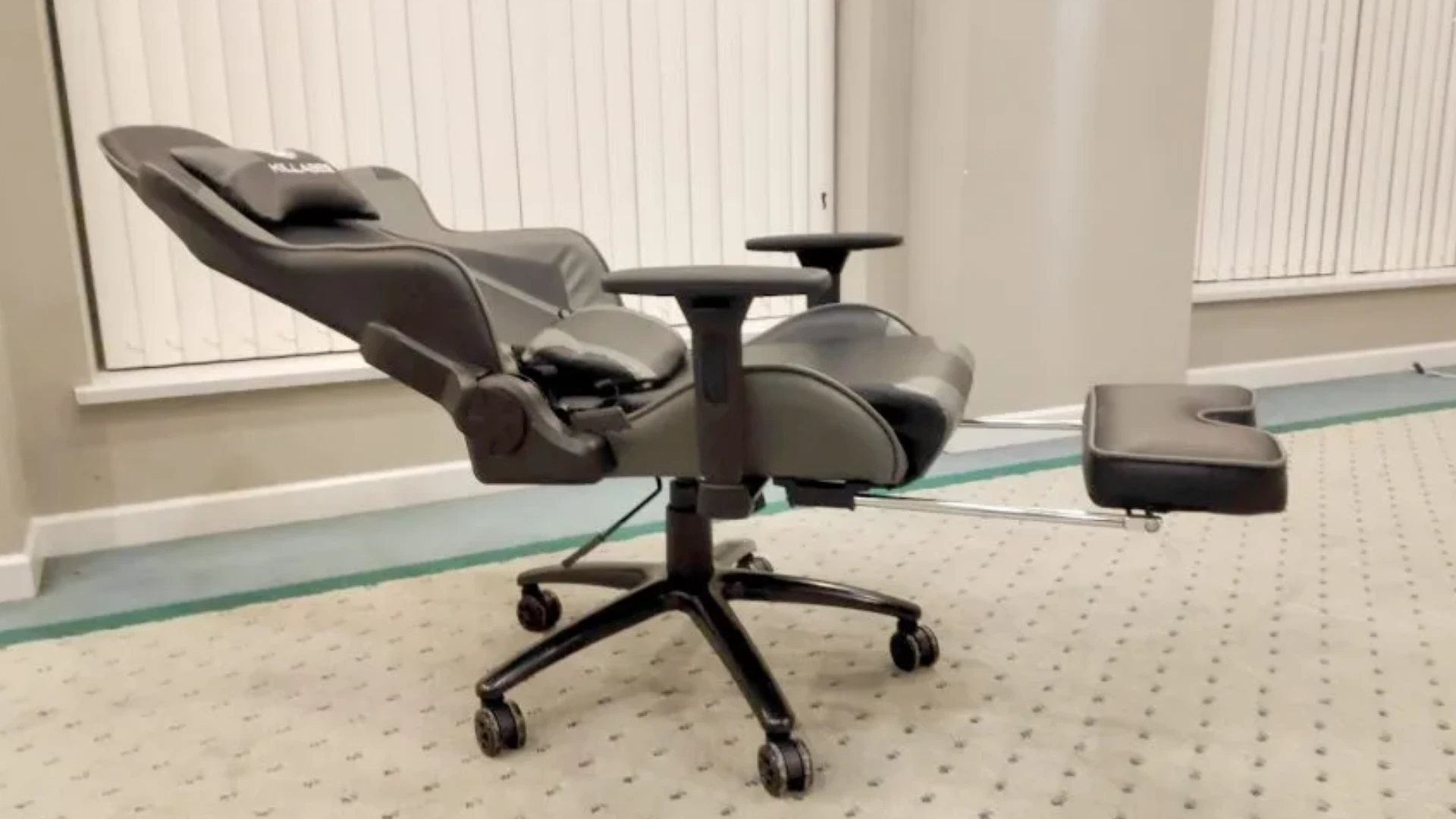 The size dimensions are very thoughtful as well. The armrest is well-cushioned and allows your arm to have superior rest. The armrest features an ergonomic design and incredible adjustability. You can position the armrest in all directions.
The cover of PU leather will enhance its durability. This will not only increase the strength but also provide a great finish. The grip will be enhanced and improved. With great moisture resistance, it will simplify the cleaning. Say no to strains and pain with maximum adjustability and great flexibility.
Pros
Incredible comfort
Quality construction
Reasonably priced
Right weight capacity
Distributed density
Classy exterior
Patterned fabric
Moisture-proof
Right support
Comfort armrest
Cushioned headrest
Support lumbar pillows
---
Assembly of the KILLABEE 8204 Gaming Chair
When you invest in a new office chair, it's important to think about the assembly process. It would be unfortunate if your arm rests were uneven or your backrest did not recline properly because screws don't line up correctly.
I was thankful to assemble the Killabee all by myself because I had no one else around.
Making the assembly of this product straightforward were two things.
When you unpack the parts of your chair, most screws are already in their respective holes. You will only need to tighten them when assembling the pieces together for use later on.
One of the finest aspects of this chair is how light it is, making assembly simple for one person.
The package includes an allen key and spare screws, as well as gloves which was a nice touch.
Frequently Asked Questions-FAQs
Do Gaming chairs actually do anything?
Gaming chairs are definitely worth it. The right posture will reduce the pains and eliminate the strains. It also puts you at comfort and ease. Go for the one if you are a great gamer.
Are gaming chairs more comfortable?
The gaming chairs guarantee additional comfort due to added cushioning. This also improves your gaming experience to a whole new level.
Why is cotton the best?
Cotton is surely the best due to moisture absorbing properties. It enhances comfort and is very breathable. It absorbs the sweat and makes your time fun and comfortable.
Final Verdict
Tired of strains in the shoulders? Are you just so done with pains due to long gaming sessions? Well, the killabee gaming chair is here to put you at ease and comfortable. This is certainly going to enhance your gaming experience. With extreme versatility and the right support, this is your right choice.

Hi, I'm Françoise and I am a gaming freak. I have multiple gaming machines and spend almost 10-12 hours playing different online games. I got my first gaming PC on my 15th birthday and since then I have used multiple gaming chairs to enjoy the maximum possible comfort.
Unfortunately, I suffered a lot with low quality chairs and that is where I decided to jot down my expertise to facilitate millions of gamers around the world. So I collaborated with Mr. Danny Williams and Solomon Wilson MD. and joined their team on ComfySittings.