Massage chairs not only provide physical leisure to your body but also give you mental relaxation. They were among the best-declared creations that have ever happened in the medical or health arena. Today numerous kinds of massage chairs are accessible in the market, and each of them is different from others. There is this feature of a track that helps select the chair according to your need.
The most commonly used track is the S-track chair which has been in the market for many years. But it has been almost 10 to 12 years that an L-Track massage chair has been introduced to the users. Since its introduction, it has been the most demanded and credible source of relaxation available in the form of massage chairs. Moreover, keep in mind that the L-Track massage chair is the extended version of the S-Track massage chair, providing you with massage rollers up to thighs and glutes instead of ending at the lower back.
Moving on towards the nucleus of this article, without wasting your time, we are covering the seven best L-Track massage chairs, which are efficient in their performance and are highly reliable. These selected massage chairs are precisely those which are available online at Amazon and are majorly positively reviewed. Keep your heart and stay attached until the end.
Best L Track Massage Chairs Overview
Top 3 Recommendations
7 Best L Track Massage Chairs Review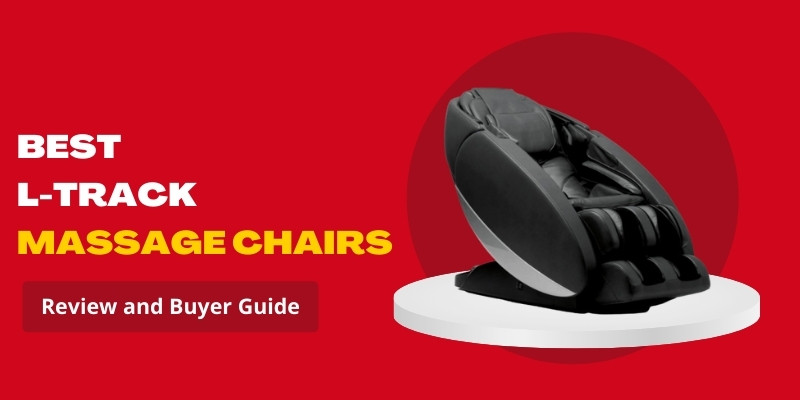 Here is the list of the seven best massage chairs selected for you to make you choose the suitable one for yourself.
1. Luraco Legend Plus 3D L-Track Massage Chair – Top Rated Massage Chair
This is the most inspiring massage chair on our list. The essential unique feature of this is its five memory settings. If you live with your family then, of course, your chair would be used by other people too. And when many other people use one chair, that settings never remains constant. You need to have such a feature in the chair that should save your settings, and when you use the chair, you can click and get those settings.
There is another attractive feature in the chair, which is this intelligent sensor Technology. This means that the chair can sense your problematic areas and specific points where you need a massage. You only need to sit quietly and calmly to get maximum benefits without investing your efforts in suggesting to your chair what to do. It also consists of body stretching techniques to help strengthen your muscles and relax your stress.
There are nine automatic preset programs enlisted in the massage chair. It also provides you with heat therapy to specific regions. There is the availability of 5 intensity control levels to choose what you need the most and which suits you the most. This massage chair comes with a touch screen controller to make it more convenient for you. No doubt, the massage chair is perfect for anyone who is in search of an efficient product.
Bottom Line
This massage chair is ideal for anyone who is not very large sized. It consists of already set programs in it and heating therapy. Moreover, it also provides you with stretching muscles therapy and five memory settings, and Intelligent Sensor Technology.
Also Read Review on Best 3D And 4D Massage Chairs
2. Human Touch Novo XT2 – Most Durable Massage Chair
This is another L-Track massage chair that makes you feel you are living in stars and moon because of its Zero Gravity feature. This Zero Gravity feature evenly distributes your weight and takes away the feeling of being heavy and stiff, indirectly providing you with relaxation and high comfortability. Moreover, this massage chair is not only an L-Track massage chair but also an S-Track.
It is the blend and mixture of both of these tracks giving you the maximum opportunity to sit and relax. Massage also consists of sensor technology that detects the point where you need the massage most. In this way, it provides a massage starting from your neck directly to your thighs, including all the necessary areas and points you want to get the message.
If you love acupuncture, I recommend you buy this chair because it has built-in acupressure technology. With this technology, the massage chair automatically and naturally selects the acupressure points on your body and puts pressure on them, giving you the benefits of natural therapy. The chair comes with a lumbar heating region that enhances the heat in your lumbar region and provides you with the feelings and results of comfort in your lower back.
Bottom Line
Although this massage chair is relatively expensive than others on the list but offers you unique and efficient features; moreover, the massage chair consists of Acupressure Technology and Lumber Heating Technology inbuilt in it. The massage chair is also suitable for sensing the specific parts where you need the massage.
3. Kahuna LM 6800 Massage Chair
This massage is renowned for its affordability and low price tag. It gives you the benefits of a high-class super massage with budget-friendly dollars. The product comes with five inbuilt manual massage programs and six auto programs present in the massage chair.
Moreover, the chair comes with intelligent body scan technology, which is responsible for scanning and capturing the specific points in your body where you feel stressed out and need a massage. This gives you the feel of real-life human-to-human massage Technology. This massage chair belongs to the famous company for its excellent and outstanding customer service, which increases its popularity among the users.
For added benefits, this massage chair consists of Air Cell Massage Technique which locates your acupressure points, giving you relief. Similarly, we have a Zero Gravity feature in the massage chair which, when activated, makes you feel super light. This feature makes you feel you are out of the boundary of gravity, ultimately giving you relaxation both internally and externally.
Bottom Line
The massage is ideal in terms of features and price. It consists of 11 inbuilt massage programs in which five programs are manual, and six are automatic. The massage chair also consists of body scanning and zero gravity features, making you feel like an authentic life massage.
4. Real Relax Massage Chair
This massage chair looks ideal and makes you feel like the zone of comfort is hugging you. It is effortless to assemble and does not require much of your effort to get it together. The chair comes with a feature responsible for giving a full body massage without leaving a single muscle. Moreover, the chair can carry 400 pounds of weight very directly.
Like other chairs in the list, it also comes with zero gravity specification, with only a single button press. While reclining the chair and activating the Zero Gravity feature of the chair doubles up your peace and comfort. This massage chair comes with extra features, which adds to the positive aspects of this chair. These features are Bluetooth connectivity and LED lighting.
Bluetooth connectivity allows you to connect your mobile or some smart device with the chair so you can listen to your favorite music while sitting and relaxing. The LED lighting feature gives you a stylish and elegant look which adds to the beauty of your room. Moreover, you can select different modes available for LED lighting and choose the one that gives you peace of mind.
Bottom Line
This is highly affordable with all the necessary features and some of the extra features. These extra features improve the chair's functionality, giving you a high level of relaxation and comfort as soon as you sit on it. Moreover, this massage chair consists of entire body massage techniques, Bluetooth connectivity, and LED lighting.
You can also read my Review on Best Real Relax Massage Chairs
5. Oways Ugears Zero Gravity SL Massage Chair
If you are looking for a massage chair that should give you the real-life experience of professional massage, I recommend you buy Oways Ugears Zero Gravity SL Massage Chair. This is suitable and recommended for everybody's size because the full-body scanning Technology can detect the specific areas you need the massage.
Furthermore, the chair provides you with tapping, rolling, shiatsu, kneading, and knocking massage techniques. There is the presence of airbags and rollers in the foot region, which generates airflow and gives you the experience of warmth and comfort. Moreover, we have heating therapy in the lumbar region to give you heat and relaxation in your lower body. The temperature of this is up to 45 degrees Celsius.
The zero Gravity feature makes the chair more comfortable and light for you. This Zero Gravity feature comes with three different levels so that you can select the most suitable one for you. The company's customer service is also remarkable, which provides you with a one-year-long warranty so that you can call them in any problem.
Bottom Line
This massage chair is equipped with all the necessary features which you need. There is the presence of zero gravity feature, body scanning feature, and multiple massage options, which are directly inbuilt in the chair and are available for you.
6. Inner Balance Wellness Jin – Value Priced L-Track Massage Chair
This L-Track massage chair provides you the massage starting from your head and ending up to your thighs. The Inner Balance Wellness Jin consists of all the essential features we look for in our massage chair, too, within a very reasonable range. No matter what size you are, the chair adjusts itself to fit your body size.
Moreover, it consists of foot rollers and back rollers to increase your comfort zone and provide maximum relaxation. Then, we have the Zero Gravity feature, which allows you to feel super light and comfortable as soon as you turn it on. Entire body massage techniques provoke the chair to provide us with full-body relaxation and comfortness.
The chair is renowned for its adjustable features that help in the adjustment of height, according to the height of a person, which is a unique feature and is not found in any of the other massage chairs. The shoulder and head regions are also adjustable with the presence of a leg extension feature which helps in relaxing your muscles.
Bottom Line
The chair is a little heavy but contains very vital features in it. It is unique in terms of adjustability. The chair comes with a full body massage option and many other adjustable options so you can select and adjust according to your demand.
Recommended Read: Best Massage Chairs For Gaming
7. Forever Rest 3D L Track FR-9K Massage Chair
The uniqueness of this year is in its entire track heating therapy, which is responsible for providing your full body heat and warmth. This full-body includes your head, shoulders, back, lower back, spinal region, glutes, and thighs area. Furthermore, there is the presence of an airbag system which is also dispersed throughout the chair.
Triple foot rollers are available in the foot region, which gives you the foot massage and plays an essential role in relaxing your whole body. You can conveniently choose from five various intensity levels that are present in the chair and can select the most convenient one for you.
Massage customization is also available with a touch of a button on the remote control of the chair, and you can view your settings with an LCD screen that is located on the massage chair. Moreover, we have 11 manual massage techniques, which give you a large variety of different types of massage. Adding to it, you can adjust the width, speed, depth, and area in any of these massage styles according to your demand.
Bottom Line
This massage chair consists of 11 manual massage techniques that are built in it with the customization option too. Zero Gravity option, full-body heating therapy, and full body airbags therapy make this massage complete and recommended for you. Moreover, it also consists of foot rollers for adding comfort.
Are you interested to learn about Daiwa Massage Chairs? If yes, read my comprehensive guide on Daiwa Massage Chairs
FAQs Regarding L-Track Massage Chairs
Is L-Track or S-Tack better?
S-track massage chairs and L-track massage chairs are generally the same, but L-Track can extend and flattens more than S-track. Furthermore, the L-Track massage chair gives you a more comfortable ATI because it extends towards your hamstrings, glutes, and thighs. At the same time, an S-track massage chair ends up on the lower back.
What is an L-Track massage chair?
L-Track is renowned for extended roller track technology in massages. This means it does not end up on the lower back but extends up to the hamstrings and thighs. This technology means extending an S-track and a constant rollers track starting from the head and ends on your thighs.
Can I use a massage chair every day?
Yes, you can use a massage chair every day but make sure to use it very carefully. If you use it daily, you should not exceed sitting from 20 to 25 minutes or more. Sitting excessively on the massage chair may cause harm and cramps in your muscles and not provide further relaxation.
Is using a massage chair good for your health?
Using a massage chair is good for health if it is used properly. If you use a massage chair daily, do not exceed more than 25 minutes. Moreover, massage chairs are made in such a way that they correct your posture, give you massage and heat therapies on the specific regions, providing you with computability and relaxation.
Is a massage chair worth the money?
Massage chairs are generally expensive and costly, but they give you very efficient specifications. These features and specifications help give you many benefits. Massage chairs are worth your money if you are planning to use them daily. Otherwise, it is of no use to spend this much money on something you will use once in a while.
Also read: Osaki Massage Chairs Review
Final Thoughts about Comfortable L-Track Massage Chairs Review
L-Track massage chairs are no doubt the best massage chairs that are available in the market. This massage chair covers every part of your body starting from your head, shoulders, spine, lower back and ends up into the thighs region. Go with the selection of L-Track massage chairs to ensure you get a massage on all the necessary parts of your body.
As a reviewer, I will suggest,
Luraco Legend Plus 3D L-Track Massage Chair is the massage chair with the latest features, including heat therapy, stretching massage therapy, and nine inbuilt massage preset programs. It also consists of 5 memory settings with intelligent sensor technology that can sense the parts of your body where you need the massage.
Human Touch Novo XT2 is another highly recommended massage chair with lumbar heating Technology and acupressure technology built in it. The massage chair can also sensor-specific regions of your body where you need the massage. Moreover, the best feature of the chair is its Zero Gravity feature which makes you feel super light while sitting.
Genuine Relax Massage Chair is another L-Track massage chair giving you all the necessary and optional features which add to its performance. It contains Bluetooth connectivity and LED lighting, which enhances the charm of your room. It consists of full body massage therapy with Zero Gravity features which doubles up the benefits of massage.