Being a programmer or a software developer, it is guaranteed that you will have to spend 10 to 12 hours of your day sticking with a chair. You are just too busy meeting your deadlines and do not feel the urge to switch to a comfortable and ergonomic chair unless you end with back pain or muscle stiffness.
Your seating arrangement can actually make a difference and also increase your output level. The more comfortable you are, the faster the brain works. The intense coding hours can be spent while sitting in a comfortable seat with no long-term health issues.
These chairs are a one-time investment and can be used as two-in-one chairs as well. They have innovative designs and add an overall increase to your programming experience. We provide you with all the necessary information to know and select the best chair that suits you and provides ultimate comfort and support.
Best Chair for Computer Programmers Overview
10 Best Chairs for Computer Programmers Review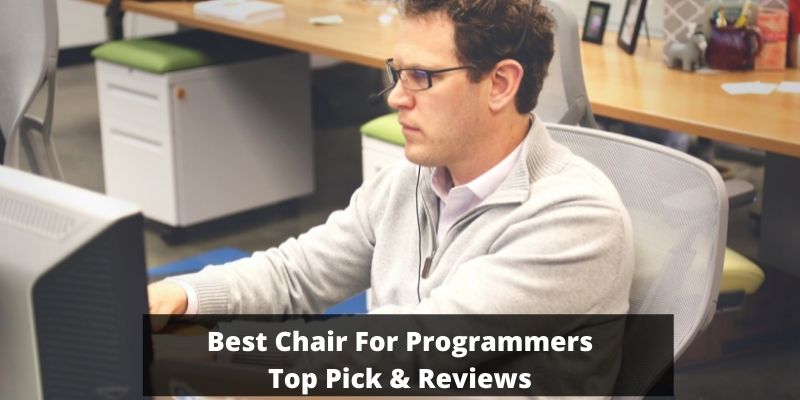 If you hunt for an ergonomic and supportive chair, then this is the right place for you. A list of best chairs for programmers is given below in this article. A wide variety of chairs are present which possess some incredible features keeping your comfort the topmost priority.
1. Herman Miller Classic Aeron Chair – Best Chair For Developers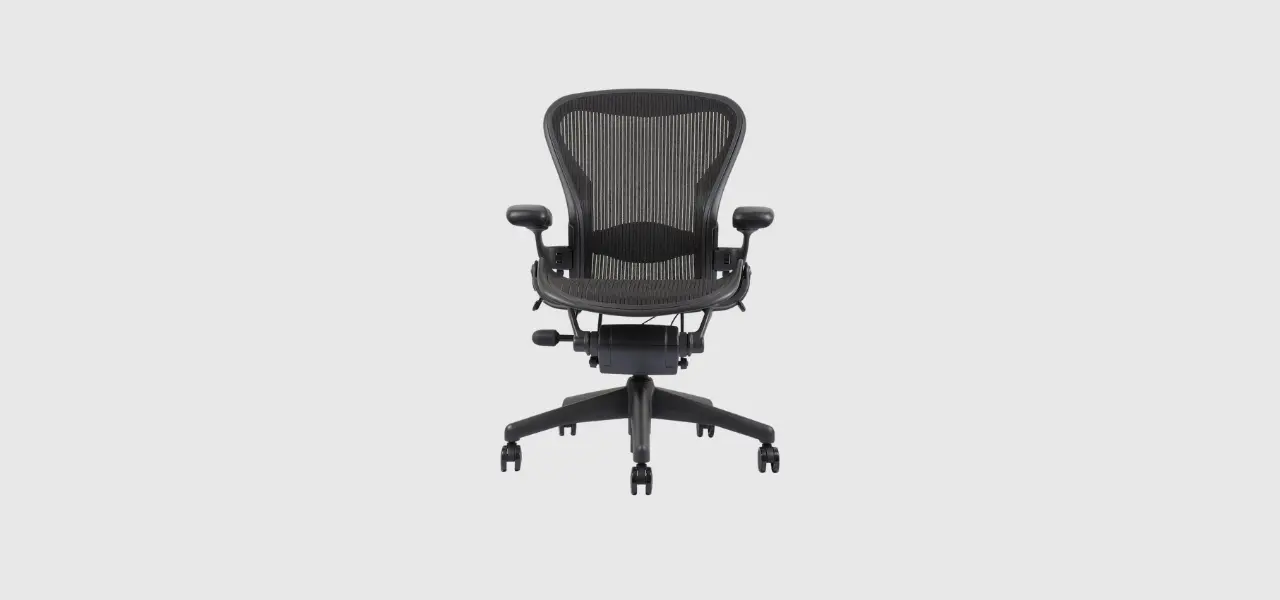 The Herman Miller chairs are very famous and can be used for many purposes such as office work, studying, and even for programmers as well. These are the best available in the market and do not leave you with lower back pain. These can help you maintain your posture and sit for eight or more hours without causing any discomfort.
These chairs come in three sizes A, B, and C, and can be bought according to the size which suits you the best. It promotes blood circulation, especially in the lower body, because the SL technology has been used in manufacturing. The 8Z pellicle material helps take away the sweat and promotes air circulation during the summer season.
This Herman Miller Classic Aeron Chair has two adjustable pads to help you maintain the right posture while sitting and prevent muscle stiffness. This can be the best chair for programmers providing ultimate support while coding for long hours.
It comes with a tilt function that can help you sit straight or lean backward for a couple of minutes to relax and freshen up. The chair comes with armrests that give support to the hands and elbows while working on the computers. It does not come with a headrest but can be bought separately and fixed onto it.
Pros
Made with 8Z pellicle material
Three sizes suitable for everybody
Promotes blood circulation by SL technology
Cons
The headrest has to be fixed separately
Programmers can best use the Herman Miller Classic Aeron Chair because of the innovative functions it possesses. It comes in three sizes which can be best for every person, belonging to any body type. The 8Z material and the SL technology used have extreme health benefits. The only drawback that this amazing piece of furniture has is that it has no headrest.
---
2. Duramont Ergonomic Office Chair – Best Programming Chair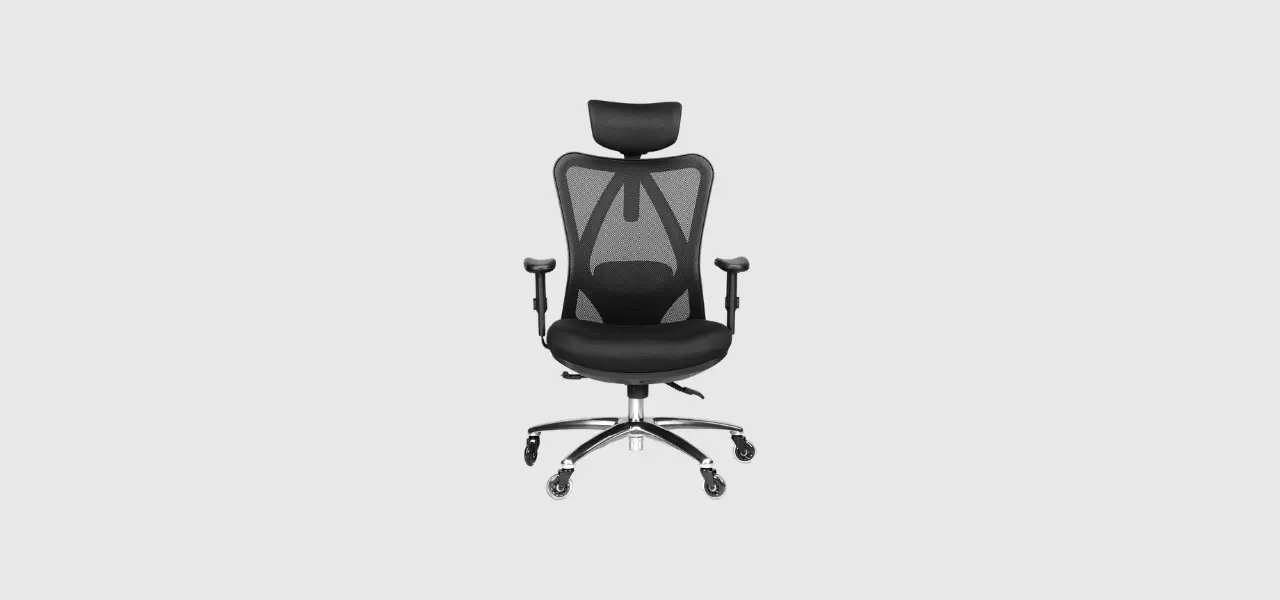 This is a perfect chair that includes a headrest, backrest, and armrest. The headrest gives extra support to the neck while sitting straight for long hours. These can help reduce some of the pressure from the back, keeping the shoulders relaxed. The armrests keep you secure and assist in working on the computer.
The Duramont Ergonomic Office Chair has multiple adjustment options and has a unique design. The chair comes with high elastic breathable mesh and allows back tilt movement as well. The back can be adjusted in multiple angles, while the pneumatic controls help you achieve the desired position. The mesh material keeps you cool without causing any irritation to the skin.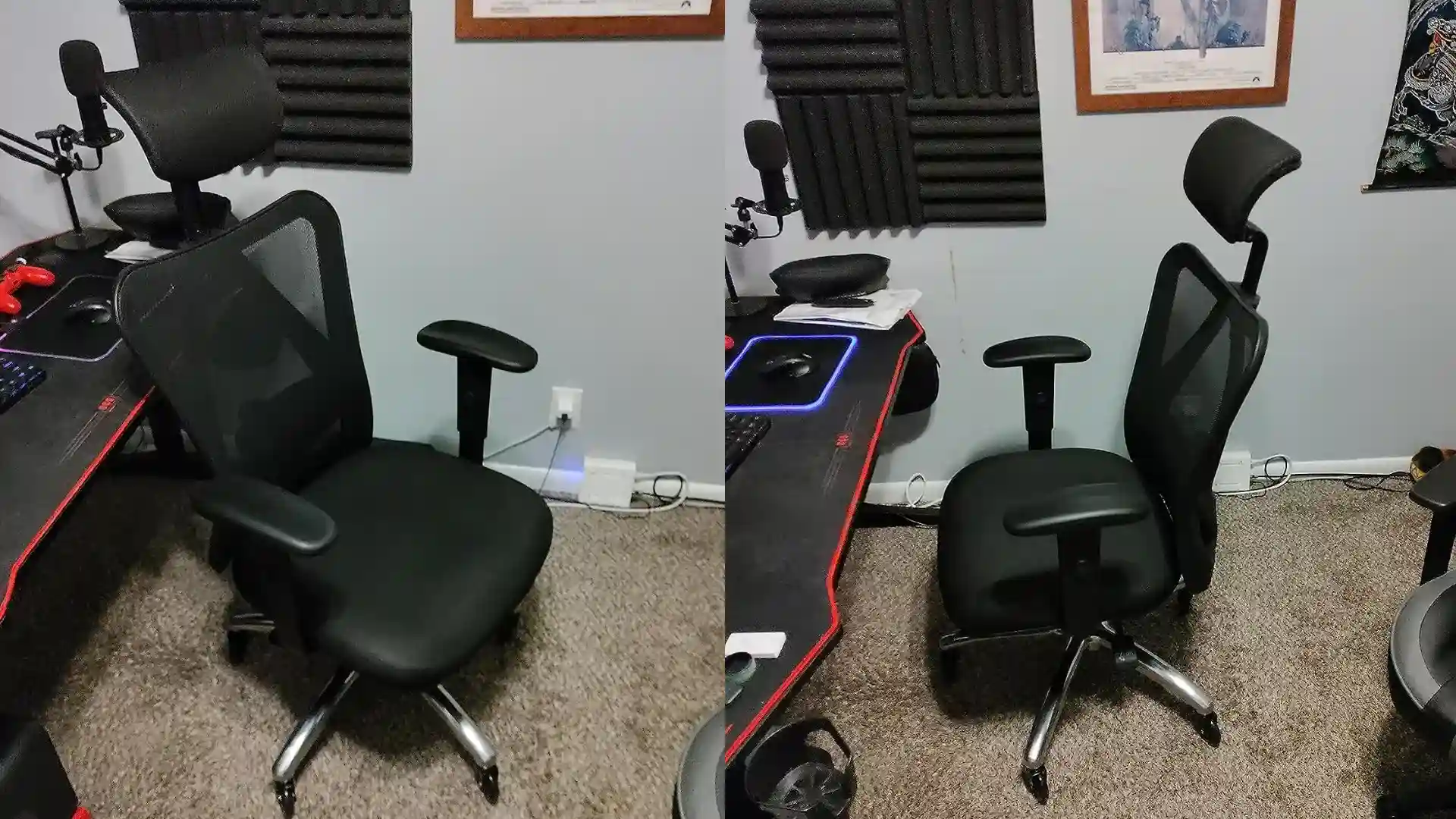 This chair is extremely durable and can give you many years of comfort because the mesh material does not deform after use. It retains its shape. It can bear weight up to 330 pounds and is best for the workers doing diverse jobs. The chair enables easy mobility around the workstation and has a soft padded seat.
Pros
The breathable mesh material used in manufacturing
Pneumatic controls and adjustments
Extremely durable and long-lasting
Cons
The chair might have some chemical odor
The Duramont Ergonomic Office Chair is made up of breathable mesh material that can save you from sweating after sitting for long coding hours. They do not lose shape like every other office chair with thick cushion seats. The chair has some odor which can be unpleasant and irritating.
---
3. SIHOO Office Chair Ergonomic Office Chair – Best Chair For Software Developer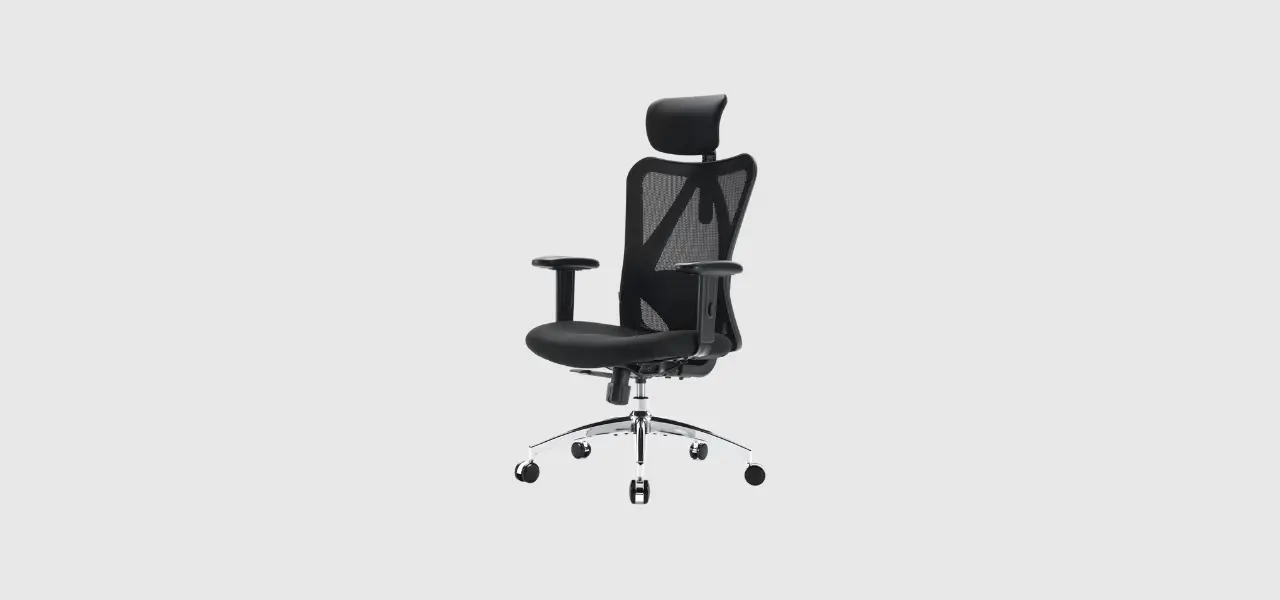 The SIHOO Office Chair is available in two colors and has a very appealing appearance. This gives a very sleek look and can be a very suitable option for your office. The lumbar support area comes with a curve that fits perfectly with the shape of your spinal cord, giving you that extra support during the day.
The height of the seat can be adjusted along with the depth. The back has a bi-directional small pillow that supports the waist area and gives a customized seating experience. The back area is made up of mesh which can keep the moisture away during sitting, especially on hot summer days.
The seat of the SIHOO Office Chair has a waterfall edge that enables you to keep the feet flat on the ground and exert less pressure on the legs. The seat does not bend out of shape because it comprises a high-density sponge that retains the original shape even after being used for many years.
Pros
Two-color options are available
The high-density seat does not deform
Bi-directional small pillow present
Cons
The gas lift might stop working after a couple of months
This chair is available in two user-friendly options. The seat retains its original shape and does not disappoint you after a few months of use. The small pillow on the W-shaped lumbar support area gives extra comfort while developing some new software. These chairs come with gas lift technology that might not work as efficiently as when bought.
We would also like you to check out the : Best Chairs for Computer Work
---
4. Steelcase Gesture Office Chair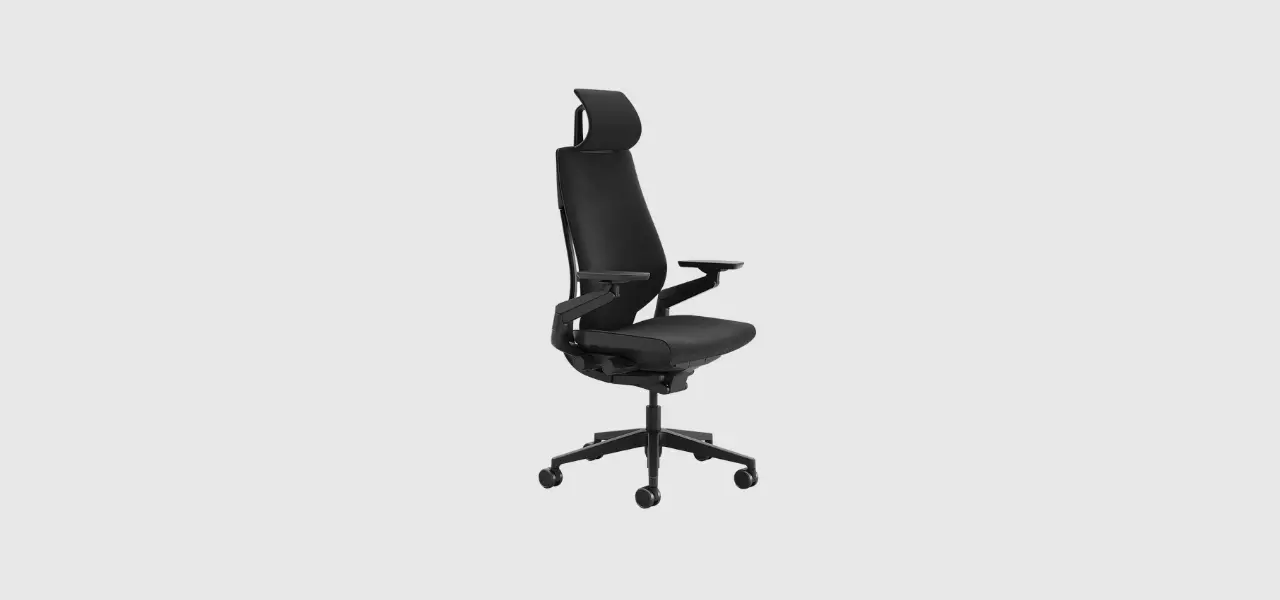 This chair is specially designed for data scientists and programmers. The Steelcase Gesture Office Chair allows 360-degree swivel movement and comes with two types of caster wheels. Whether you have a carpet in your office or not, these have you covered. The chair can be selected with any wheel caster that suits your office area and enhances maneuverability.
The chair has a plastic finish and includes all the necessary features an ergonomic chair possesses. The high-tech arms can be adjusted according to your comfort level, taking off pressure from the shoulders. The backrest allows you to recline at four different angles and lock the seat when in your favorite spot.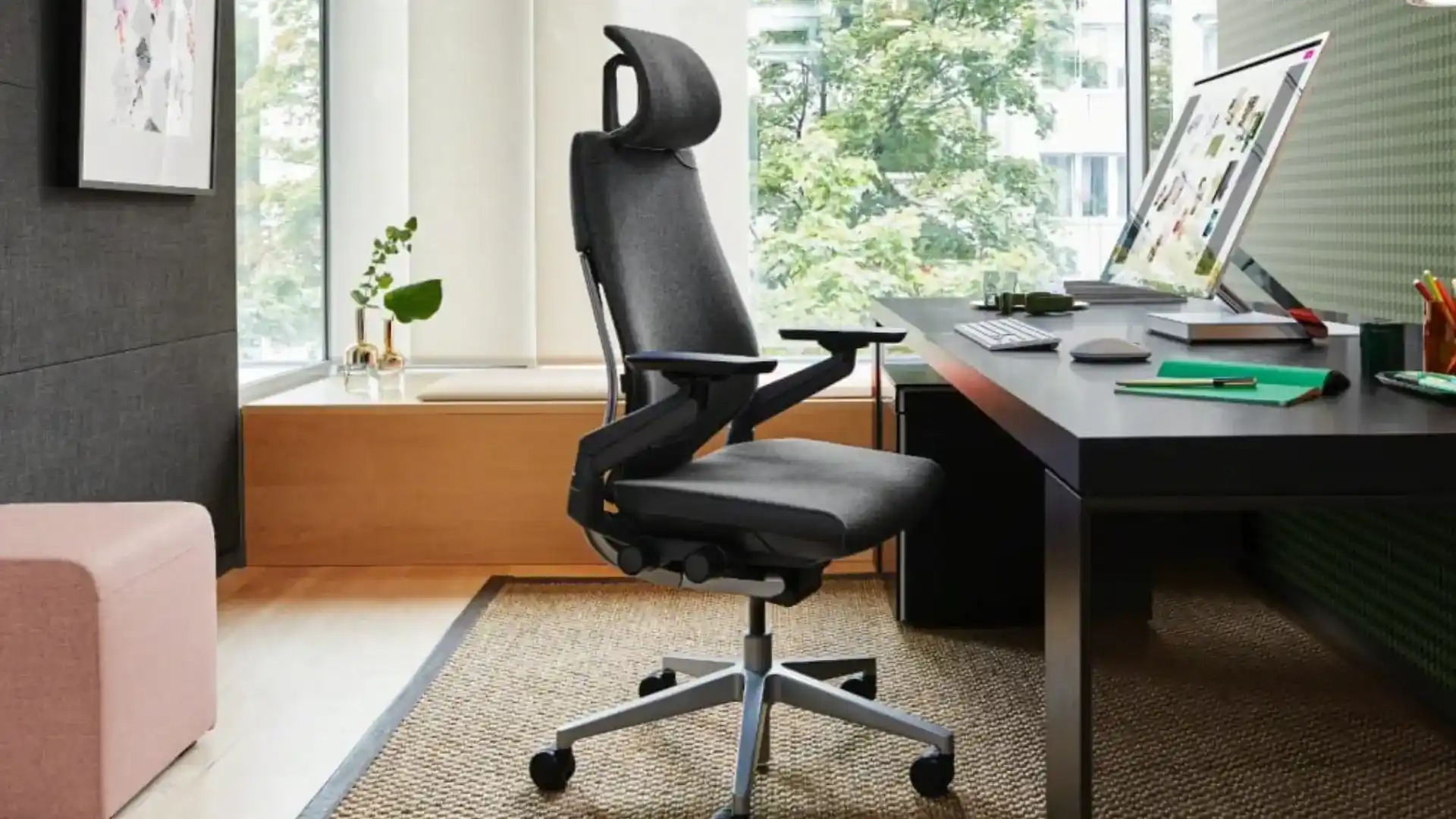 The seat is fully assembled when delivered to you, which saves you from so much hassle. It keeps your posture in the right angles when sitting for 8 to 10 hours straight and can bear the weight up to 400 pounds. The chair is made up of polyester, which can be recycled and is environmentally friendly. Hence it can be the best chair even if you stick to it and develop programs all day long.
Pros
Made up of polyester
Two types of wheel casters are available
High tech adjustable armrests
Cons
The plastic framework looks cheap
The Steelcase Gesture Office Chair is made up of 100 percent polyester and does not tear off easily. The wheels have two different types of casters, which can be selected according to the flooring of your office. The armrests are adjustable and can even help you to stand up effortlessly. However, it comes with a plastic framework, which might break and looks low quality.
---
5. Gabrylly Ergonomic Mesh Office Chair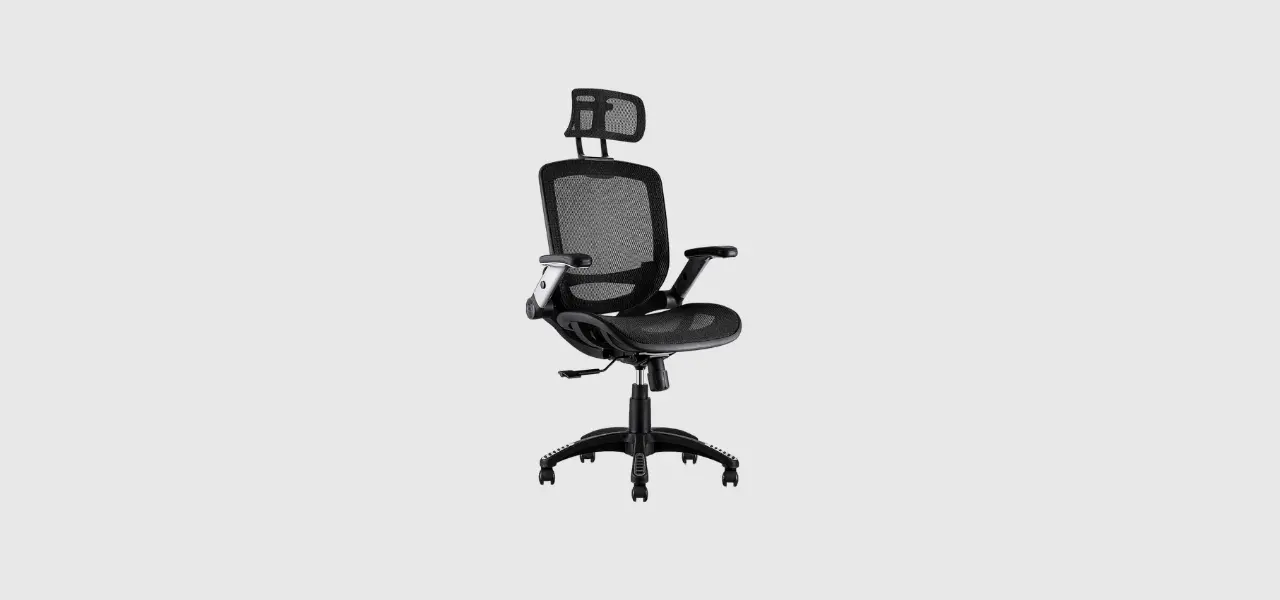 This chair is available in black and grey color and has a large mesh seat. It is best for people with big bodies. Overall, the seat has mesh material that is breathable and promotes air circulation when you have to sit for long hours working on different programming codes.
The armrests are made with the latest technology and can get out of the way when you need to stand up. The flip-up armrests have a padded cushion on the top, so it feels soft and does not irritate the arm when kept for longer periods of time. The headrest can be adjusted up to 6 inches in different directions by pressing the small buttons on the back.
The Gabrylly Ergonomic Mesh Office Chair is best for programmers and promotes easy maneuverability. The wheels are made up of PU and do not scratch the floor when dragged from one end to another. It is a very stylish chair and allows tilt rotation up to 120 degrees so you can relax and stretch out for a couple of minutes during a long day at work.
Pros
Promotes easy maneuverability
The wheels do not scratch the floor
The armrest can be flipped up
Cons
The seat drags down back to a lower position
This ergonomic office chair comes with PU wheels that do not damage the floor's surface when dragged to grab stuff around the desk. However, the tires can move easily without making squeaky sounds. The armrest can be flipped up when not being used or before standing up. The seat height does not remain firm and drags down slowly to the original height after sitting for one-two hours.
---
6. Herman Miller Sayl Chair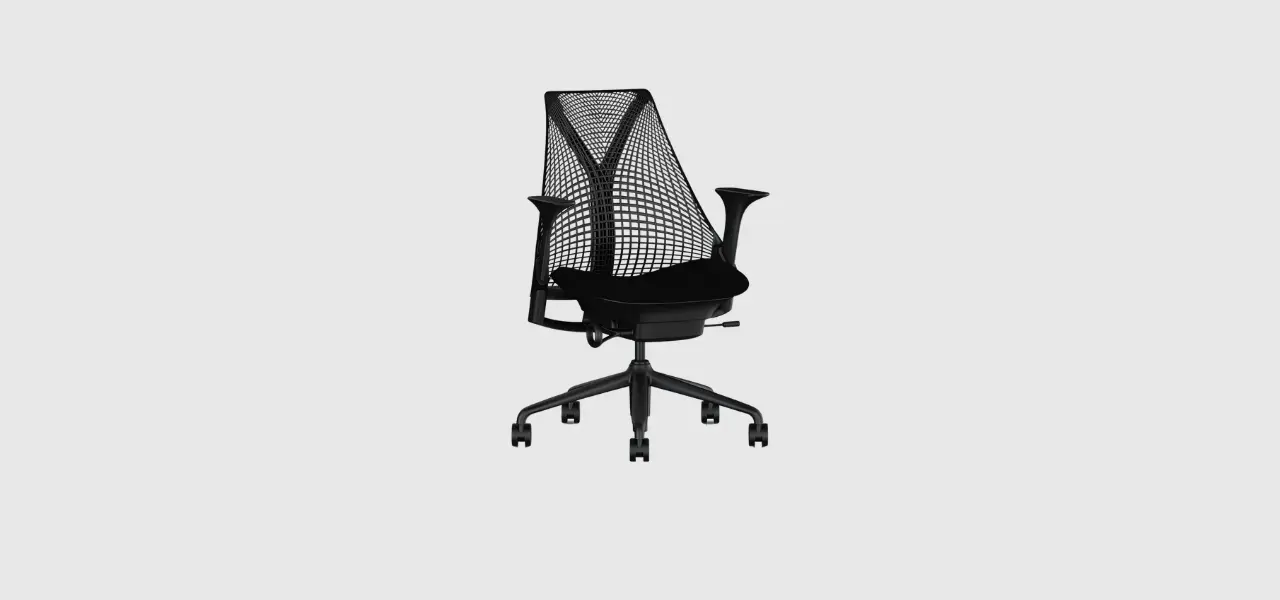 The Herman Miller Sayl Chair is a 3D chair with a unique design usually not common among office chairs. The chair has a very aesthetic look and can be a perfect addition to your classy office interior. It comes with a curved s-shaped back that gives exceptional support and keeps the posture at the right angle throughout the day.
This unique 3D chair can bear weight up to 350 pounds. The three-dimensional back can help you relax on a long decoding day and can tilt up to 124 degrees. It has a steel framework that looks very sleek and is available in two color options. Recyclable materials are used in the manufacturing process, which makes it environment-friendly, unlike polyvinyl chloride.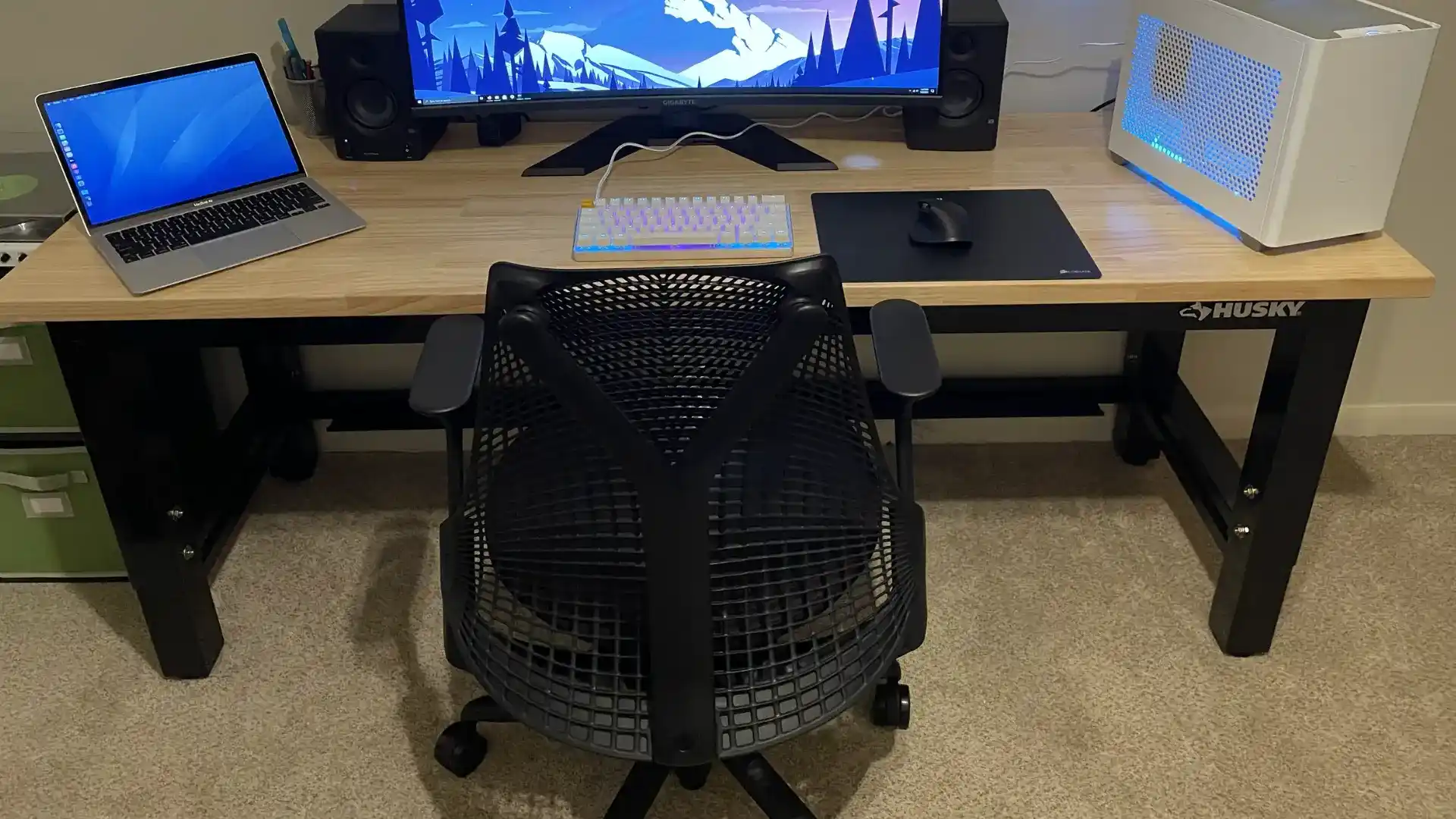 Have to sit on chair for long time, Look at my review on Best Computer Chairs for Long Hours!
The 3D Herman Miller Sayl Chair has a webbed back which can be very eye-catching and is more breathable than the mesh itself. It promotes air circulation and keeps the moisture away from the back. It can be adjusted to some extent but is not as flexible as many other ergonomic chairs available in the market.
Pros
It has color options available
The 3D webbed backrest
The lumbar area can tilt up to 124 degrees
Cons
Limited adjusting features
This chair has a diverse range of color options that can be selected according to your preference. The lumbar area comes with a tilt recline function and can bend up to 124 degrees. This feature can help you relax a bit and take short breaks in between work. The uniquely designed chair is not as flexible as other office chairs.
---
7. Alera Elusion Series Mesh Mid-Back Multifunction Chair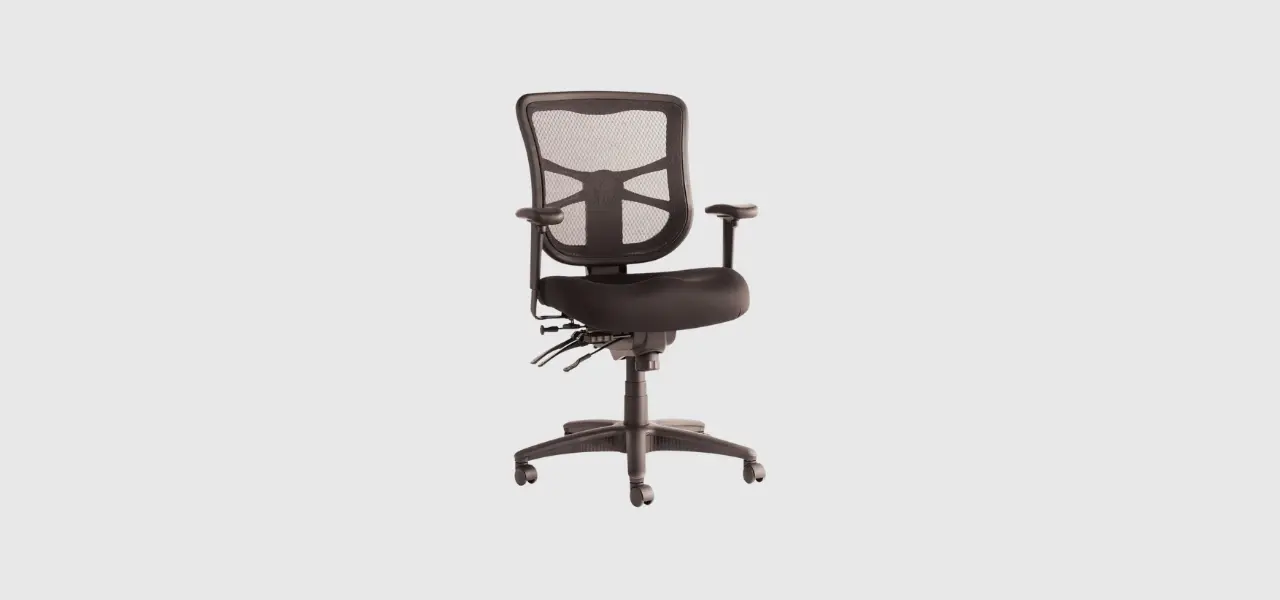 The Alera Elusion Multifunction chair possesses some incredible features that can keep you cozy all day long. The height and width of the armrests can be tailored according to your body type and comfort level. This is an amazing feature that is very uncommon among office chairs. The soft PU pads armrest gives you full liberty and does not come in your way.
The seat has a contoured cushion that assures less pressure on the hip and lower back area. It also has a waterfall edge that helps to accommodate the body nicely. The backrest can be adjusted and locked at infinite positions. The breathable mesh material is very airy and retains itself even after being used for a couple of months.
This chair comes with five wheels that promote easy mobility and have five-star wheel casters which are extremely durable. It also enables 360-degree swivel movement, but it lacks a headrest. Hence it can be the best chair if you prefer one without having some neck support.
Pros
The armrests can be removed
Contoured seat with a waterfall edge
Five-star wheelbase
Cons
It might not be easy to assemble
>
The Alera Elusion Multifunction Chair comes with adjustable armrests. They can either be removed or adjusted as per requirement. The seat is soft with a contoured cushion and a waterfall edge that helps relieve some pressure from the knees while sitting straight. The wheelbase is durable, but the chair might not assemble easily, leaving a few holes behind.
Have a look at my review on Best Chair For Writers!
---
8. Hbada Office Task Desk Chair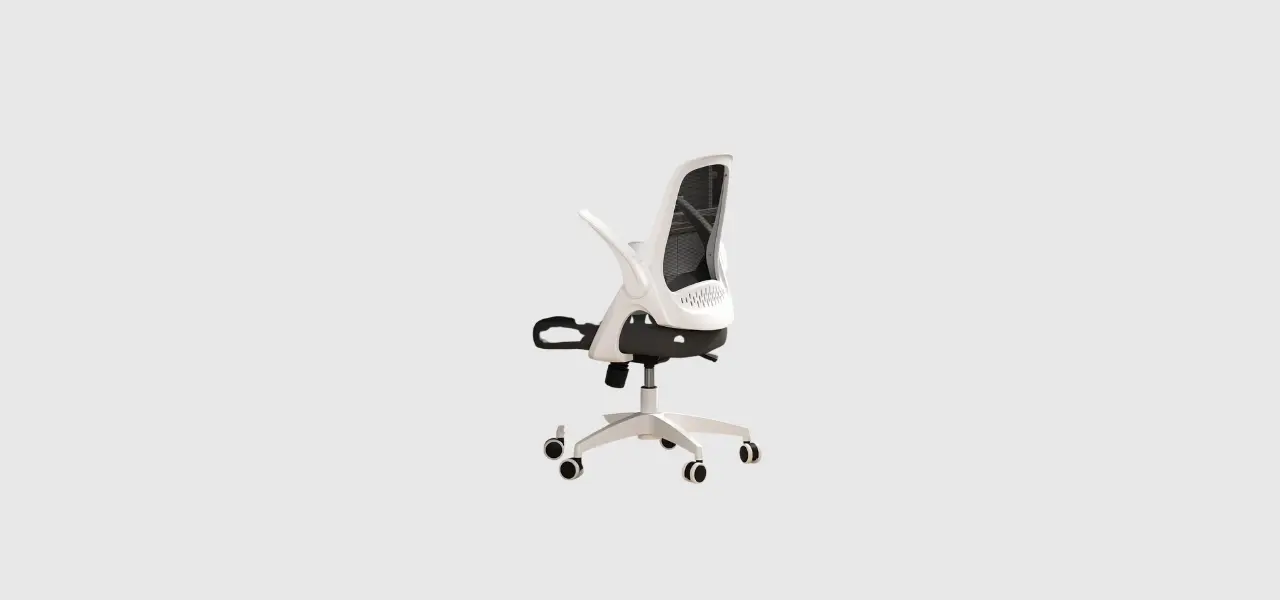 This chair is available in black and white color and can bear weight up to 250 pounds. It has a unique design and comes with flip-up armrests. This feature can save a lot of space as you can pull these up and drag the chair under the desk when you are done working. The Hbada is a multipurpose chair that programmers can use for studying purposes or even in the living room.
This chair has a rocking function that can help you lean back and take a short break for a couple of minutes. The backrest is made up of mesh material and has a similar shape as the human spinal cord. It fits perfectly on the back, giving that extra hold and support when you feel tired and about to give up on some crucial work.
You may also be interested in: Best Desks For Video Editing
The seat is flat but thick and is made with high-density foam. It does not bend up or loosen the shape even after sitting for ten hours daily. These Hbada Office desk Chairs lack a headrest which is the only drawback it has. The wheels are quiet and are made with heavy-duty rolling casters that do not break after the pressure is exerted on them.
Pros
Has s-shaped backrest
Thick, flat seat pan
Solid and quiet wheels
The Hbada Office Chair is a multipurpose chair that comes with a curved back and fits nicely to your s-shaped lower back area. The chair's seat pan is quite thick but flat and does not tear off like the typical chairs with leather. The wheels are well built and mute when pulled across the room. It does not have any support area for the head, which is disappointing.
---
9. Homall Gaming Chair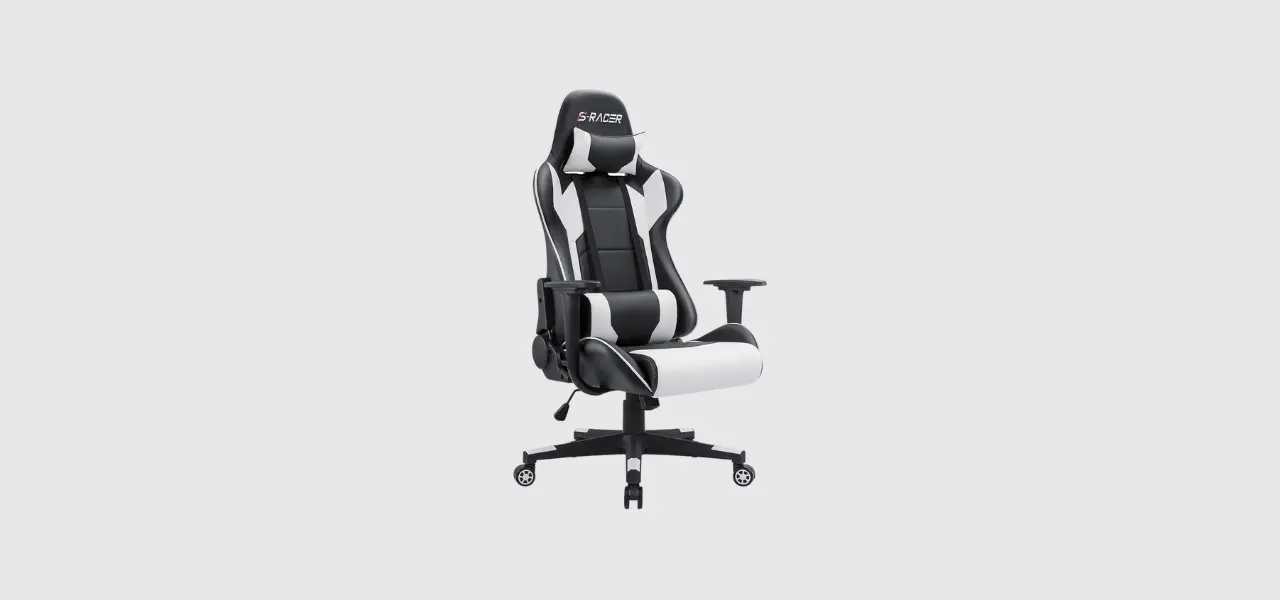 By the name, we think of it as a gaming chair. But it can be used for many purposes and can be taken advantage of. It possesses some extraordinary features that can make it the best chair for programmers. It comes with winged shoulder support and two small cushions on the neck and the lower back area. These cushions can be removed and adjusted at the same time.
The Homall gaming chair is available in ten color options which can help you match your desk and other tools. Overall, the chair has a soft, high-density foam that gives you incredible comfort while sitting for long hours during the decoding process. The PU leather is extremely durable and does not tear off easily.
The backrest can be tilted up to 150 degrees, while the seat height can also be tailored. It has a solid steel framework that is very long-lasting. A racing car seat inspired the design of this chair. The wheels have the same color combinations as that of the racing cars and allow multi-directional movement.
Pros
Strong steel framework
Ten different color options are available
Has a winged shoulder support
Cons
The PU leather seats can be hot during summers
The Homall Gaming Chair has a well-built steel framework that does not break and lasts easily for a couple of years. These chairs have some unique color schemes, which can be very attractive. The backrest comes with winged shoulder support that keeps you secure and less tired while working. The PU leather covering on the entire seat can be hot and sweaty, especially during the summers.
---
10. Ergousit Ergonomic Office Chair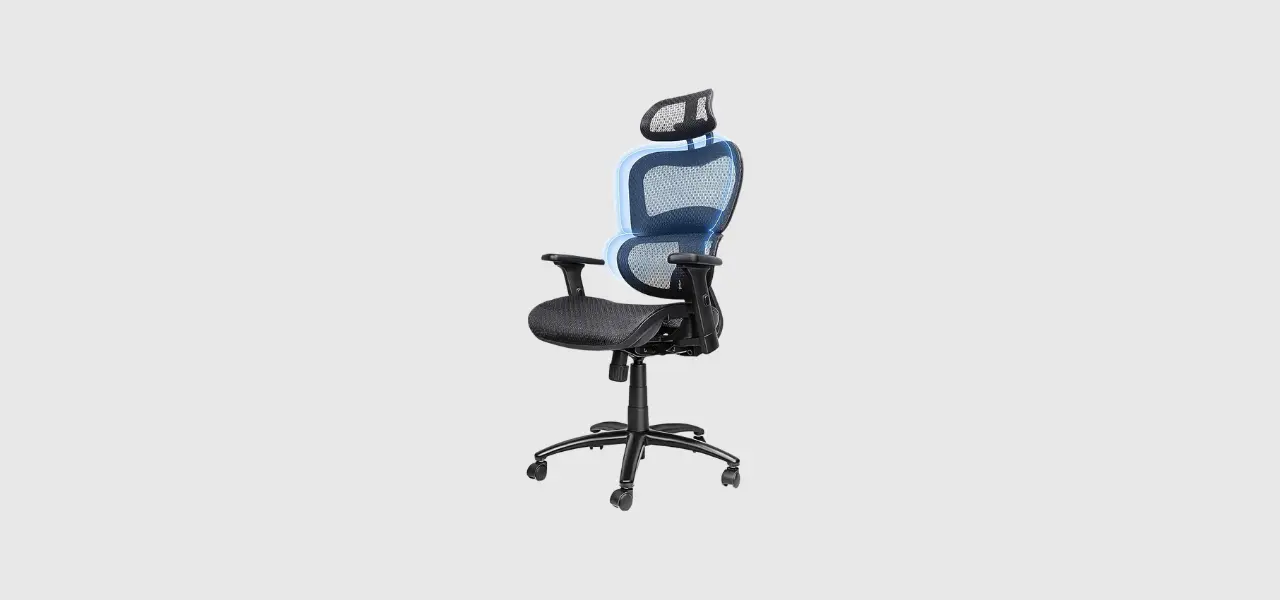 The Ergousit Ergonomic Office Chair is manufactured by using the 3D elastomesh material, which is sweatproof and provides optimal airflow during the entire day. It comes with an adjustable head and armrests that can be used according to your convenience. The armrests can be tailored in many directions and can best fit your body.
These ergonomic chairs are specially designed for programmers or software developers who sit for long hours during work. The backrest has a rocking function and enables you to tilt and lock the chair up to 135 degrees. This is best if you need to relax and brainstorm while meeting the deadlines.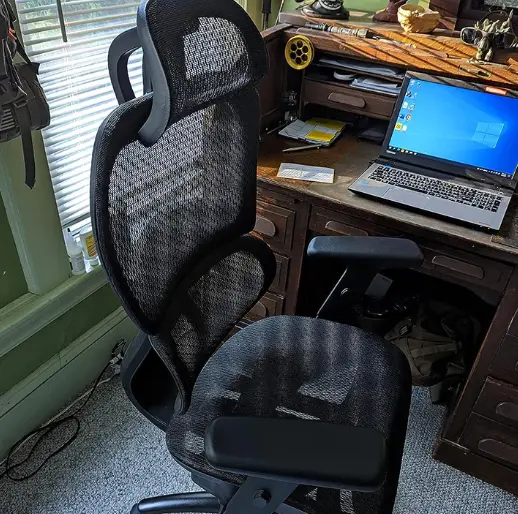 The wheels come with dual castors and provide stability while you sit and drag these across the desk. It has a wide seat pan and can be assembled easily. Hence these can be the best chairs for programmers who possess all the necessary features and make your life easy and comfortable.
Pros
It is made with 3D elastomesh material
The armrests are multidirectional
Wheelbase provides stability while sitting
Cons
The seat pan can be hard for some people
This chair comes with a 3D elastomesh material that is best for use in humid climates. The armrests are soft padded and can be rotated and moved in different directions. It is a strong chair with a stable wheelbase. The seat might be tough for a few people.
---
Buying Guide To Choose The Right Chair For Developers
If you are working as a programmer, you have to sit and spend most of the day in front of your computer screens. This can end you up with multiple health problems in the long run. So it is recommended to buy a comfortable chair that supports you all day long and maintains the right posture. The following things shall be taken into consideration before splurging on the best chair for yourself.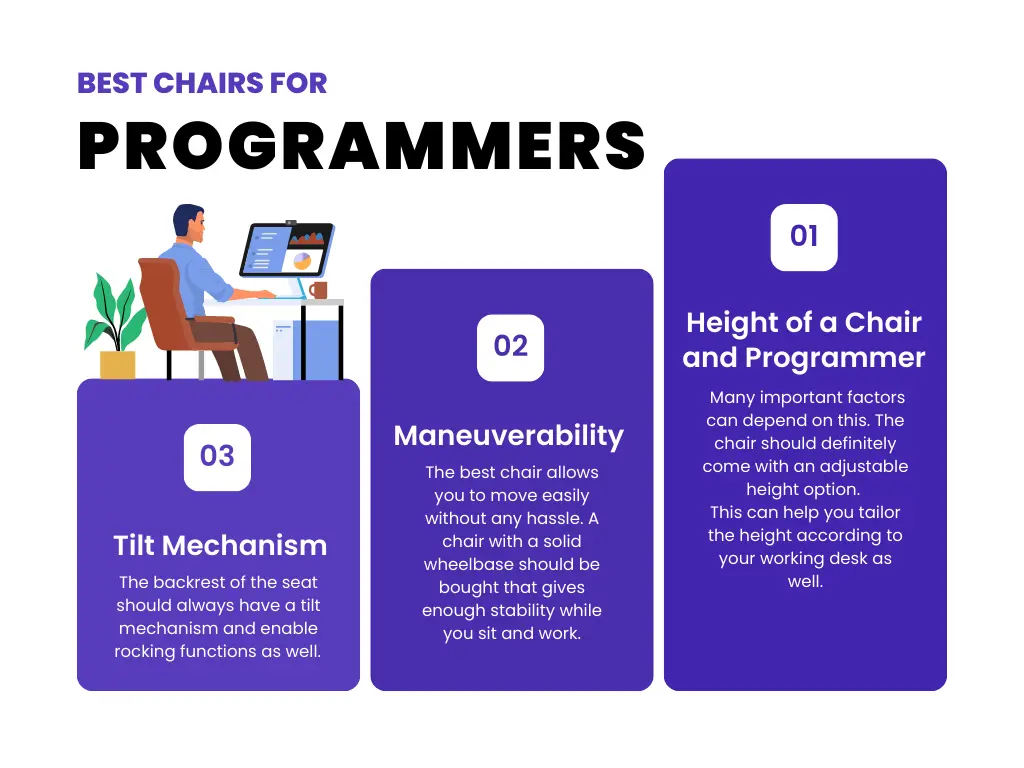 Height of a Chair and Programmer
When on the hunt for an ergonomic chair, the height of the chair should be noticed first. Many important factors can depend on this. The chair should definitely come with an adjustable height option. This can help you tailor the height according to your working desk as well.
If a chair with inappropriate height is bought, it can leave your arms in extreme pain and make you feel tired in an hour. Secondly, while sitting on the chair, your feet must be flat on the ground. This helps to release pressure from the lower back area and the knees. It can help you stay healthy and work for longer periods of time without causing any serious problems in the future.
Maneuverability of Chair for Software Developers
The best chair allows you to move easily without any hassle. A chair with a solid wheelbase should be bought that gives enough stability while you sit and work. You need to move across your workstation to grab stuff or multitask. This will make your work easy and help reduce your work burden.
On the other hand, the wheels should be mute and do not make squeaky sounds. These should not damage the floor's surface when dragged from one corner of the room to the other. Office chairs are usually heavy to lift and cannot be carried around easily. So the wheels can help you drag them around in the easiest possible way.
Tilt Mechanism
The backrest of the seat should always have a tilt mechanism and enable rocking functions as well. You cannot sit straight all day long working in the same direction. The tilt mechanism helps you to relax the back muscles for and bit and stretch them out. This also helps you to freshen up a bit and work more efficiently. The tilt mechanism can also help you achieve your favorite position while sitting and lock the chair. This also helps in maintaining the posture and prevents the back from any kind of stiffness.
FAQs about Programmers Chair
What chairs do tech companies use?
The tech companies mostly use steel case chairs. They are prevalent among programmers and are recyclable. But these chairs are not as comfortable as ergonomic chairs.
Are gaming chairs good for programmers?
Yes, gaming chairs are multi-functional and are best for programmers to use as well. These have some incredible features that can be used by anyone who has to stick with the chair for long hours and maintains the correct posture at the same time.
What is the best chair for sitting all day long?
If you have to sit all day and work, it is recommended to buy a chair that has a backrest, wheels and enables the tilt-lock mechanism. These chairs can give you ultimate comfort and are very easy to carry around.
Wrapping Up Desk Chair for Programmers Review
All of the chairs mentioned above possess some extraordinary features and can be the best chairs for programmers. These can help you maintain your posture and save you from long-term health issues. You can choose any of the above according to your liking. This amazing piece of furniture can give you an incredible experience while coding and decoding for long hours. Happy Shopping!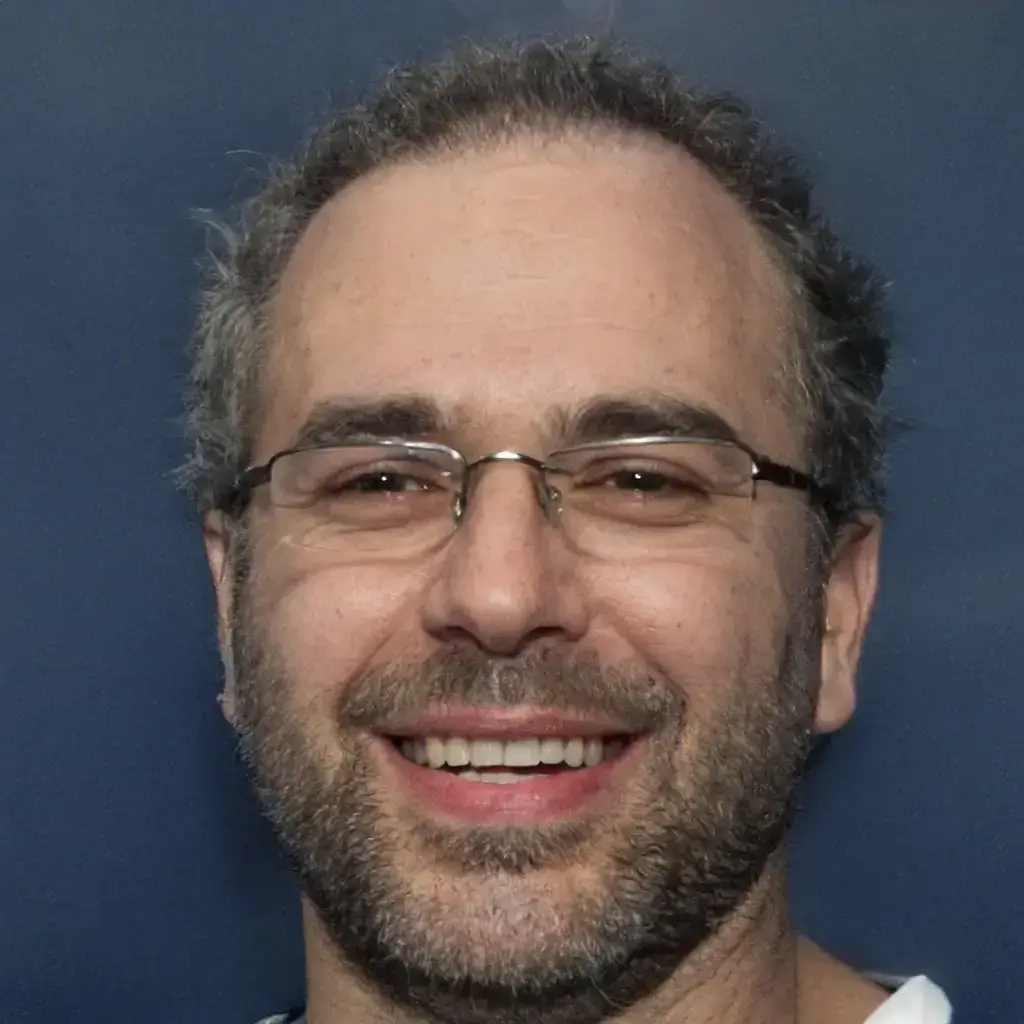 Hi, This is Danny Williams. Worked as an HR in multiple well renowned companies. Currently, I am working as an HR Consultant for multiple multinational companies and startups in USA. Serving as an HR built my expertise in managing staff, resolving their issues and fulfilling their demands. One of the common employees demand includes comfortable sitting which helped me built my expertise in office furniture!