With new technology advancements being made almost every day, we have become more restricted to our computers. People work on their PCs all day long, whether in the offices or their homes. The increased technology is creating more career opportunities for the upcoming generation as well.
Esports is becoming famous worldwide and has come a long way since 2014. It is an emerging industry that is now drawing viewers towards itself. The new generation is interested in making careers as an esports players and sees much potential in this field in the next five years.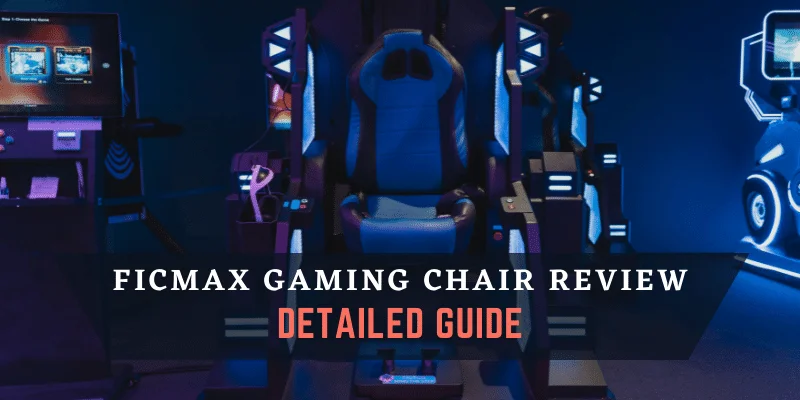 For actively taking part in gaming, you first need to have a comfortable sitting arrangement. The normal chairs do not support the back much and can cause back pain and stiffness.
Many gaming chairs are available in the market, one of which is the Ficmax Gaming Chair. These are especially being made for gamers. The chairs have an amazing bunch of features that can provide you with the ultimate comfort.
Ficmax Gaming Chair Features Review
Style and Color of Ficmax Gaming Chair
The Ficmax gaming chair has an amazing variety of colors and is definitely an upgrade from your recliner or a beanbag chair. They have many color options ranging from a full black, contrasting color with the black, and a full blue and pink chair. These color options help you buy the chair according to the interior of your gaming room.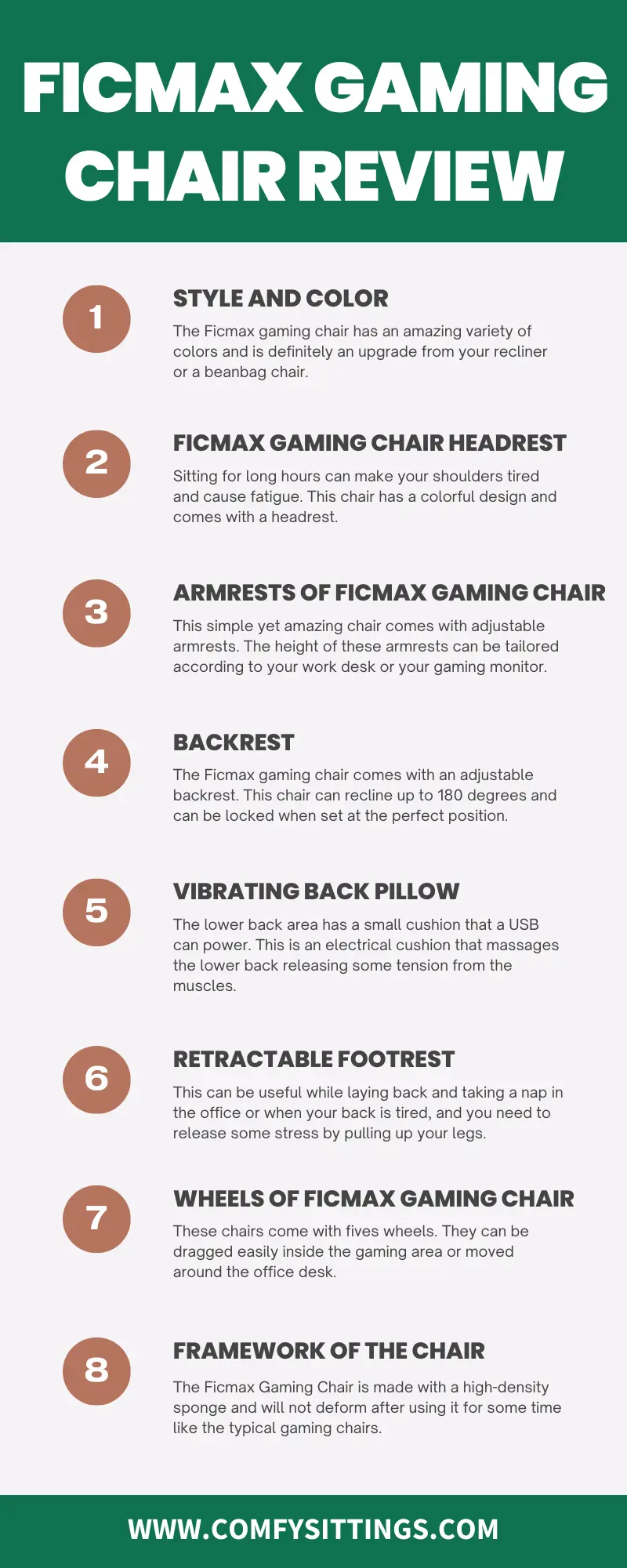 These chairs do not look boring as the other gaming chairs because of the colorful lining on them. It enables rocking movement and is perfect for a gaming enthusiast. This chair can dominate the market because of its unique style and color schemes. It can fit nicely into your lit gaming room and make it look very classy.
Ficmax Gaming Chair Headrest
Sitting for long hours can make your shoulders tired and cause fatigue. This chair has a colorful design and comes with a headrest. It also has a small pillow below the headrest that supports your neck while playing on your monitor. This doesn't make you tired and gives ultimate comfort all day long.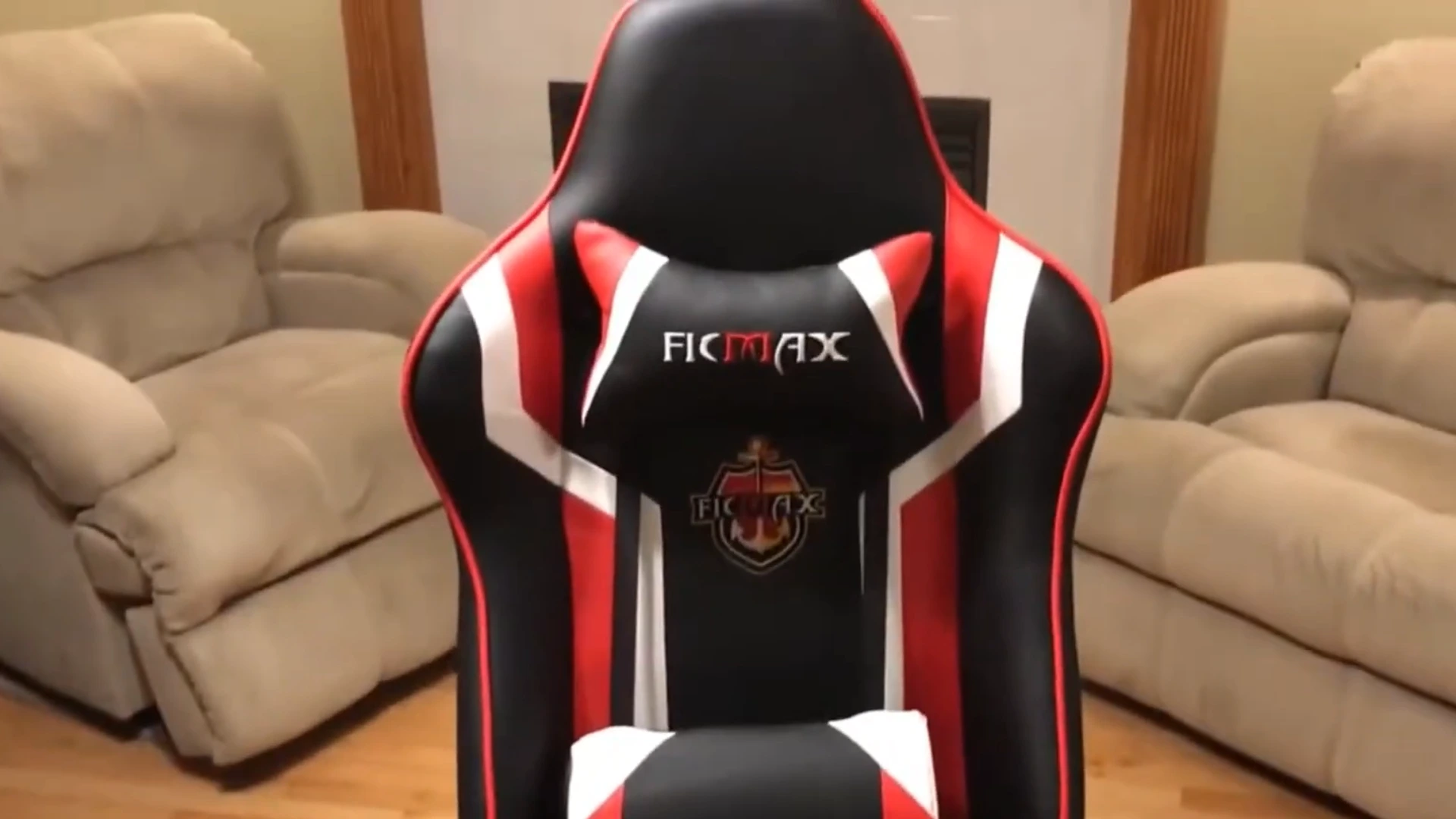 This cushion can be removed if you do not want to make use of it. It has straps on the back and can be moved in vertical and horizontal positions to make you as comfortable as possible. The cushion is covered with PU leather and is very flexible and soft.
Armrests of Ficmax Gaming Chair
This simple yet amazing chair comes with adjustable armrests. The height of these armrests can be tailored according to your work desk or your gaming monitor. The armrests give support to the hands and elbows, releasing some stress and making them work efficiently. When your hands are placed in the right position, you can also multitask with them.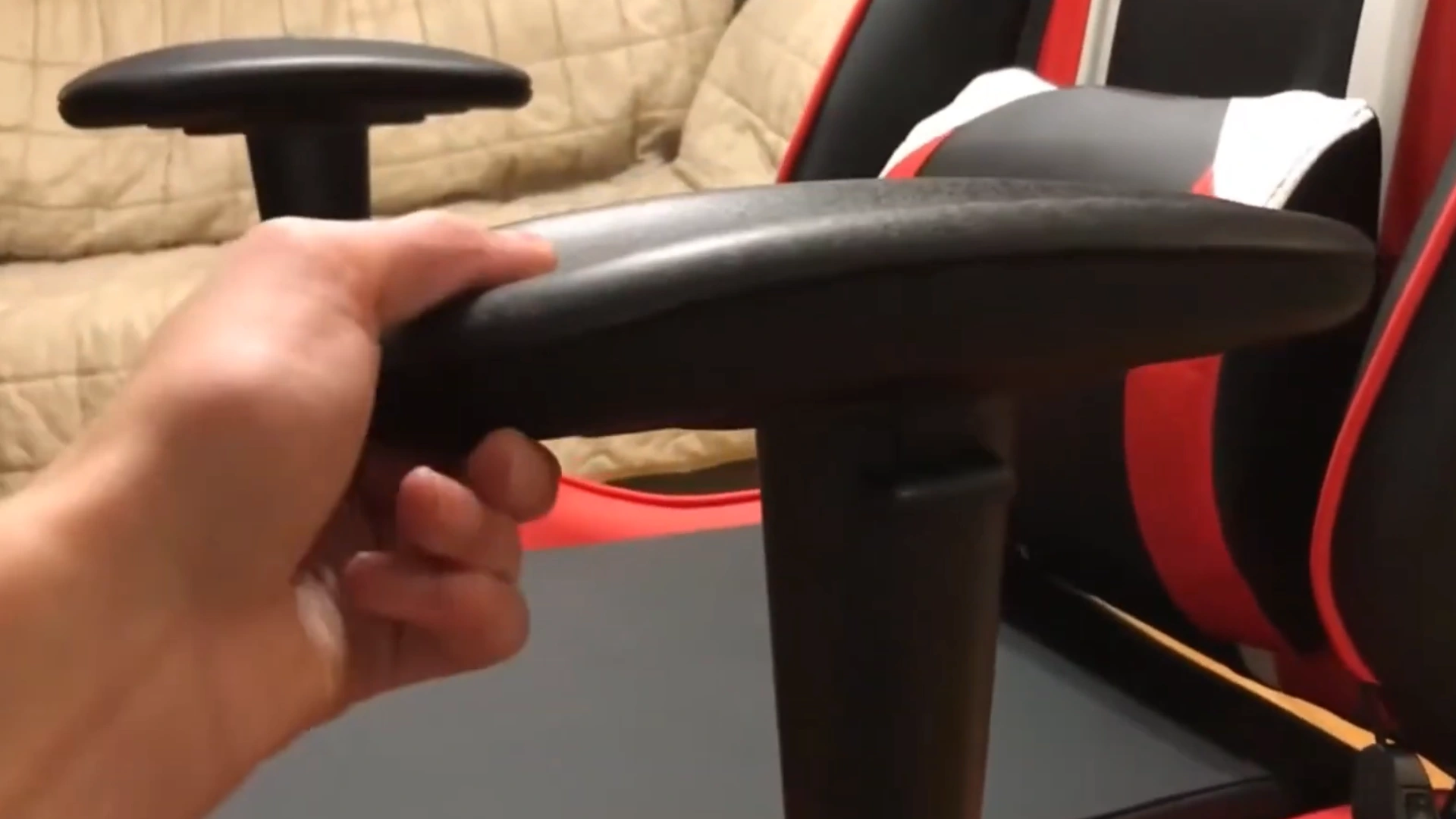 Additionally, the armrests can keep you safe while sitting. They keep the hands stable, comprise 12 percent of the body mass, and are used beyond aesthetic purposes. They can also help you stand up fast from the chair, putting less pressure on the back and the knee joints.
Backrest
The Ficmax gaming chair comes with an adjustable backrest. This chair can recline up to 180 degrees and can be locked when set at the perfect position. Besides being used for gaming, this chair can be used for work as well. It keeps the back straight and can help you maintain the posture during long work shifts in the office.
When set at 100 degrees, it is in an ideal position for playing the game. The back relaxes, and you can easily have a nail-biting match with your competitor. Sitting in the most comfortable chair and playing can also boost your confidence level and help you progress in the games.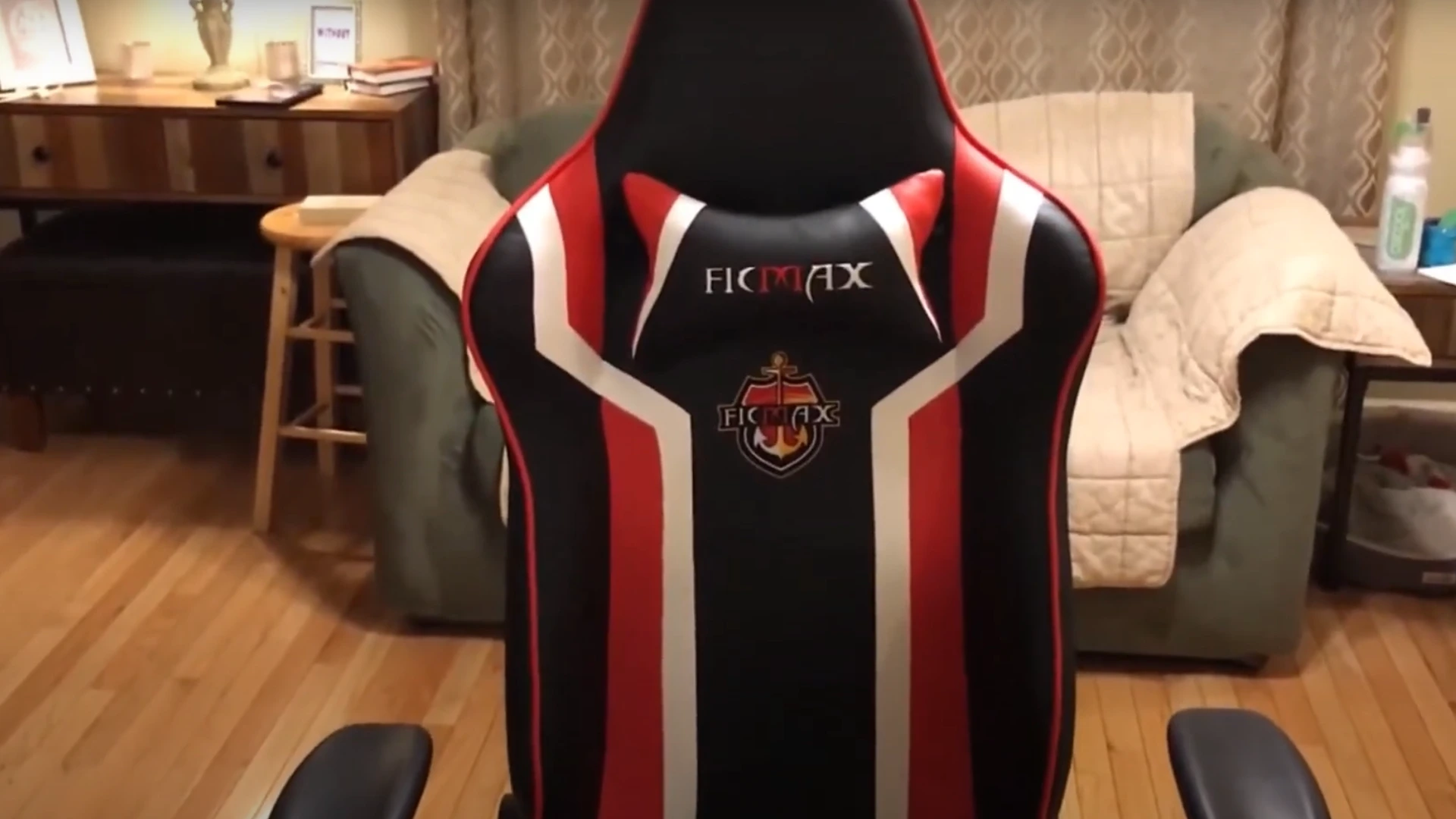 This chair can also be used for relaxing while you want to read your favorite novel on the weekend. It also enables you to take a power nap without leaving the gaming room. The backrest can be set at 180 degrees, and you can easily lay down for a couple of minutes, relaxing the lumbar area between constant match series.
Vibrating Back Pillow
The lower back area has a small cushion that a USB can power. This is an electrical cushion that massages the lower back releasing some tension from the muscles. This is a unique feature and is uncommon in typical gaming chairs. You can take advantage of this massager after a breathtaking match. It has two modes of vibration and can be removed as well.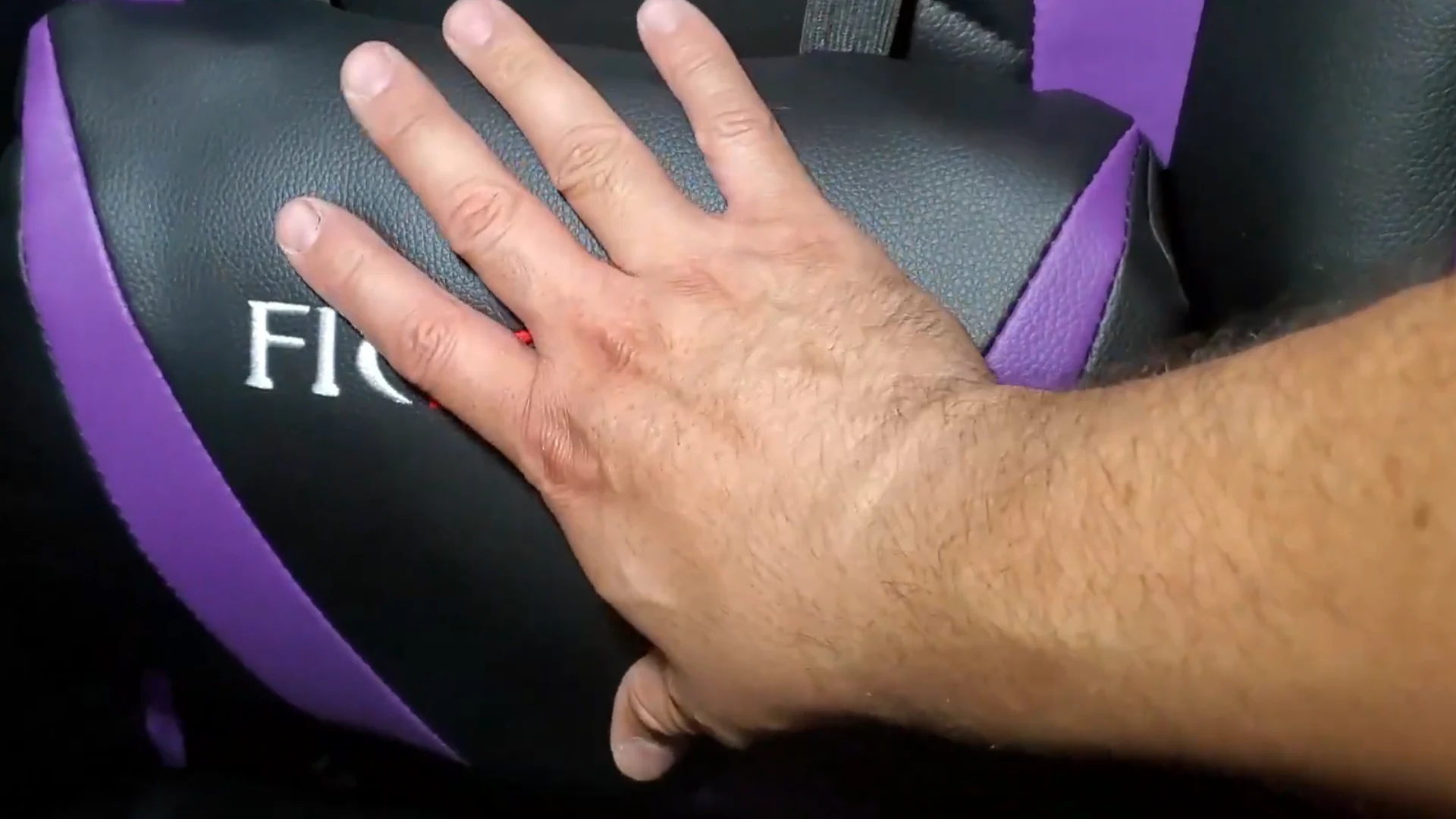 The vibration from the massaging pillow is powerful and can really help you relax during a hectic office day. This feature cannot be used while playing the game because it might affect your concentration level, but it can be used for many other purposes. The chair can be dragged in the television lounge on the weekend, and a movie can be watched while the back massage is being done.
Retractable Footrest
This chair comes with a retractable footrest. This can be useful while laying back and taking a nap in the office or when your back is tired, and you need to release some stress by pulling up your legs. It is made up of soft and comfortable memory foam. It is a gaming chair that possesses so many amazing features.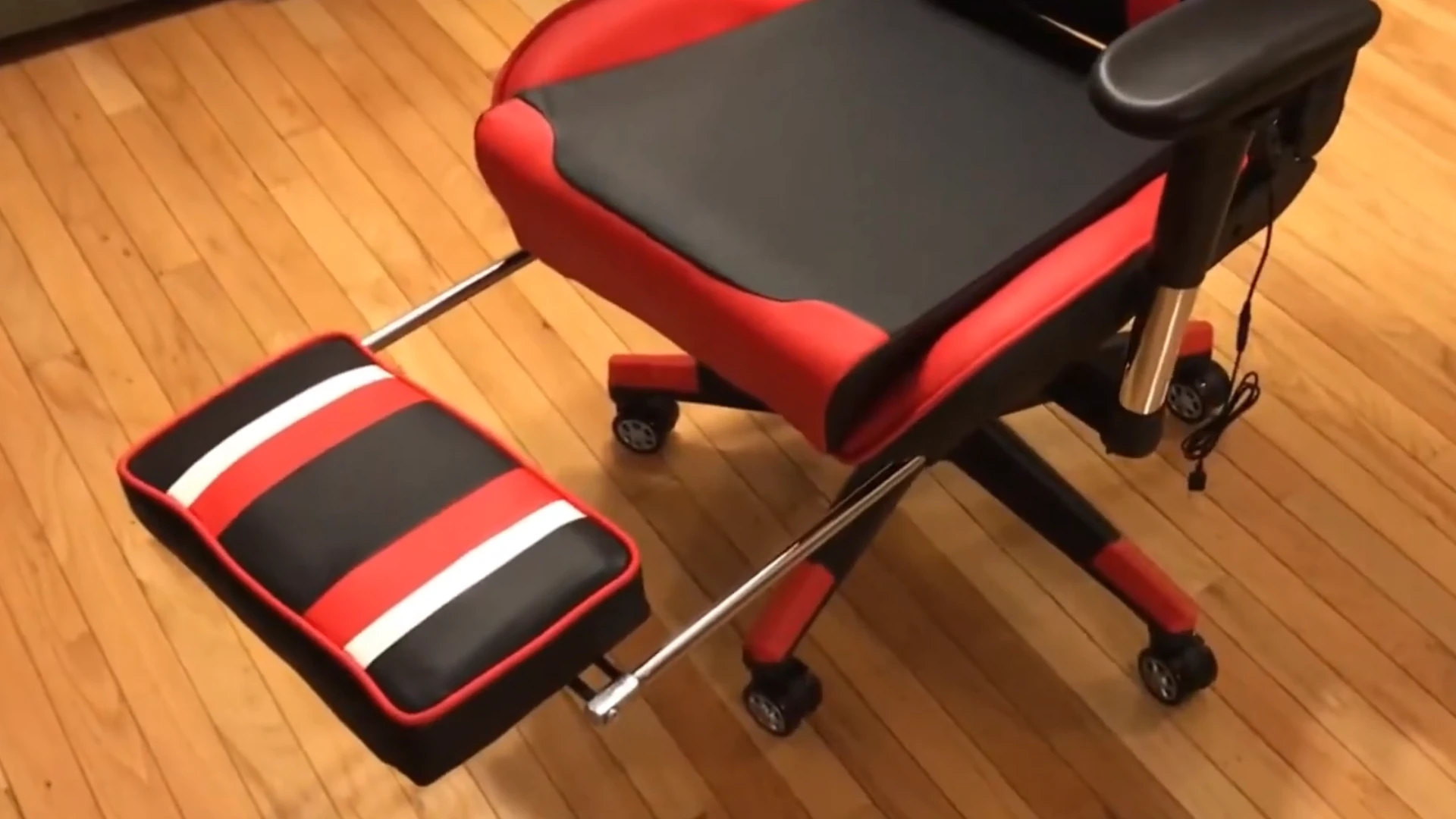 The footrest can best be during the practice session or while waiting for an update to the latest software. You can just straighten your legs and sit back while binge-watching a web series or designing a new gaming website. The retractable leg rest can be brought to use when the small massaging pillow located at the lower back area is being used.
Wheels of Ficmax Gaming Chair
These chairs come with fives wheels. They can be dragged easily inside the gaming area or moved around the office desk. The wheels are not squeaky and roll smoothly on the flat ground. They enable 360-degree swivel movement and are made with high-quality materials that do not break when pressure is exerted on them.
Framework of the Chair
The Ficmax Gaming Chair is made with a high-density sponge and will not deform after using it for some time like the typical gaming chairs. The seat height can be adjusted while the pan is soft. It has 4.8 inches of the well-padded memory foam seat. Overall has a sleek framework along with cylinders that join the chair with the wheels.
The cushions used in manufacturing are breathable and provide air circulation when sitting for long hours during work. The entire gaming chair is covered with polyurethane leather which does not tear and makes it long-lasting as compared to other leather chairs available in the market.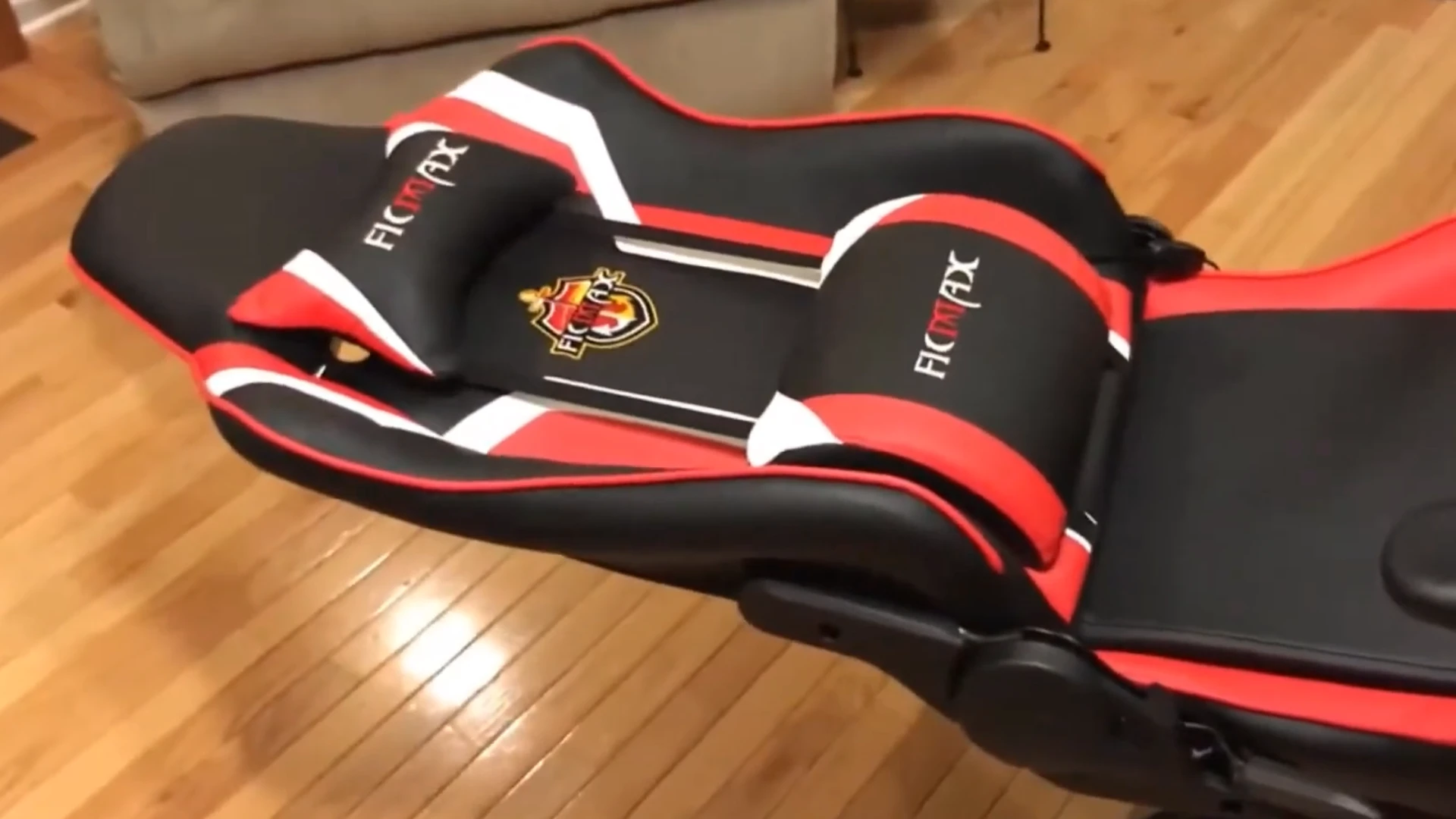 This is a giant piece of furniture weighing about 50 pounds. It can be a hassle to set it up initially, but it can provide many years of comfort once done. It can support people with almost 300 pounds and is suitable for almost everybody.
What We Like?
It has a well-padded breathable seat
Backrest tilt up to 180 degrees
A retractable footrest is present
The headrest comes with a small removable pillow
PU leather covering
Smooth-rolling wheels
What We Don't Like?
The removable massage pillow cannot be used without electricity
Massaging vibration might be hard
Frequently Asked Questions
Are gaming chairs comfortable for office work?
Yes, the gaming chairs are very comfortable for office work. They have adjustable backrests and armrests, which is not common in most office chairs. These are designed with well-padded seats that do not deform and are breathable throughout the day.
How tall is the Ficmax gaming chair?
The Ficmax gaming chair is almost 55" tall, which makes it suitable for everybody. It comes with a neck and lower waist pillow as well and keeps the back straight.
Are gaming chairs bad for posture?
No, gaming chairs are good for maintaining the correct posture. They possess amazing features that support the lumbar area and the neck. It releases tension and prevents stiffness and back pain.
What is special about the gaming chair?
The gaming chairs have a high backrest that is best for lumbar support. They can help you maintain the right posture even after sitting for long hours at work or playing an online tournament.
Do gaming chairs cause back problems?
No, gaming chairs do not cause back problems. In fact, the ergonomic design of many gaming chairs can help support good posture and alleviate back problems. However, if a person already has an existing back problem, it is best to consult a medical professional before using any type of chair.
Final Words about Ficmax Gaming Chair
The Fricmax gaming chair is very decent yet has some extraordinary features. They are manufactured with high-quality materials that give you support throughout and are durable. This chair prevents you from many back and joint problems that are very common in every other person due to lack of physical activity.
Hence it is a great investment, and you will not regret a single penny spending on it. It comes with a lifetime guarantee for a sturdy framework. It can be the perfect chair for you if you are a creative person stuck to the computer screen for most of the day. It is more than a gaming chair that provides comfort and gives excellent support to the entire body.

Hi, I'm Françoise and I am a gaming freak. I have multiple gaming machines and spend almost 10-12 hours playing different online games. I got my first gaming PC on my 15th birthday and since then I have used multiple gaming chairs to enjoy the maximum possible comfort.
Unfortunately, I suffered a lot with low quality chairs and that is where I decided to jot down my expertise to facilitate millions of gamers around the world. So I collaborated with Mr. Danny Williams and Solomon Wilson MD. and joined their team on ComfySittings.