Steelcase Leap V1 vs V2? The market is overwhelmed by the debate. Coming originally in 1999, Leap V1 gained quite a recognition across the market with a complete package. It became a popular choice among users as it offers versatility, durability, convenience, and comfort. After great success from this ergonomics chair, the manufacturer decided to came up with a more modern and contemporary alternative. Hence, in 2006 came version 2 of the Steelcase Leap with all upgraded adjustments, versatility, lightweight construction, and comfort.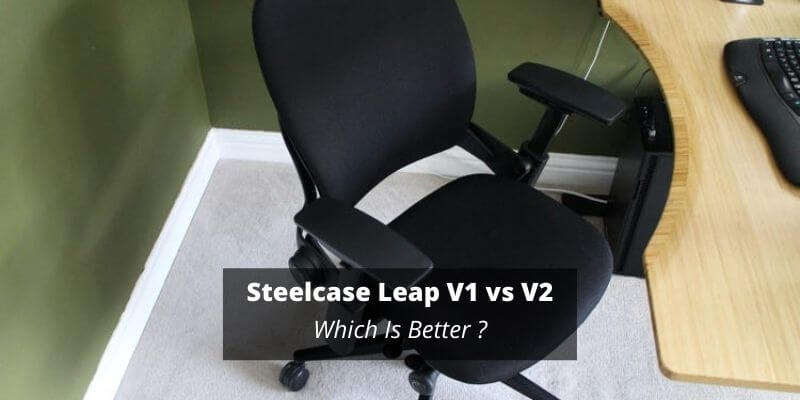 Therefore, after this time, there is an ongoing comparison of these two models. So, many people are confused as to which is the best. Where V1 is known for its durability and modern design, V2 has improved adjustments and padding. Thus, it becomes difficult to choose between the two. For this purpose, this article draws a comparison between Steelcase Leap V1 and V2 based on cushioning, construction, seating, armrest, and base structure. So, you can choose the one that is ideal for you.
Differences: Steelcase Leap V1 vs. V2?
In the market, V1 and V2 being highly popular from the same brand. So, it becomes important to do your research and know what suits you best and goes well with your needs. For this purpose, here are some of the primary differences between Steelcase Leap V1 and V2;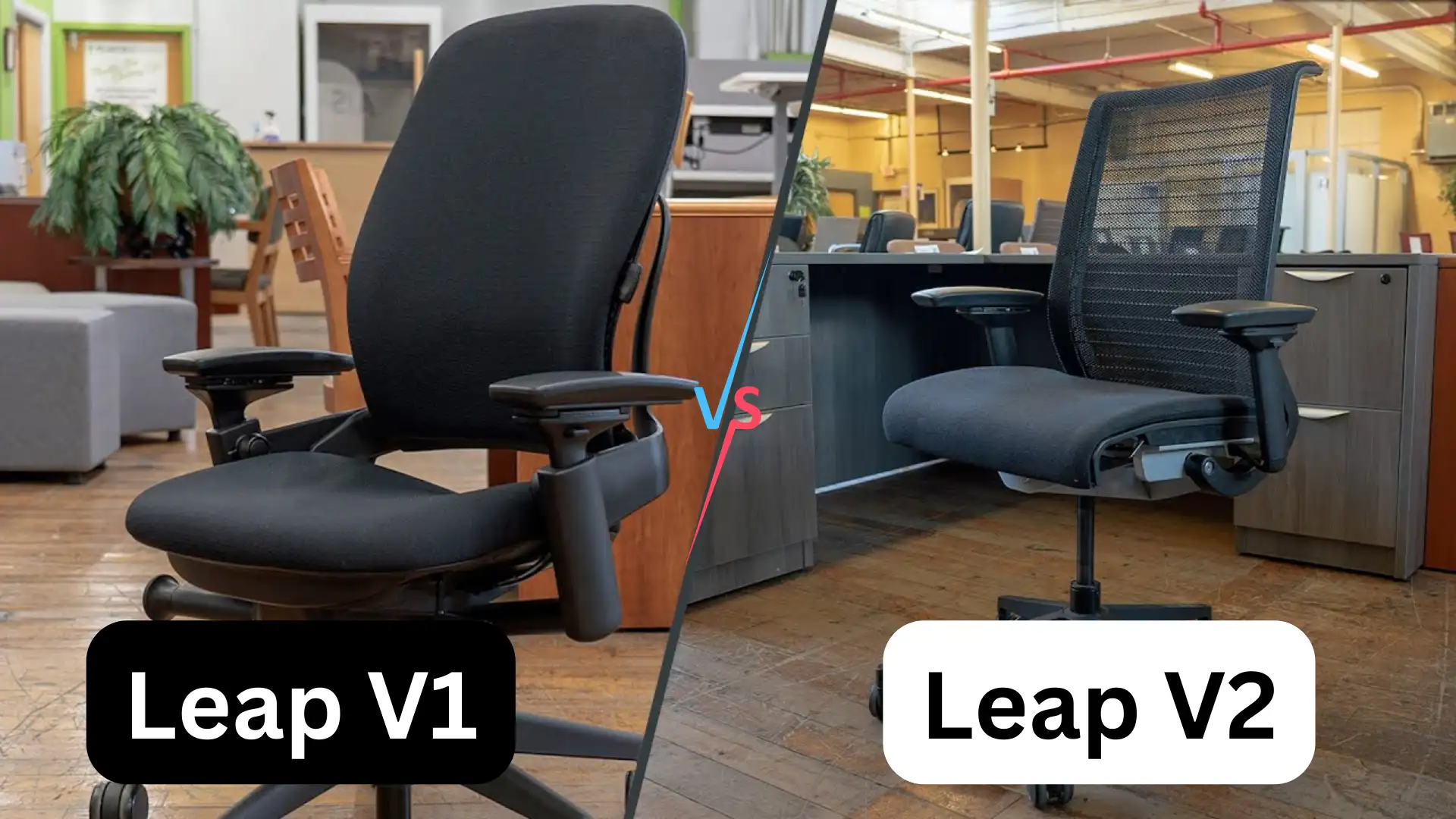 The Design
The foremost difference between both these products is the design. The original V1 design has a shorter back design that is noticeable, while V2 is equipped with a relatively tall back. Thus, you will feel that both feel different while you are sitting. I really like the support of the V1 that is designed as per your back requirements and keeps the shoulders relaxed. On the contrary, if you prefer tall back support that fully covers the area, V2 Leap is a well-suited option for you.
Similarly, another thing I noticed different in these chairs is the curves incorporated in the design. When it comes to Leap V1, this chair has an arch (similar to C shape) in the curve that provides you with lower back support. Still, it is worth mentioning that both of them feel highly comfortable and offer great support, but V1 is my favorite for the support. V2 is more flexible and durable if it is most likely that you are going to be using it for long hours.
Also Check Best La Z Boy Recliners
Cushioning/ Padding
Furthermore, cushioning is another thing that I feel is different in these two products. Here, I can undoubtedly say that V2 is at a greater hand and has the edge over V1. This is because it is designed for long usage. This one has a thin cushioning that doesn't go bad with time and provides you with comfort and durability alike. I find it inspired by the Steelcase products that are designed to last for a longer time.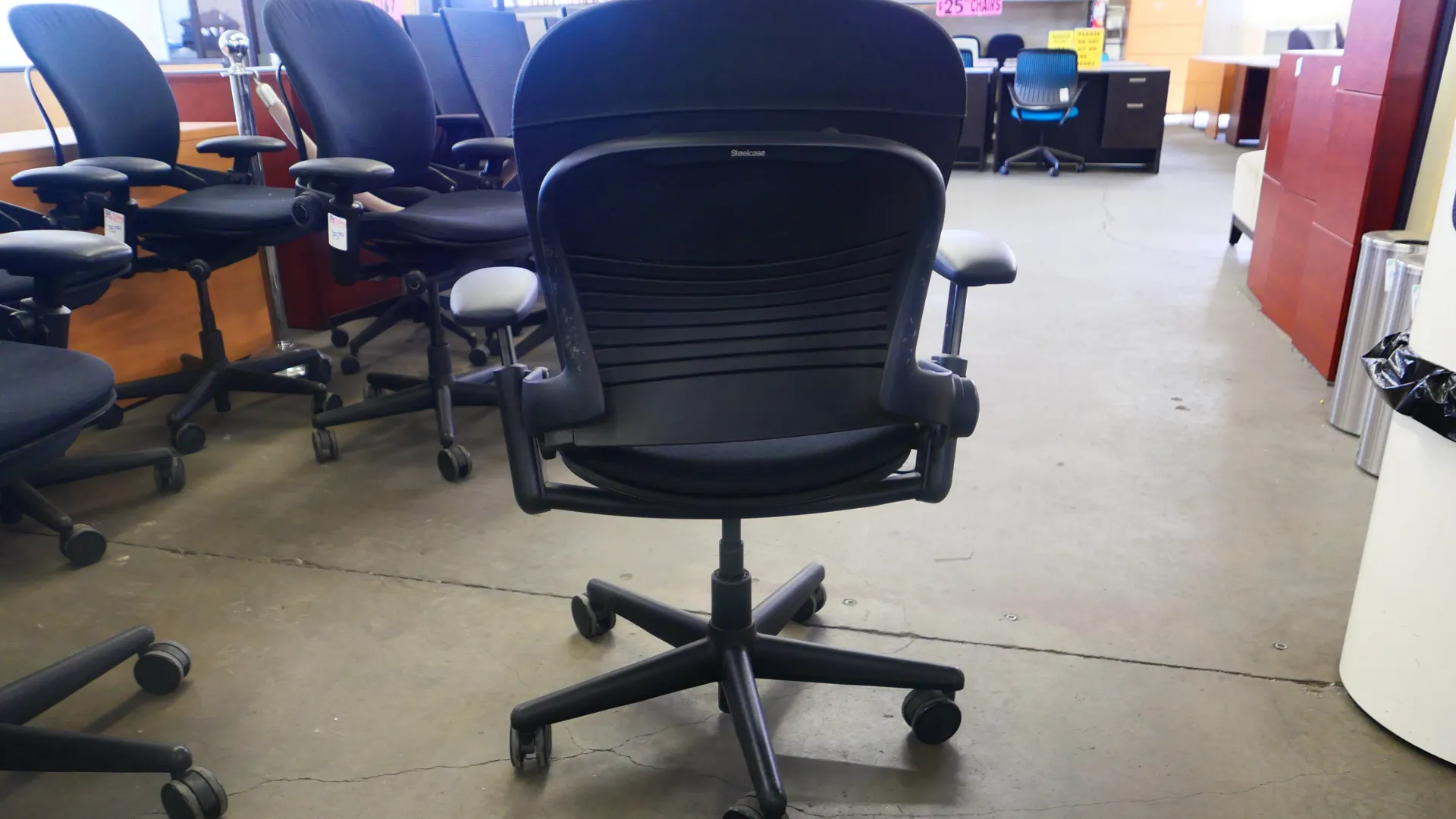 In contrast to this, when it comes to the V1 Leap case, this one has an added thickness that, although is comfortable but cannot accommodate you with durability. Also, this makes the overall design less appealing and conventional. Yet, if you are someone who likes thick padding, I would recommend you go for V1.
Armrest Construction
Talking about the armrest construction, there are a few notable different one can find. When it comes to Version 1, this case is vertically not constructed well as it feels a little stiff. Hence, each time I was moving my arms up and down, it was pretty noticeable, and people were quick to complain about this thing. One thing that is worth mentioning here is its steel construction that is absolutely durable and long-lasting with fewer chances of physical damage.
So, when the manufacturers came up with the second version of the Leap case, there was a prominent improvement in the vertical portions of the armrest. So, with minimum space between the inner and outer portions, it was comfortable to move around and feel at ease. Hence, the armrests don't feel stout while moving. However, these are made up of plastic that is inexpensive than steel and doesn't feel sturdy at all. Also, the positioning does not feel modern and looks extremely basic.
You may also be interested to read about Best RV Recliners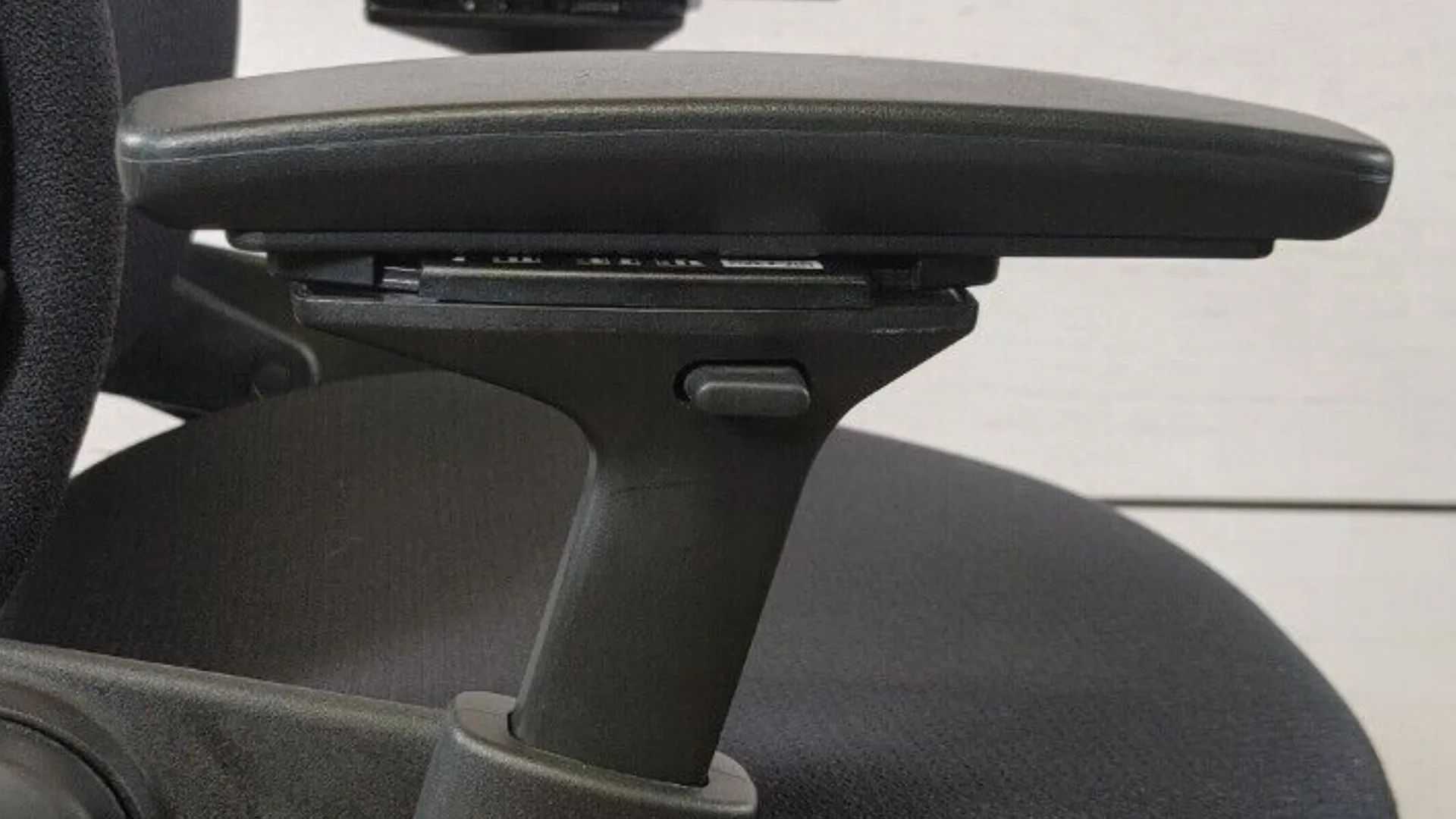 Armrest Adjustments
After I am done talking about armrest construction, it is time that we analyze the adjustments provided by both the Leaps version. For me, both the designs have a variety of armrest adjustments and facilitate the user throughout. When it comes to version 1 of the leap case, this one is equipped with 3-way arms, including height, width, and sliding pivot functions. You will also be getting an adjustment manual that guides you through an introduction to what is included in the package.
Speaking of version 2, this design comes with 4-way armrest adjustments that are a popular choice among users. It has introduced an important feature i.e., a depth that provides you with comfort and the right fit. If you are someone who is most probably going to use a desk for long hours, it is a great alternative for you as it has the ability to recline. Additionally, you can adjust the height, sliding position, and width easily with the adjustments available in the design.
Arm Pads and Thickness
Similar to the trend find in overall cushioning, V1 pads are a bit thicker than V2 ones. First of all, talking about the shape, the first thing you noticed in V1 is that they feel deeper and offer you suitable support when you place your arms on the pads. The V2 pads, on the contrary, are sleek and modern and are inspired by the contemporary alternatives out there.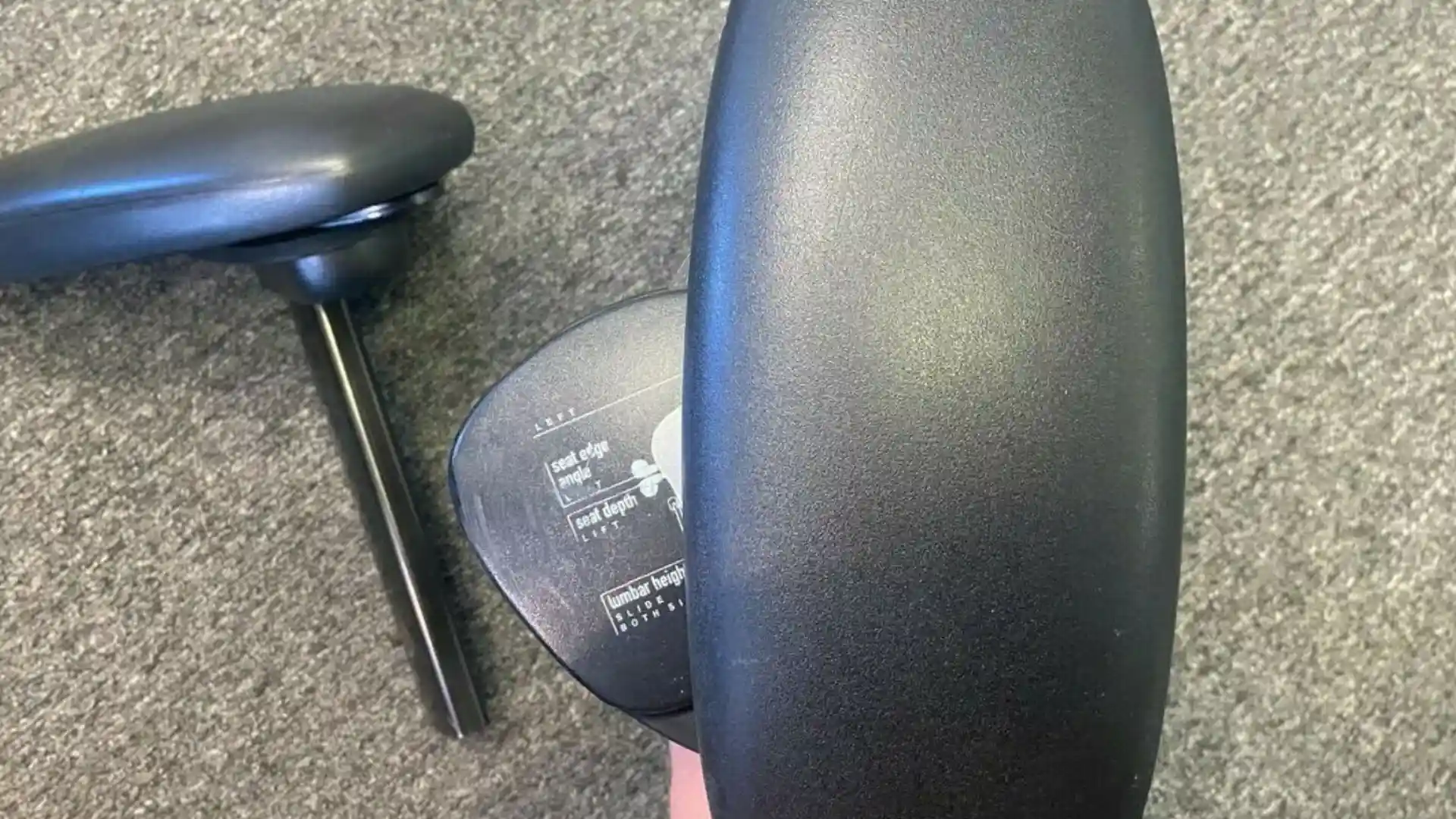 Speaking of cushioning, if you are someone who prefers thickness and comfort, it is ideal that you go for V1. I absolutely love the V1 cushioning as it is highly dense, feels thick, and offers a comfortable experience throughout long hours of work. However, if you are looking for something trendy, modern, and aesthetically pleasing, going for V2 is the right choice. It is still worth mentioning that the v2 pads also feel comfortable and offer support.
Base Construction/ Design
Finally, after going through all of the basic features, you would have figured out that most of the differences are based on aesthetics. The primary example of this difference is the base design that is included in the design to make the chair light yet sturdy. While talking about the V2 design, you will find that it is more rounded and flat that looks up-to-date and feel modern. On the contrary, if we talk about the V2 base design, it is suitable for more height, trendy design, and looks a bit thinner.
Secondly, construction is another important feature while you are looking for a comparison between v1 and v2. For Leap v2, the manufacturers have added a nylon plastic that not only helps you with the overall comfort but makes the chair look contemporary. Also, despite it being lightweight, you will find this one ideal for weight capacity. So, it can handle a person up to four hundred pounds. Thus, if you are a fan of functionality and modern design, I would undoubtedly suggest you go for this one.
In contrast to that, the V1 design includes more sturdy construction that is steel. Hence, it has already got the upper hand. Although it is not lighter than V2, I still appreciate the durability it has to offer. Finally, based on your likings and requirements, you can choose the one that is suitable.
Is Steelcase Leap V2 Worth it?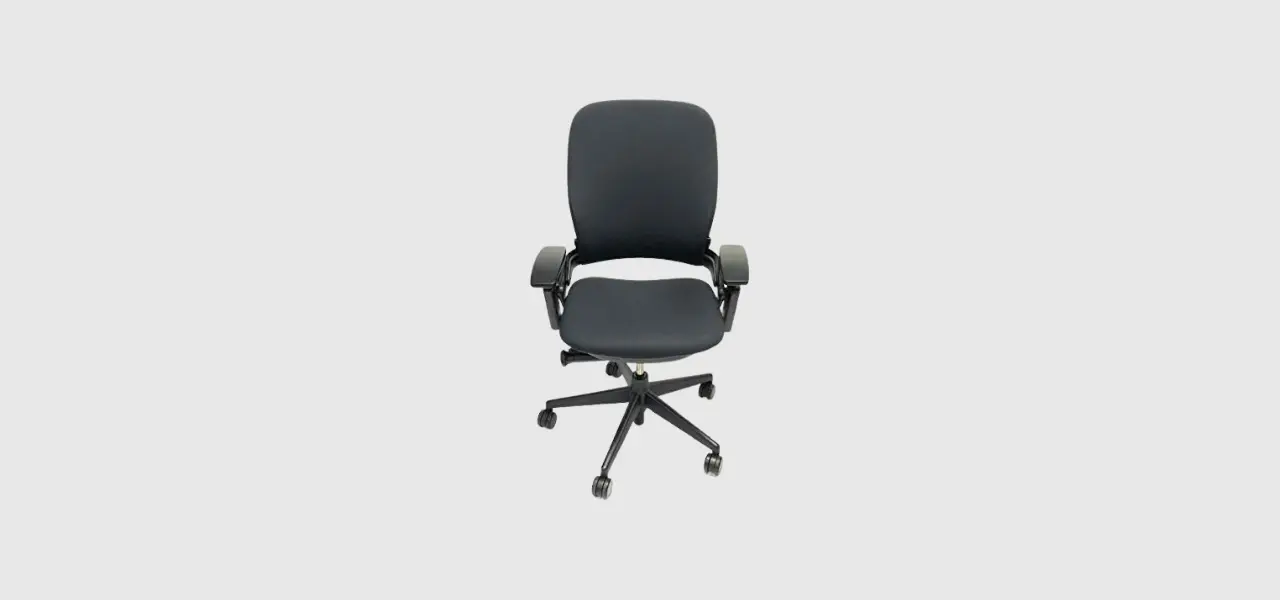 Here is some insight into the V2 version of the Leap;
Features of V2
The V2 design is equipped with lumbar support and adjustable armrests.
It comes with a lightweight design that is portable enough to carry around.
It comes with an easy assembly process and instruction manual that helps you with ease and convenience.
This design offers great versatility and works for long hours. So, you can use this one for the office, gaming, and so on with absolute efficiency.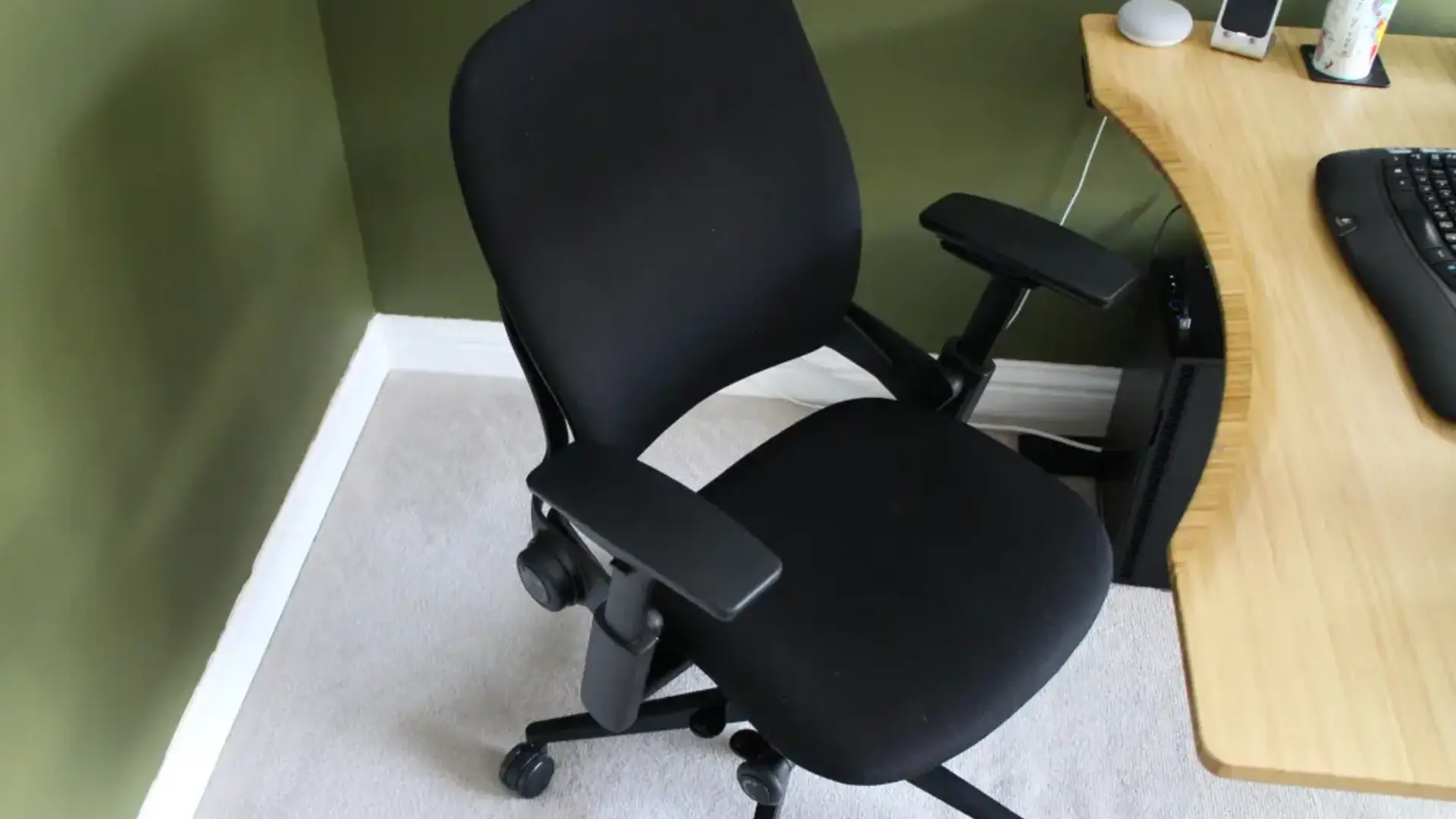 Pros
First of all, the Steelcase leap V2is an upgraded and improved version of the infamous leap chair. So, you will be provided with lightweight construction, portable design, modern adjustments, and comfortable seating space. Additionally, if you are someone who likes modern upgrades such as innovative dials, arm adjustments, modern seating arrangements, and so on, it is undoubtedly the best for you.
Secondly, the design incorporates lumbar support and better arm support. In addition, it comes in a number of color options, so you can choose your favorite.
In the end, if you are looking for something that offers you pain relief and supports your back with absolute efficiency, this V2 Leap version is a great alternative for you.
Cons
Some people complain about the design as it lacks modernity and is not trendy enough for contemporary times.
The reclining function is not the best out there.
Buildup quality is not the best in comparison to V1 as it is mostly made up of plastic and doesn't feel as sturdy.
Many people find cushioning a little uncomfortable and uneasy.
---
Is Steelcase Leap V1 Worth It?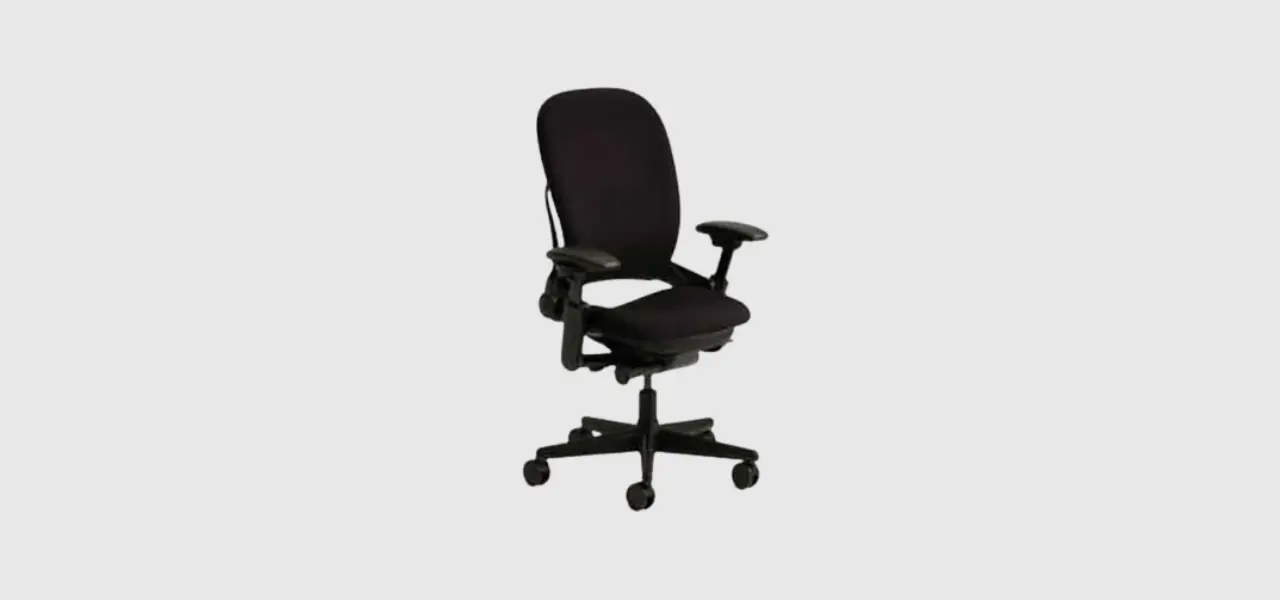 Here is an insight into Leap Version 1;
Features of V1
This one comes with lumbar support and a better armrest cushioning that offers you great support and comfort.
Likewise, it comes with 3-way adjustments that provide you with comfort and functionality.
This one is equipped with stainless steel construction that offers great durability and long service life. In addition, this chair also has a modern and trendy design that makes it an aesthetically pleasing design.
It offers easy assembly and doesn't take much technical experience. You are also getting a long warranty with this package. So, during this time, you can replace any defective part from the Original Leap.
Pros
The V1 has a classic and contemporary design that is made up of stainless steel and offers you great durability with long service life.
It includes advanced lumbar support and improved back support that provides you with comfort and ease.
It includes many color options to choose from.
It has quality armrest adjustment that helps you throughout.
Cons
It feels a little heavy.
Relatively fewer adjustments than V2 Leap.
---
Frequently Asked Questions
Is Steelcase Leap V2 worth it?
Yes, Steelcase Leap V2 is absolutely worth it. If you are someone who likes lightweight chairs that incorporates highly dense cushioning, this is the one to go for. This chair also offers great versatility, so you can use this for gaming, office, and so on for long hours. Additionally, it is sturdy and comes in a number of colors to choose from. Finally, different armrest adjustments and padding make it stand, among others.
What is the difference between Leap V1 and V2?
There are some primary differences between Leap V1 and V2 that anyone can spot easily. The foremost differences you can track are the construction quality and cushioning. V1 is equipped with sturdy steel construction and comes with thin padding and vice versa. Apart from this, V2 has a lightweight design and upgraded adjustments that make it stand among others.
What is the best V1 vs. V2?
It totally depends on the personal choice. V1 is best known for its sturdy construction, cushioning, and base construction. On the contrary, V2 is an upgraded version that is famous for its lightweight construction, improved armrest adjustments, and dense cushioning. Hence, based on these features and your individual requirements, you can opt for the one that suits you best.
How can you tell a V1 from a v2 leap?
The main difference between a V1 and a V2 Leap is the presence of a third segment in the V2 Leap. In a V1 Leap, there are only two segments, the takeoff and the landing, while in a V2 Leap, there is an additional third segment, the "hang time" in the air.
Final Thoughts
Wrapping up, both the Steelcase Leap V1 and V2 are worth spending your money on. These chairs have become quite popular over time with their innovative designs and contemporary features. This article answers your questions as to which is the best V1 vs. V2. Where V1 is known for its sturdy design and classic design, V2 is popular for its lightweight design and dense padding. Hence, it is important to have an idea about your requirements, so you can opt for the one that is best for you.

Hi, I'm Françoise and I am a gaming freak. I have multiple gaming machines and spend almost 10-12 hours playing different online games. I got my first gaming PC on my 15th birthday and since then I have used multiple gaming chairs to enjoy the maximum possible comfort.
Unfortunately, I suffered a lot with low quality chairs and that is where I decided to jot down my expertise to facilitate millions of gamers around the world. So I collaborated with Mr. Danny Williams and Solomon Wilson MD. and joined their team on ComfySittings.