A nap right after coming back from the office or just one in the middle of the day is the best feeling in the world. Especially when you use a comfortable recliner to take a nap, that sleep hits differently. The reason behind that unparalleled feeling is the comfortable and soft padding of the chair combined with its reclining position.
Furthermore, along with a comfortable seat, when you add a few extra perks here and there, only a fool would want to get out of that recliner. I am no fool, so I got myself one of the best recliners for sleeping, and that was the wisest decision and investment of my life. I am sharing some other models that I stumbled upon in the midst of my search in this article.
Best Recliners For Sleeping Overview
Top 3 Most Comfortable Recliners to Sleep in
10 Best Recliners For Sleeping Review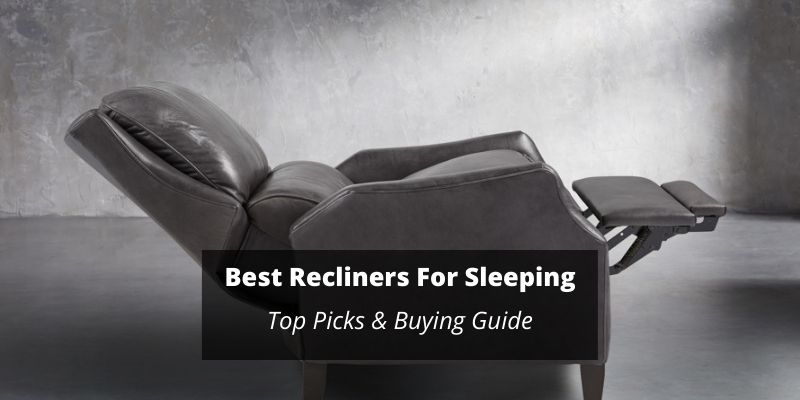 1. Mcombo Electric Power Recliner – Most Comfortable Recliner To Sleep In
The further addition of a USB port, cup holders in the armrests, and a side pocket are a few of the other perks that play a huge role in the comfort this recliner provides. Moreover, my favorite part is that there is a vibration system that also provides full body massage. This vibration system can also be controlled via remote.
If you are on the lookout for the best recliner for sleeping, then do not think twice and invest your bucks in the Mcombo Electric Power Lift recliner. It comes with many features packed in one body. All these extra perks and features are the reason sleeping and napping in this model will be highly comfortable.
2. Esright Power Lift Chair Electric Recliner – Sleeping Recliner Chair
One button is for reclining the chair to 150 degrees. Meanwhile, the other button is to push it forward to 45 degrees.
In addition to that, the presence of a side pocket right under the USB port and buttons is what makes it more ideal for sleeping. I saved the best feature for the last; this model comes with a massage feature incorporated in its thick padded back. The 4 areas of massage and the 5 massaging modes will make sure you experience a comfortable nap in this recliner.
Get your hands on the Esright Power lift recliner if you are looking for the ultimate comfortable napping experience in a recliner. The thick padding, comfortable cover, and massage feature of this recliner will see to it that you sleep like a baby in this recliner for hours.
3. CANMOV Power Lift Recliner Chair
Moreover, the padding is also contoured in the back region so that you can sleep snuggly. In addition to that, the manufacturers have added a side pocket to the recliner as well for stashing away the remote or any other object.
In addition to that, controlling the movements of a recliner has never been easier. All you need to do is press a button on the remote to push the chair all the way back for sleeping. Another button on the remote pushes the seat forward. Moreover, the power lift position really comes in handy when you have an elderly in the house.
Spend your money on the Canmov Power Lift recliner and have the most comfortable sleep of your life. You need to spend a little extra but, the overstuffed padding of the chair and the softcover combined with the other perks make it worth the investment.
4. Homall Recliner Chair
All you need to do is push back slightly on the back of the seat, and it will recline. Similarly, push the bottom area of the footrest, and it will extend forward to give you a space to prop your feet up on. Moreover, this model comes with an overly stuffed headrest, so you do not even need a pillow to have a comfortable sleep.
Whether you are buying the recliner for the elderly or for a kid's use, people of every age can sleep comfortably in the Homall recliner chair. The simple and hassle-free design and controls of this chair make it more feasible for sleeping and napping.
5. ProLounger Wall Hugger Recliner Chair
The overstuffed backrest, headrest, and footrest of the recliner are the main reason it is referred to as the best recliner for sleeping. Assembling the recliner and making it ready for a nap is a piece of cake. It will only take a couple of minutes to put everything together.
You may also be interested to read about couches for heavy person
The best feature of this recliner is that you can adjust the positions of the seat with just the aid of a lever. Push the lever downwards to recline the back of the seat and extend the footrest. Similarly, pull it upwards to bring the seat back in its original position.
Even if you are not sleepy, merely one look at the chair, and the most comfortable sleep of your life will hit you. The ProLounger Wall Hugger is one the best wall hugger recliner and has everything a person would need to stay snug and enjoy a nap. The heavily padded parts of the recliner chair make it perfect for sleeping.
6. Irene House Dual OKIN Motor Lift Recliner
Press a button on the remote to push the back of the chair all the way back. The Power Lift feature enables the users to stand up more easily as the chair pushes forward to a 45 degrees position.
You mat also be interested to go through my review article about chair mats.
Furthermore, there is a side pocket under the right armrest of the recliner. This is a thoughtful inclusion as while sleeping; you can put the remote of the recliner or your phone in the pocket.
Whether you want to put a recliner in your bedroom, lounge, or office, it will be a perfect fit for all settings. It comes with a modern and stylish design which makes it perfect for all settings. The easily attainable recline position of the chair makes this recliner one of the 10 best recliners for sleeping.
7. ANJHOME Single Recliner Chair
There is a button present under the right armrest. To adjust the recliner's positions, all you need to do is press the button, and the footrest will pop outwards. The heavily padded footrest that extends outwards makes it more plausible to take a comfortable nap in the recliner. To move the back of the recliner, all you have to do is put a little pressure on it.
If you are looking for the ultimate comfortable sleeping experience, then you need to put an end to your search. The ANJHome single recliner chair comes packed with heavy padding along with many other perks that make it a perfect fit for sleeping.
8. Esright Massage Recliner Chair
There are 8 massage points and 5 modes, and 2 intensity levels. In addition to that, there is a pull handle present on the inside of the right armrest. By pulling the handle, the backrest of the recliner will extend backward. Meanwhile, to extend the footrest, you will need to apply a little pressure to that area. This comfortable laying down position makes this chair the best recliner for sleeping.
Looking for a comfortable recliner where you can lay down and sleep soundly for hours? I have got the perfect model for you. The Esright Massage Recliner chair comes with all the perks that you will need to enjoy a comfortable nap. The best part is that it comes at a fairly reasonable price.
9. ANJ Electric Recliner Chair
Moreover, it also gives it a long life. The addition of a USB port makes this recliner even more ideal. The button-operated movements of the recliner's back and the footrest are the main reasons it is comfortable for sleeping.
Furthermore, this recliner chair comes with an overstuffed seat and headrest that makes it more perfect for napping. On top of the heavy padding, ANJ has wrapped a PU leather material. This material makes it easier to clean and is also water repellant.
If you are not afraid of spending a rather large sum of money on a recliner, then spend your bucks on the ANJ Electric recliner chair. The simple button-operated movement of this recliner combined with the heavily padded seat and backrest make it perfect for sleeping.
10. Flamaker Power Lift Recliner Chair
The addition of multiple pockets is another perk that will come in handy when you will be sleeping on the recliner. This recliner comes with a remote control that you can use to push the seat backward, forward, and extend the footrest.
Moreover, the best part, which is also my favorite feature about this recliner, is that it has a massage feature incorporated in 8 different spots. You can use the remote to control the 5 modes of massage along with the seat's positions.
Invest your precious bucks in the Flamaker Power Lift recliner chair if you are looking for a comfortable recliner for sleeping. The heavy padding and sturdy frame of the chair alone are enough to provide comfort. In addition to that, when you add multiple modes of massage to the design, you get a whole deal of comfort and coziness.
How to Pick Best Recliner for Sleeping
Every individual who works 9 to 5 will agree with me when I say that post-office sleep is the best thing in the world. It will not only relax you after hours of labor, but it also prepares you and refills you with energy to do some home chores. However, it is crucial that you sleep in a comfortable spot and position to wake up with energy instead of muscle aches.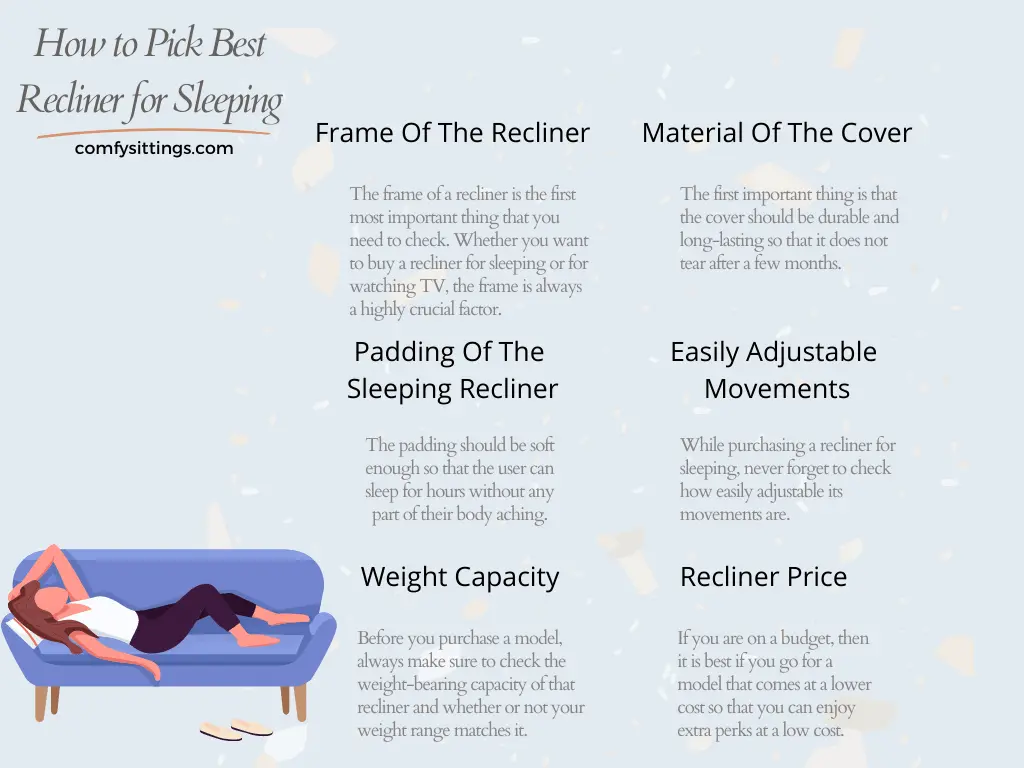 If you sleep on a recliner with an uneven seat, with your feet dangling from the edge, you will wake up more tired than you were before sleeping. There are few things that differentiate the best recliners for sleeping from the other models. If you want to purchase the ultimate comfortable recliner for sleeping, then give a thorough read to the factors listed below.
Frame Of The Recliner
The frame of a recliner is the first most important thing that you need to check. Whether you want to buy a recliner for sleeping or for watching TV, the frame is always a highly crucial factor. The recliner should come with a sturdy frame constructed from either metal or steel. Both metal and steel come with many beneficial traits that make them the ideal materials for construction.
A recliner that is to be used for sleeping needs to be sturdy and robust so that it can tolerate hours of weight. In addition to that, when a recliner is used for sleeping, it is used for multiple hours, so the sturdiness of the frame is even more important. A recliner with a wood frame is also a good option, but it is not best for heavyweight individuals. Always make sure that the recliner you select should have a sturdy and strong frame.
Material Of The Cover
The material that is used in manufacturing the cover of the recliner also affects the comfort level of that model. There are a few things that you should keep in mind when you buy a recliner for sleeping. The first important thing is that the cover should be durable and long-lasting so that it does not tear after a few months.
In addition to being durable, the material of the cover should be soft and comfortable so you can sleep on it without any discomfort. Make sure you stay away from models that come with weak fabric covers. They are not only water absorbent, but they will also tear after a few uses. Always go for sturdy materials such as PU leather or bonded leather.
Padding Of The Sleeping Recliner
Along with the cover and the recliner's frame, the padding of a model is also crucial. In fact, the padding of a recliner that is used for sleeping is the most important factor. The padding should be soft enough so that the user can sleep for hours without any part of their body aching.
In addition to that, for a highly comfortable experience, a recliner should have heavy padding in many spots. These spots include the headrest, armrests, footrest, and back of the recliner. If any of these areas do not have soft and thick padding, that model will not be as comfortable. Especially the headrest and the lumbar region of a recliner should have thick padding so that the user can sleep comfortably. If you want a comfortable experience, then stay away from those models of recliners that come with thin sheets in the name of padding.
Easily Adjustable Movements
While purchasing a recliner for sleeping, never forget to check how easily adjustable its movements are. Some models are operated through remotes; with just a touch of a button, the back of the recliner tilts backward, and the footrest extends forward. Meanwhile, there are many models that come with a lever installed in the seat. By pulling the lever, you can adjust the position of the recliner.
In addition to that, there are also a few types that come with buttons installed on the chair itself, eliminating remotes. Lastly, a few manufacturers took it upon themselves to remove any outward source of control and added a push-back adjustment feature to their recliners. By simply pushing back on the backrest, you will be able to adjust the position of the recliner. Every model comes with some extra perks. Always go for a model that suits your needs and comfort level the best.
Weight Capacity
Every model of recliner comes with a different weight-bearing capacity. The weight-bearing capacity of a recliner depends upon its construction, the material used in manufacturing it, etc. Before you purchase a model, always make sure to check the weight-bearing capacity of that recliner and whether or not your weight range matches it. If you are a heavyweight individual and you buy a recliner without checking its weight capacity, there is a high chance that your money will go to waste.
Extra Perks of a Recliner
When you get extra perks in the same price tag, then why not go for that model? A few extra perks may not sound like a big deal, but trust me, these extra features are like cherry on top. These perks include side pockets, cup holders, and USB ports. Side pockets really come in handy when you use a recliner for sleeping. You can easily put your phone or the remote of the recline in the pocket and enjoy a nap. Similarly, a USB port and cup holders come in handy too when you spend hours on a recliner. Always go for a model that comes bearing some extra features.
Recliner Price
Recliners require a hefty sum of investment. However, there are many models available in the market that come at a lower cost. If you are on a budget, then it is best if you go for a model that comes at a lower cost so that you can enjoy extra perks at a low cost. However, if you are not on a budget, then the price tag of the recliner should not be a big deal for you.
FAQs about Recliners to Sleep in
Is it ok to sleep in a recliner every night?
Yes, it is okay if you sleep in a recliner every night. However, you should make sure that the position of the recliner is comfortable for your back. Moreover, make sure that you sleep in a recliner with a thick headrest so that your neck is comfortable. You can also use a lumbar pillow to provide more support to your back.
Should your feet hang off a recliner?
If you stay and sleep in a recliner for a prolonged period of time, then your feet should not hang off from the recliner. The absence of a comfortable footrest for you to prop your feet on will result in muscle aches in your legs and joint pain. Make sure that only the area beneath the heel of your feet should be dangling from the recliner.
Wrapping Up Sleeping Recliners Review
If you want to enjoy a comfortable sleep, then get your hands on a recliner. It is best for napping as you can put it in your office, lounge, and any other spot of the house and sleep comfortably by simply tilting the back of the recliner easily. If you still have not made up your mind, then let me suggest my top 3 models.
Mcombo Electric Power Lift Recliner comes with a leather exterior, heavy padding, and a remote, along with many extra perks.
Esright Power Lift Chair Electric Recliner has thick padding, multiple massage modes, and points along with a power lift feature.
Homall Recliner Chair has a push-back movement design, PU leather exterior, and comes at a very low cost.