What else is nicer than a sleek-looking gaming chair providing long-lasting comfort, that too under an affordable price tag? You will be surprised to hear that the Merax gaming chair has all the features that a high-end, expensive gaming chair has. From comfort to ergonomics to style and fair price tag, the Merax gaming chair has it all. Its beautiful contrasting colors steal the show and enhance your game station to the next level. If you are wondering why such an affordable gaming chair is so popular among hardcore gamers, then keep reading.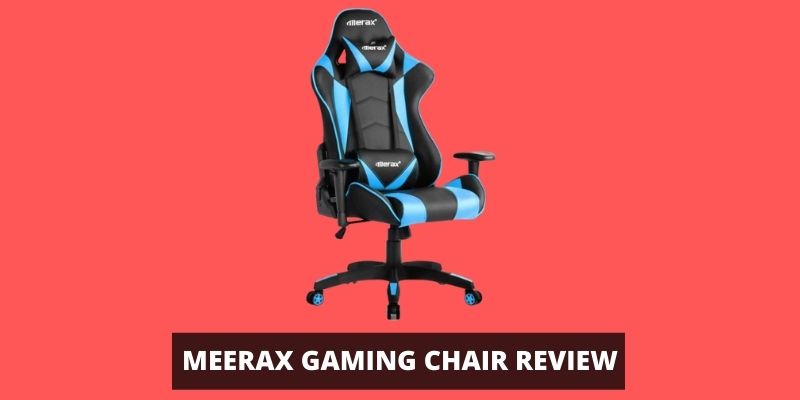 Merax Gaming Chair Review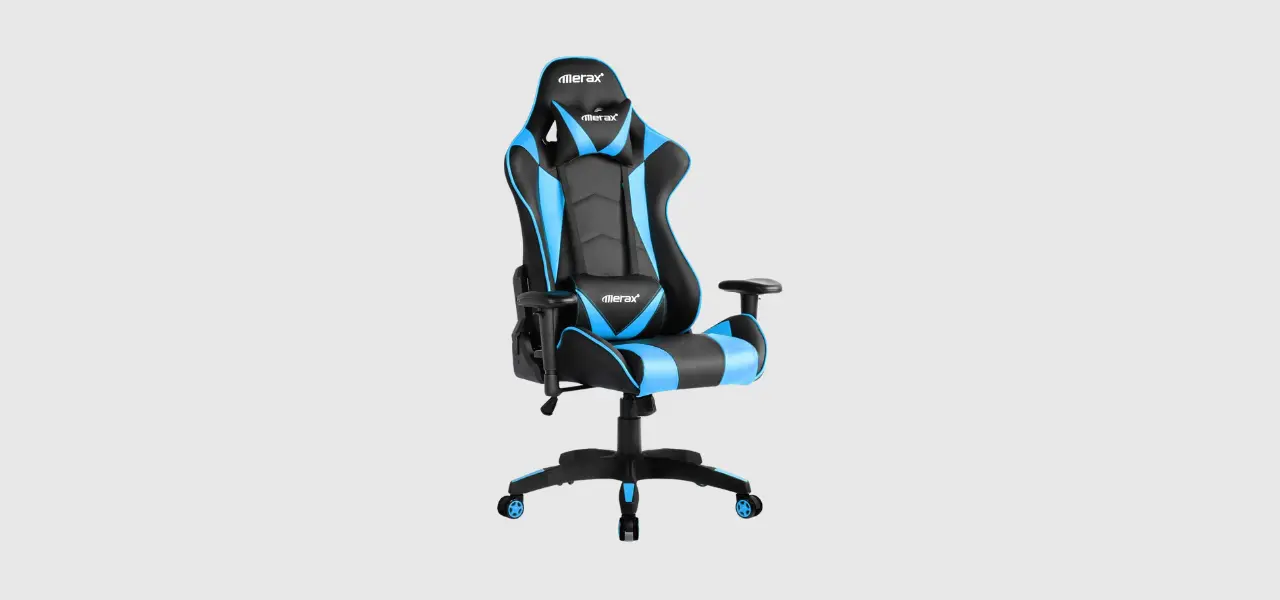 Specifications
Durable PU leather top covering
(L x W x H) 28 x 28 x 53 Inches (dimensions)
Weight capacity: 250 lbs
Recliner
Comfortable headrest (adjustable)
Lumbar pillow included (adjustable)
4 inches Seat is extremely comfortable
Adjustable height
If you are a hardcore gamer and have a tight budget, consider the Merax gaming chair. We recommend this chair because it is jam-packed with an incredible combination of features that an expensive chair has. The comfort and utility it provides are next levels. Above all, it enhances your game station like no other chair. Other than that, you can use this chair as an office chair to prevent lower back pains and shoulder pain. Also, you can have some resting moments in between gaming or working sessions with its incredible reclining feature.
Are you looking for an affordable gaming chair? Have a look at my review on Best Gaming Chairs Under $100
You might be thinking that this chair could lack features because it is inexpensive, but that's not entirely true. In fact, you will be stunned to know that it has almost all the properties an expensive chair has. You can purchase a Merax gaming chair in three beautiful and vibrant colors to match your whole gaming ambiance. It comes with a head pillow and lumbar pillow; therefore, you can have deep relaxing moments sitting on this chair while enjoying your game. The lumbar and head pillows are detachable so that you can get rid of them anytime you want.
Other than that, the Merax gaming chair has a tilt function, and it reclines to 180 degrees which is incredible. If you want to snooze in between your gaming or working session, you can conveniently adjust the reclining position. This is not all about it; this incredible chair is fully ergonomic to ensure that your posture remains right at all times.
Its adjustable armrests allow for great comfort and prevent shoulder and neck pains. The seat of this chair is wide enough to accommodate people on the plus side.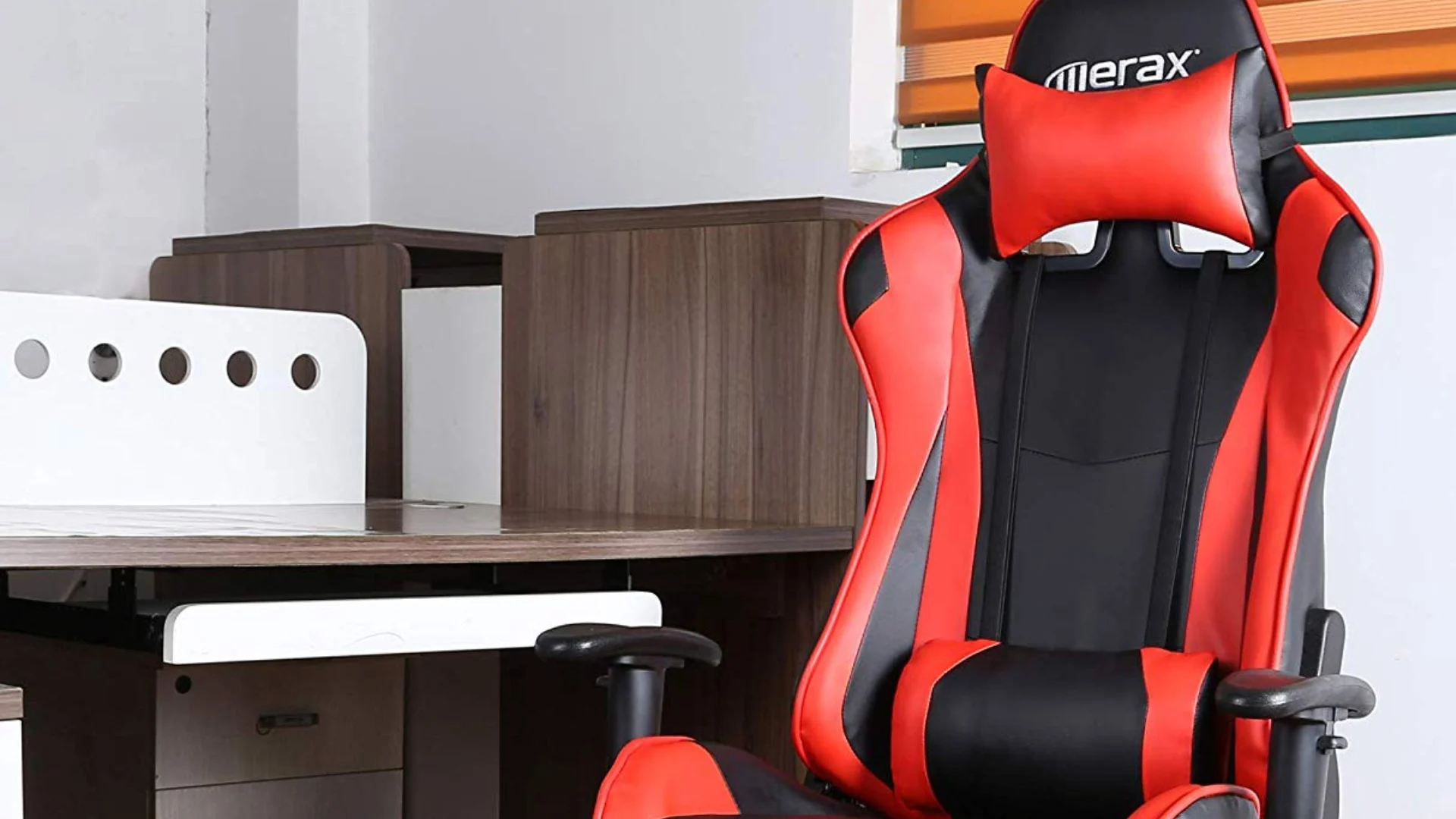 You may also be interested to read about: Best Gaming Chairs for PS4 Players
This chair is a tremendous one; nonetheless, nothing comes without some flaws. One of the setbacks of this chair is that it lacks horizontal movement, but this setback is covered by the wide seat. Another thing that might put some people off is its average weight holding capacity. The maximum weight this chair can hold is 250 lbs which isn't that much.
However, that is quite understandable considering the price tag. Now coming towards the structure and durability. The Merax gaming chair has a tough frame and a rigid base. It comes with durable and smooth-rolling caster wheels to make the movement convenient. Other than that, it is topped with tough PU leather, which is filled with comfortable foam. All in all, this is one of the best affordable and durable gaming chairs you will come across.
Pros
Durable frame and base
Tough PU leather covering
Recliner and tiltable
It comes with a detachable headrest and lumbar support
Affordable
Cons
No horizontal movement
Weight capacity isn't enough
Overall, the Merax gaming chair is an inexpensive chair that can be used as an office chair or gaming chair. The backrest is fully padded and has a lumbar pillow and headrest that can also be removed. Other than that, it has a durable, ergonomic structure with adjustable armrests to provide extreme comfort throughout your gaming session.
---
FAQs
Does the low price tag of the Merax gaming chair make it a poor-quality one?
While some people might think that the Merax gaming chair must lack some features due to its affordability, that is not true. It has all the necessary features that you require from a gaming chair. From durable frames to tough fabric to comfort, it provides all. Other than that, this chair is tiltable and is a recliner. Therefore, do not hesitate by looking at its price tag.
What is the major setback of the Merax gaming chair?
One of the biggest setbacks of this gaming chair is its weight capacity. Although the chair is tough and strong, it can only hold 250lbs of weight; therefore, it might not be for everyone. Another issue with this chair is that it does not have the horizontal movement feature, but that is covered by its wide seat.
Can you use this gaming chair as an office chair?
Yes, you can definitely use the Merax gaming chair as an office chair. It comes with a thick 4 inches padded seat, a high backrest that is reclinable, a lumbar cushion, and a headrest. It provides extreme comfort and prevents tense shoulder muscles with its adjustable armrests.
You may also be interested to read about: Ficmax Gaming Chair Review
Final Note
The Merax gaming chair has gained a lot of popularity due to its affordability, comfort, features, and vibrant colors. It is one of the best gaming chairs which can be purchased without affecting your budget too much. The chair is reclinable and tiltable. Other than that, it comes with head and lumbar support so that you may not feel backaches at any time. In a nutshell, the Merax gaming chair is such a steal the deal offer.

Hi, I'm Françoise and I am a gaming freak. I have multiple gaming machines and spend almost 10-12 hours playing different online games. I got my first gaming PC on my 15th birthday and since then I have used multiple gaming chairs to enjoy the maximum possible comfort.
Unfortunately, I suffered a lot with low quality chairs and that is where I decided to jot down my expertise to facilitate millions of gamers around the world. So I collaborated with Mr. Danny Williams and Solomon Wilson MD. and joined their team on ComfySittings.