Who doesn't want a smooth and soft chair for playing games? When it comes to the elite form of gamers or consoles, and if you are one of them, I know that you will always prefer a chair that will provide you ultimate comfort and joy while playing games. Since you don't have to sit straight, you will like a perfectly reclined chair.
You will get to know some amazing chairs specially designed for you in this article. Console gaming chairs are specially designed so that they can provide you back support, comfortable footrest, or headrest so that you can completely focus on your game and enjoy every session you are playing with great ease.
Best Chairs for Console Gaming Overview
7 Best Console Gaming Chairs Review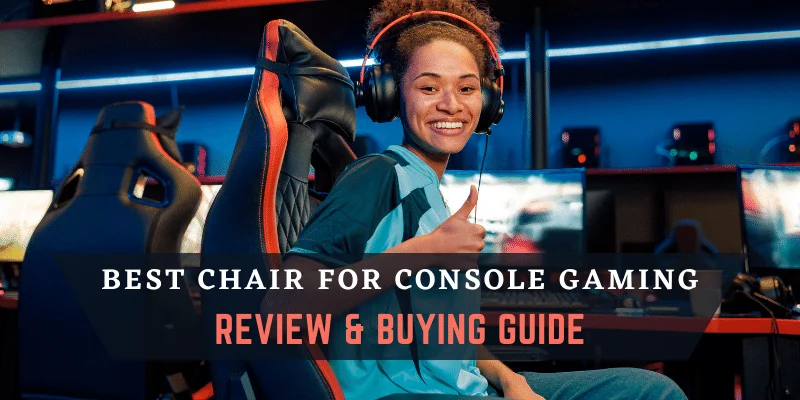 If you are on a chair hunt and are looking for a comfortable chair to buy, then your hunt ends here! Because in this article, I will show you some of the top class and most comfortable chairs that will provide you an amazing experience of playing games.
1. X Rocker Pro Series H3 – Vibrating Floor Console Gaming Chair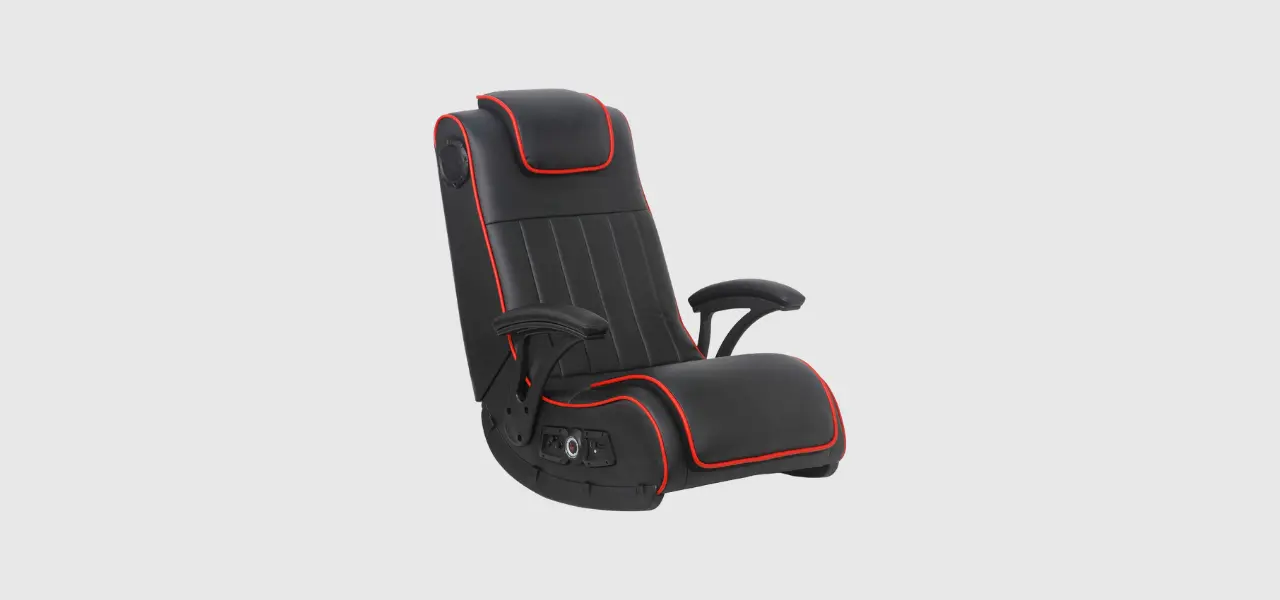 The Rocker series is one of the most renowned series when it comes to gaming. They make one of the best kinds of console chairs you will ever find in the market. That is why no doubt they are at the top of our list as well. This X Rocker Pro series chair is made up of leather and is one of the best gaming chairs with multiple amazing features.
This is a multipurpose chair which you can use for playing amazing games, watching movies, TV while relaxing and reading. It provides a complete media experience due to amazing buffers present in it with force modulation technology. These are four fully powered subwoofers that will provide you the next-level experience of playing games and watching movies.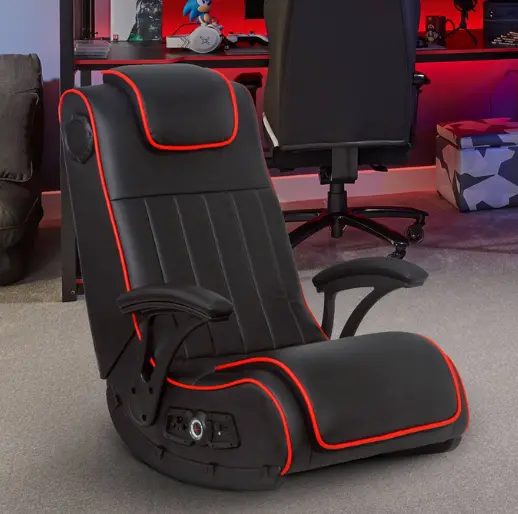 This series will also provide enhanced technology of vibration motors that will astonishingly match your audio bass to give you strong vibrating sensations that your whole body will feel and keep you perfectly entertained for as many hours as you want. This chair is compatible with various gaming stations like Xbox, PlayStation, DVDs, MP3s, Nintendo, and many more, as it will never leave you disappointed.
Specs
Weight 275 lbs.
Vibration motor
Force modulation technology
Ported subwoofers
Swivel pedestal
Inbuilt Bluetooth audio setup
What We Like?
Forward-facing speakers
Compatible with various gaming stations
Ergonomic chair and comfort
Bottom Line
If you are looking for the best comfortable and ergonomic chair, then no doubt this is the best product you can get, and after you will play video games on it or watch a movie, you will certainly be thankful to me for my recommendation. It has implausible inbuilt mechanisms that will certainly leave you astonished. And by using a control panel, you can easily control the bass and volume separately.
---
2. Homall High Back Console Gaming Computer Chair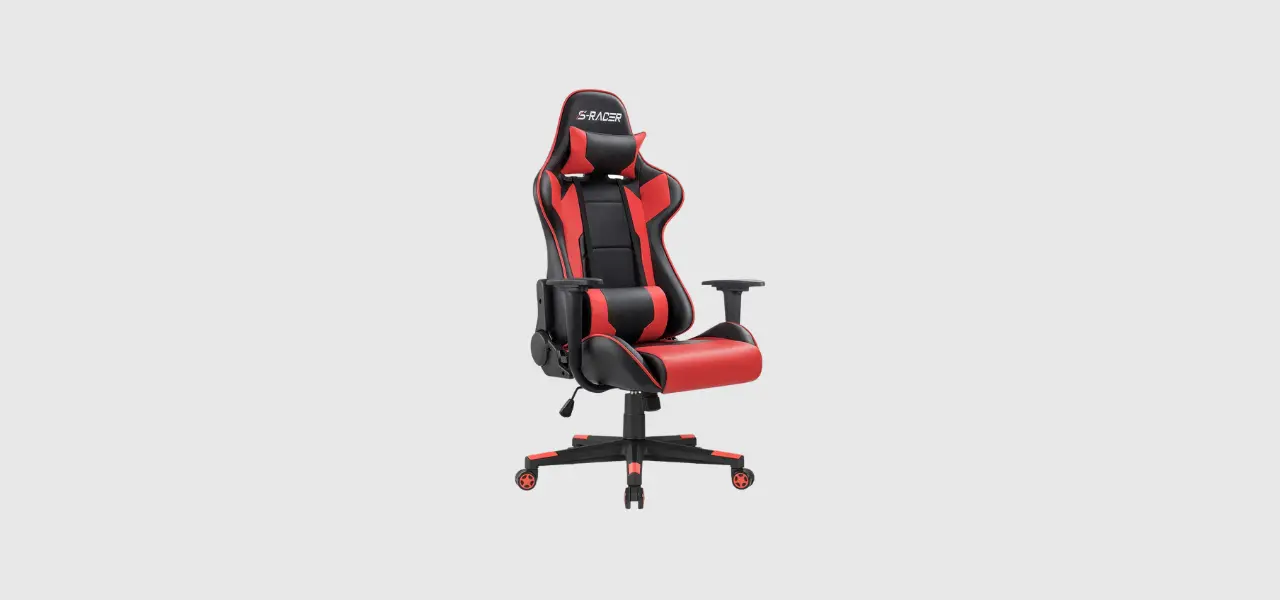 This Homall is no doubt another amazing product about which I am going to tell you about. With a perfect amount of softness, comfort, and an ergonomic chair, it will also provide you with an amazing experience. This chair is specially made with high-quality products that will provide you amazing gaming experience.
This chair has long-lasting elasticity resilience with high-density foam that will prevent any kind of hip pain from occurring due to prolonged sittings while playing games. It has an incredible reclining function that moves the chair's back from 90 deg to 180 deg, which is perfect for you if you are tired of sitting in one position. You will certainly enjoy this feature of the chair.
Rubber casters are amazing when it comes to this chair, and they are helpful in 360-degree rotation. This chair can bear 300 pounds of weight, which is no doubt a surprising fact about this chair. It will make your place look more elegant and decent and most of all it is amazing for using a computer for working purposes during office hours and playing games later on.
Specs
1.8 mm thick steel frame
Bear up to 300 lbs.
Dimensions 22.5 x 30.5 of the back
Size of seat 14.5- 20.5 inch
Recline: 90-180 degree
What We Like?
Sturdy and comfortable
Reliable and skin-friendly
3 class gas lifts
Modern and elegant
Rocking function
What We Don't Like?
Non-adjustable armrest
Heavy
Bottom Line
This chair comes with incredible foaming and skin-friendly leather. It has an amazing rocking function as well, for which the chair can move in to and from direction by just a single knob adjustment. And let me tell you another interesting fact about this chair: the casters' rolling was tested by rolling it for 1000 miles. Impressive right!
---
3. VON RACER Rocking Console Game Chair with Bluetooth Speakers
As earlier, I mentioned that I would bring some of the best consoling chairs for you, so here I am discussing another incredible product with you, which is the Von racer gaming chair. Well, I can certainly tell that you would be amazed by the quality and features of this gaming chair as well.
This is one of the best quality chairs if you are interested in playing games, watching movies, or listening to your favorite music while scrolling the internet. Its incredible 2.1 high-tech audio speakers will provide you a fantastic experience of listening and feeling the bass with the beat, no matter if you are playing a game or watching a movie. It has 2 speakers with the headrest area and 4 on the outer side, which will provide you top-quality sound.
This incredible rocking chair is made with a 360 degree round metal base, which gives a good angle for sitting and playing games as well, and it also comes with a soft headrest. This chair is ergonomic in its structure hence will provide you maximum comfort and support while playing games and help develop your interest and focus on your game. This chair is solid in its structure and will provide you great lumbar support and increased comfort level.
Specs
360 degrees rotation
Dimensions 27.3″ x 34.3″ x 37.8″ (L x W x H)
2 speakers near the headrest and 4 at back
The seat size is 20.8 x 20.5
Provides 1-year warranty
What We Like?
Ergonomic chair
Padded armrests
Perfect level of comfort
Bottom Line
If you are looking for one of the tops and best quality products, this is the chair you should definitely go with as it will never disappoint you. You can rest on it comfortably after intense gaming sections. It is one of the super quality chairs that grants you satisfaction first than anything as it comes with a 1-year warranty on its pieces.
---
4. RESPAWN RSP-110 Racing Style Reclining Ergonomic Chair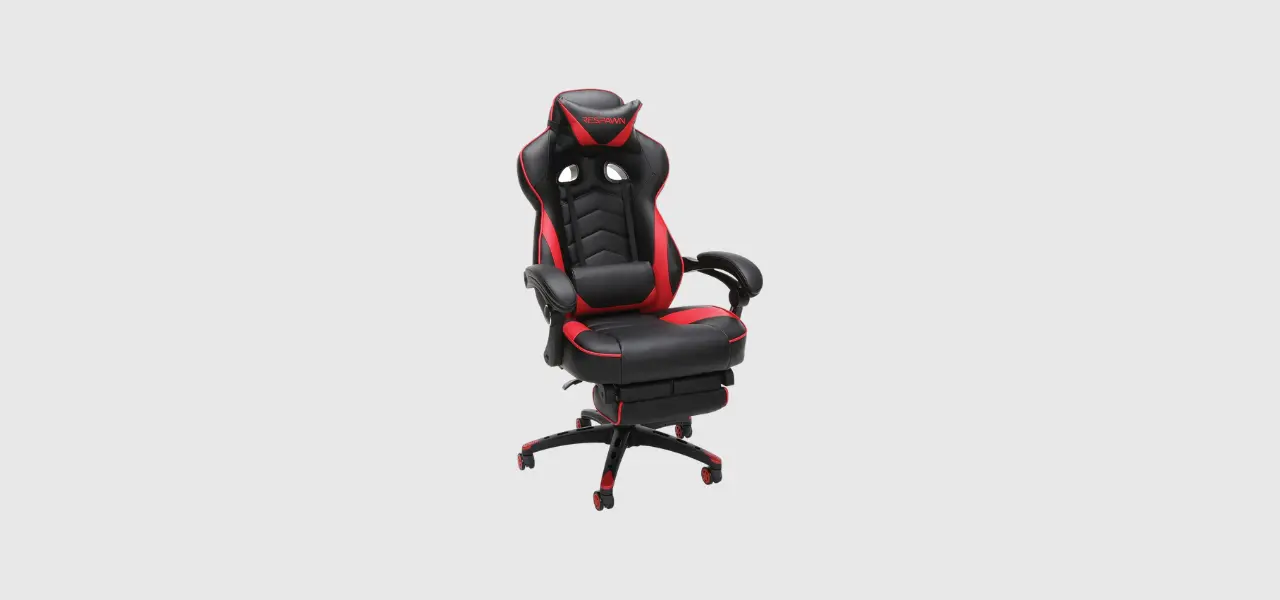 The product that I am now going to introduce to you needs no description of the gaming world. Respawn is an incredible company known worldwide for its most famous ergonomic, super soft, and comfortable chairs. With its gamified seating, it will provide you an astonishing lifetime experience.
It is made up of bonded leather which is reliable and can provide you with a great sense of luxury and support. It is best for intense gaming sessions, no matter how long they are. It will certainly provide you so much comfort that you can focus on nothing else around you but the game only. With its 4D adjustability, you will experience the next level of comfort.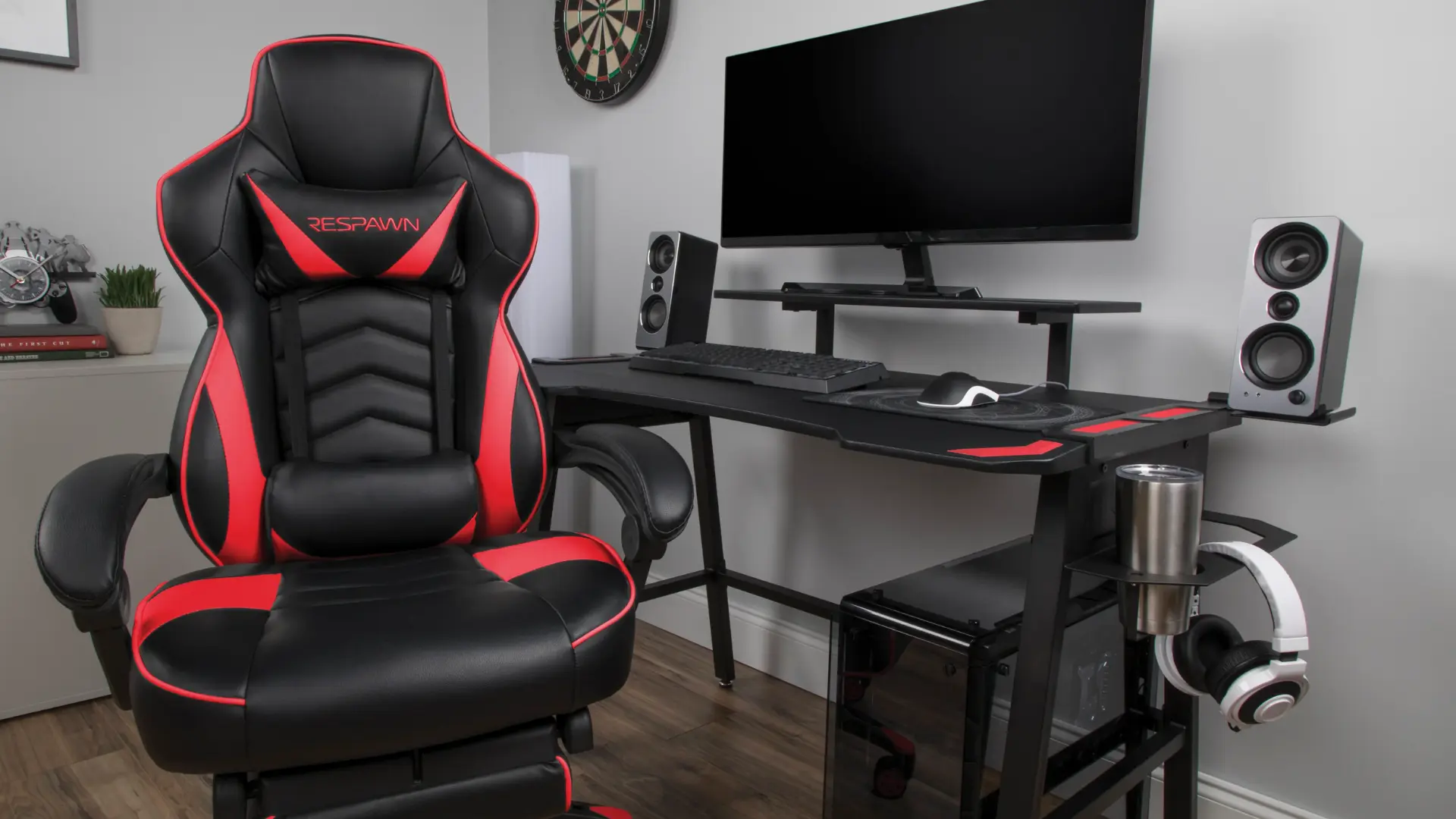 It has an ergonomic seat with a segment and padded design to provide your back maximum amount of support and comfort. Therefore it will make sure that you will be able to climb the game's leaderboard without any tension. It has well-padded armrests and a feel of comfort surrounding all around you. With its infinite locking positions and 360 deg swivel movement, it will provide you best all-rounders effect.
Specs
4D adjustability
360 degree swivel rotation
275-pound weight-bearing capacity
Limited warranty
90-155 degree infinite locking positions
What We Like?
Extendable footrest
Segmented padding
Padded armrests
Bonded leather chair
Race car style gaming chair
Adjustable headrest and lumbar support
What We Don't Like?
Loosen armrests
Not breathable
Bottom Line
This award-nominated brand undoubtedly makes one of the best kinds of chairs and comes with a limited lifetime warranty. It will enable you for dynamic movement. This chair comes in various contrasting colors so that you can choose the color according to your room. You can also adjust the optimal capacity of sitting by adjusting the chair according to your comfort level.
---
5. X Rocker 5143601 II SE 2.1 Video Gaming Chair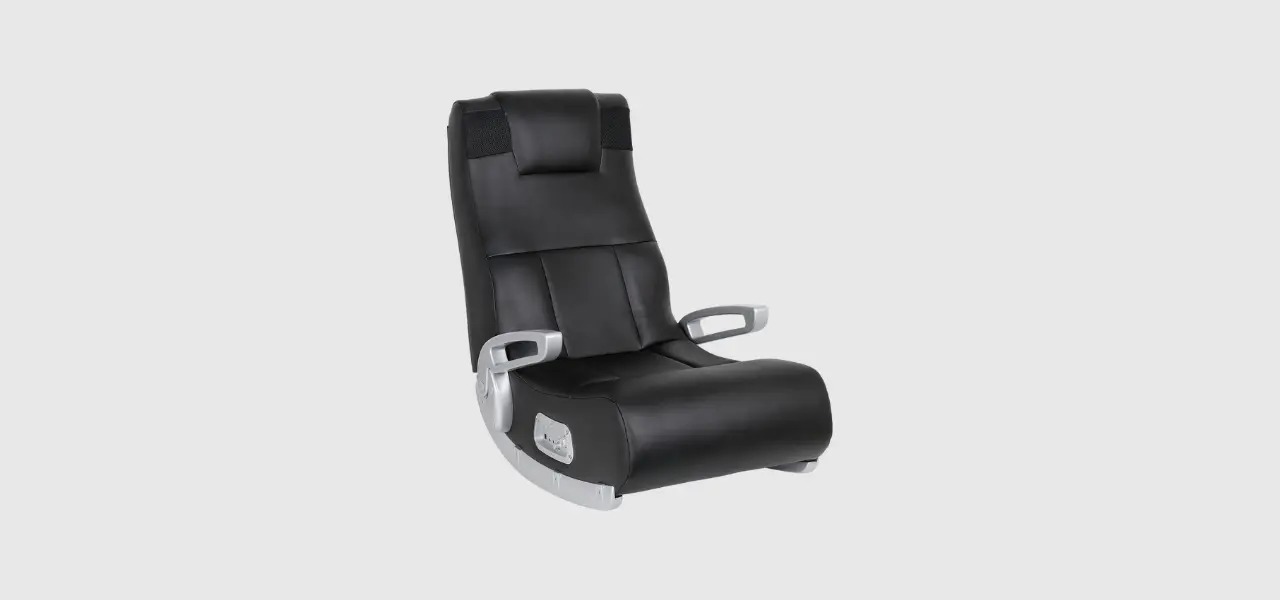 X Rocker chair is also an amazing chair that will provide you the optimum level of comfort and enjoyment while using it. Like the other chair of this Rocker series, this chair is also incredible with its specifications.
It is also an all-purpose chair that you can use for gaming and when you want to watch your favorite movies and listen to your favorite song. This amazing chair has a weight-bearing capacity of 270 lbs and incorporates wireless audio transmission.
You can also customize your own level of bass and volume according to your choice with the help of a control panel after plugging in your headphones. It has 2 subwoofers which will provide you an amazing vibration and sensational experience while playing games or watching movies.
Specs
Weight capacity 275 lbs.
Dimensions 27.8 x 18.5 x 17.5 inches
Weight 47 pounds
2 subwoofers
What We Like?
Wireless audio transmission
Leather chair
Headphones for personal customization
What We Don't Like?
Not compatible with Xbox 1
Bottom Line
Apart from its non-compatibility with Xbox 1, this chair will provide you an amazing sitting and game playing experience. The control panel can connect with multiple other chairs; therefore, you can easily join the game in multi-gaming mode and have incredible leisure time.
---
6. RESPAWN RSP-900 Racing Style, Reclining Gaming Chair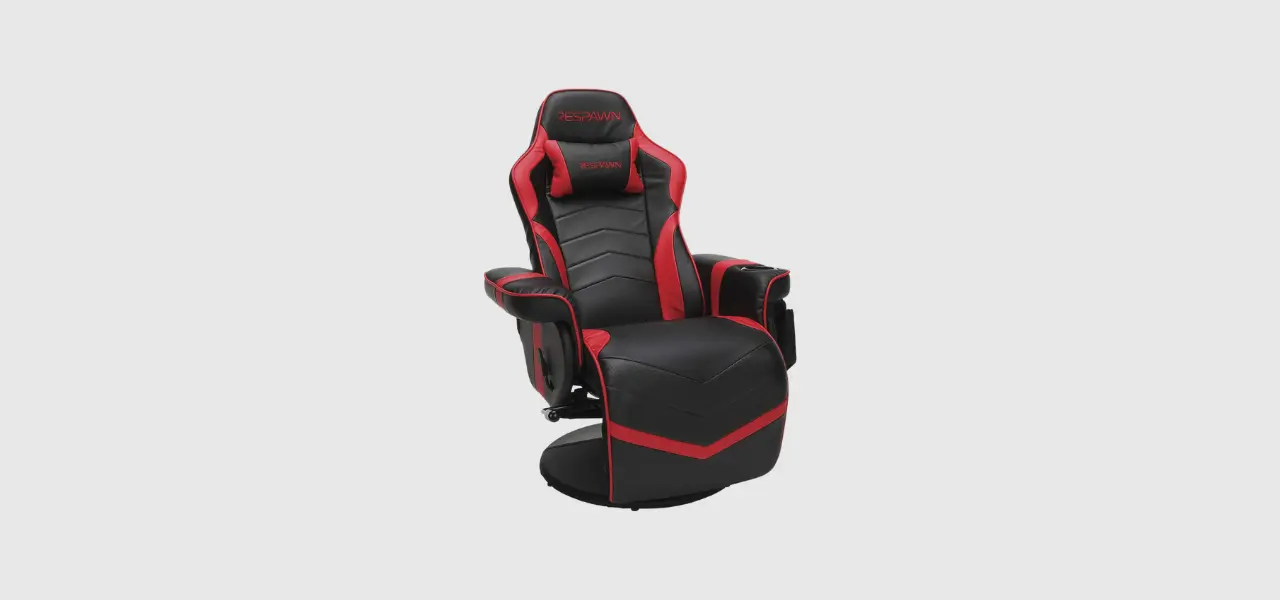 Here I am going to introduce you to another amazing gaming chair by Respawn, which will provide you a console-level experience. This chair is extremely versatile, whether it comes from a removable headrest pillow to segmented padding. It will give you an incredible gaming experience.
This chair comes with other astonishing features like removable side pouches and cup holders so that you don't have to go anywhere while playing a game. If you get thirsty, then voila! You have a drink at your perfect spot. This chair comes with a footrest which is a single surface. Therefore it allows you to focus on the game perfectly without worrying about any wire or anything.
This chair has an incredible recline as well. It provides you an incredible recline of 135 degrees without any hindrance. It provides you an amazing backrest while playing games, and it will make you fully satisfied by balancing yourself well with your proper footrest as well. This chair also comes with a limited warranty as well so that if you observe any issue, you can easily ask the manufacturers about it.
Specs
Features 275 lbs.
360 degree swivel
Dimensions 35.04 x 30.71 x 44.88 inches
Weight 48.5 pounds
What We Like?
Removable headrest pillow
Incredible footrest
135-degree reclining
In-built cupholder
Sturdy support
Independent controls
What We Don't Like?
No lumbar support
Armrests get deflated easily
Bottom Line
If you are looking for a console gaming chair that is easy on your pocket, then this is good quality and easy on a pocket chair that you can easily get for yourself. You can enjoy your leisure time while sitting on it and reading a book or playing games of your choice comfortably.
---
7. Playseat Challenge Black – Foldable Console Gaming Chair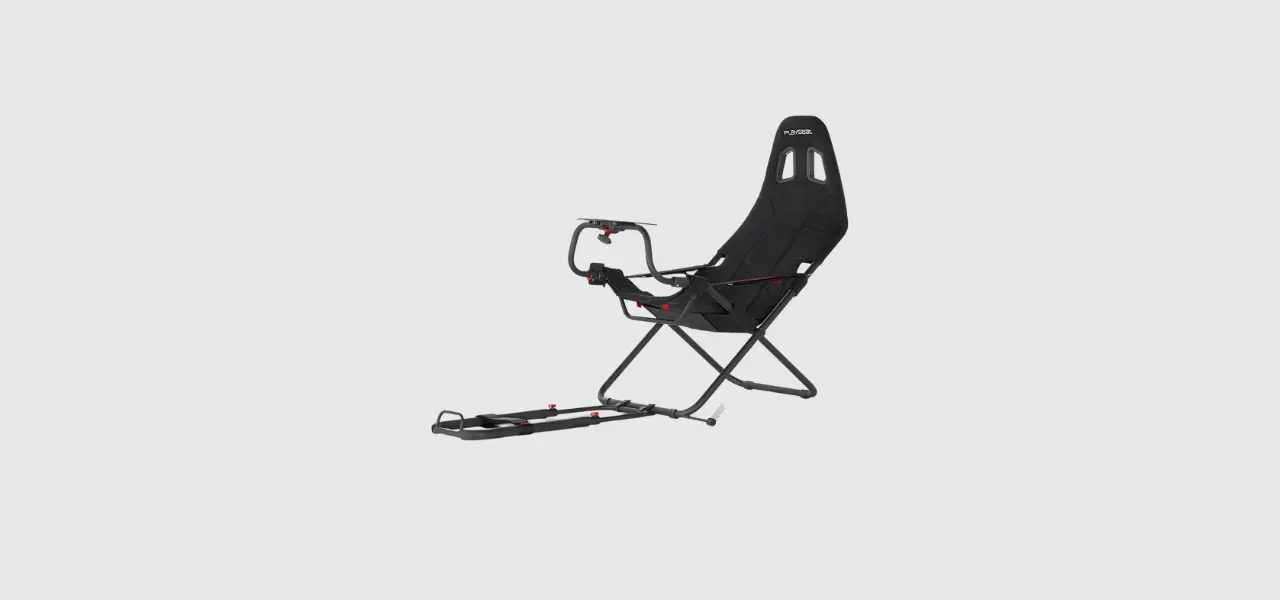 Apart from looking for an ergonomic and soft chair, let me introduce to you another amazing product that is totally different from other regular console chairs. Playseat challenge back is an incredible and advanced product that will leave you astonished. This chair comes with an incredible unique folding design, due to which you can carry it easily and move wherever you want to.
It is very easy to set up and is compatible with all kinds of steering wheels. Apart from all the luxuries, it is one of the best chairs for consolers. If you are interested in speedy games or games related to racing, this is a perfect match for you as you can easily position your pedals with this game and focus on your game all along in a better way.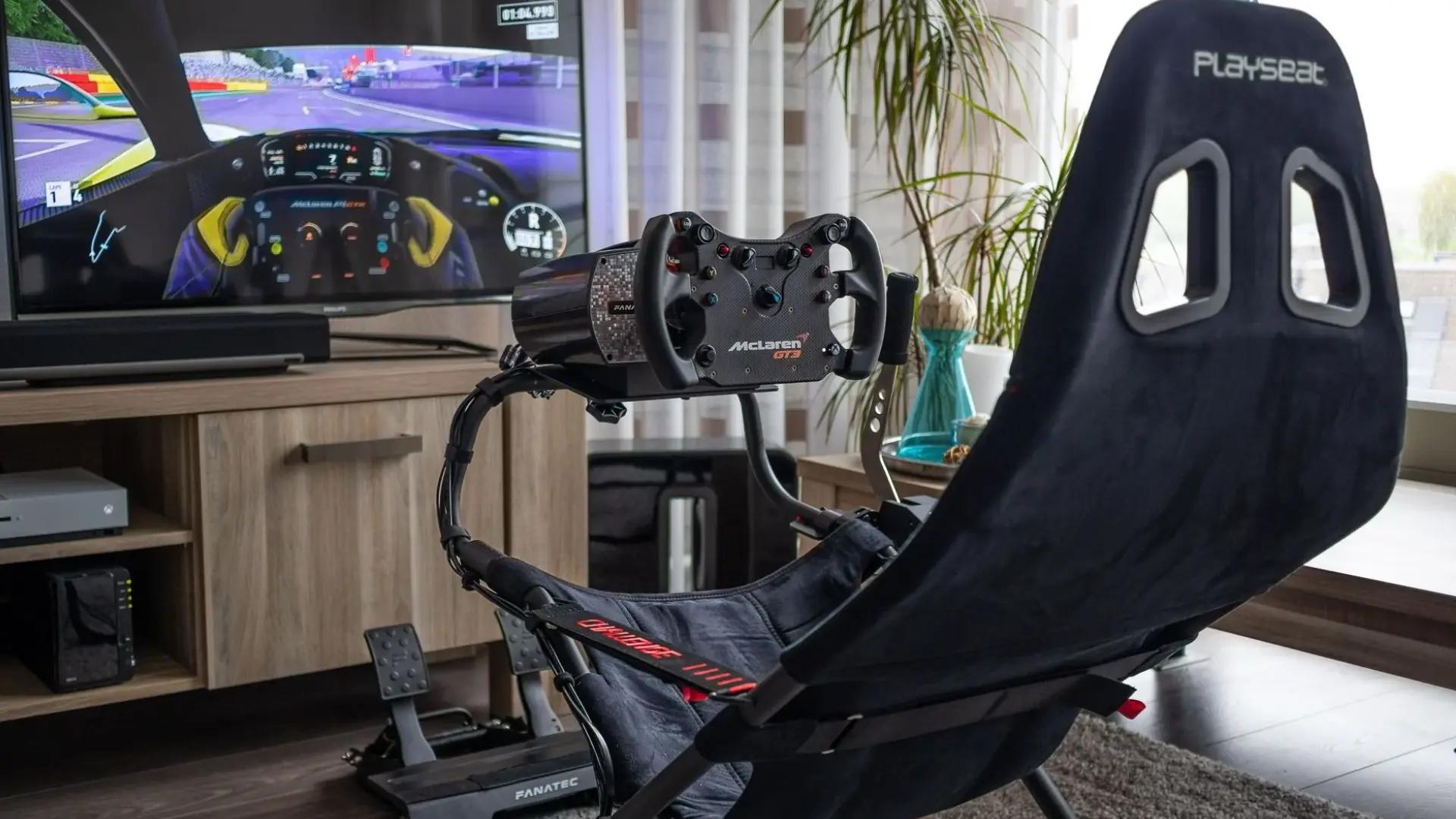 This amazing paddled chair that comes along with realist cockpits is perfect for playing intense games. Pedals and the setup connected to it motivate you to play games and climb up the leaderboard. It is very comfortable to use and will provide you a more fun racing experience overall than any other kind of chair.
Specs
Nylon mesh
Dimension 32 x 23 x 8 inches
Foldable
Features 200 pounds
Weight 3.31 pounds
What We Like?
Unique design
Super quality buildup
Durable and long-lasting
Bottom Line
If you are a racer, then this is a perfect setup that only needs 5 mins to fix in front of your tv, and if you want to remove the chair from that place then you can just easily fold it and put it aside. It is perfect if your wife doesn't like extra gaming chairs. Hence providing a perfect solution to your gaming problems.
---
Buying Guide For Choosing Right Chair For Console Gaming
If you are interested in buying a perfect gaming chair, you should keep in mind some of the basic points regarding these chairs.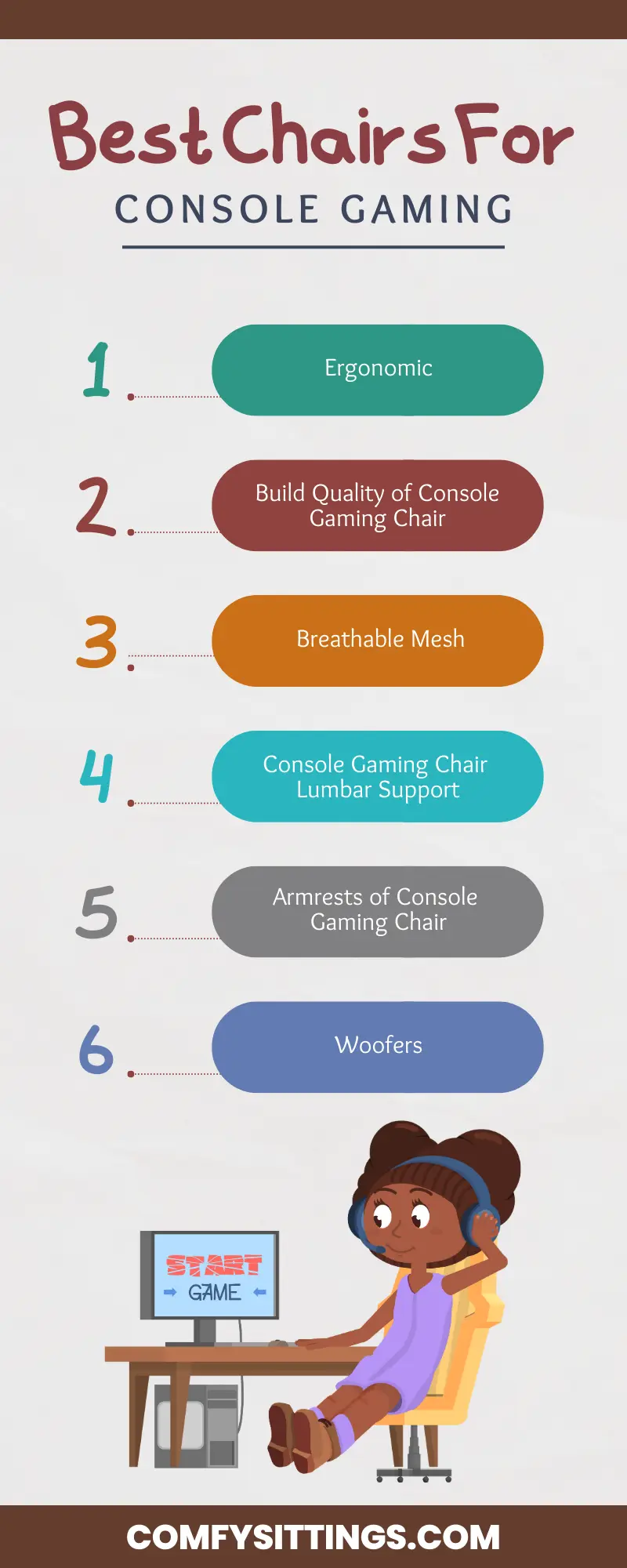 Ergonomic
As gamers spend most of the time sitting on a chair, buying an ergonomic chair is most important for a gamer. You will certainly need some space to be comfortable and enjoy your game while being fully focused and not getting irritated by the seat. They should offer increased adjustability levels.
Build Quality of Console Gaming Chair
Another main thing to check is the building quality of the product by the company. Try to buy a chair in your budget range that comes with a maximum amount of benefits. Do not invest in a chair that is not reliable or doesn't have a strong solid body.
Breathable Mesh
Before buying a chair, don't forget to check the mesh of the gaming chair. Any chair with a good quality mesh will provide you a breathable back with continuous airflow that will keep the seat cool. As well as it will help you to remain sweat-free.
Console Gaming Chair Lumbar Support
As a gamer likes to sit and play games for a prolonged period of time, therefore, I would suggest you buy a chair that provides your back instant relief or provides you better lumbar support. Do select a chair with some reclining options to adjust according to your choice and your game type. They should have tilts and locks.
Armrests of Console Gaming Chair
Armrests are the most troublesome part of the gaming chairs. While selecting one, make sure that the armrests are adjustable, or even their absence will not matter in gaming chairs. Most of the chairs that offer armrests can lose up very early or are unreliable to play with.
Woofers
If you are into decent kinds of gaming chairs, then make sure to buy a chair with good quality woofers as it will provide you a next-level gaming experience. The vibrations from these woofers will help you build your focus on the game and will not let you divert your attention.
Frequently Asked Questions
What is the best chair for console gaming?
The best chair for console gaming is none other than X Rocker Pro Series H3 Black. It provides you amazing back support and intense gaming sessions. You can certainly enjoy its innovative technology and force modulation.
Are gaming chairs worth it for console gaming?
Yes, the gaming chairs are worth it for console gaming as they will provide you an extremely comfortable and new kind of environment while playing games which you will certainly enjoy. These help you spend more time and focus on games. For next-level experience, you should certainly buy this chair and try it out.
Should you really buy a Console Gaming Chair?
Gaming chairs are incredible when it comes to an investment as they are worth buying and playing on. If you spend long hours playing games in your rooms, this will be the perfect new option for you. It will provide you good posture and incredible support to your back while playing games.
What should you sit in a gaming console?
You should sit in a gaming chair designed for gaming consoles. Gaming chairs are designed to provide comfort and support while playing video games. Some gaming chairs come with built-in speakers and vibration motors for an immersive gaming experience.
Final Thoughts about Best Console Gaming Chair
Console chairs are worth investing in and incredible product to buy if you like gaming for hours. If you are looking for incredible gaming console chairs, I am glad that you came across this article. I hope you would have found this article very helpful and interesting. My top three picks and recommendations are,
I hope this article will help you in your purchase and you will be able to find the best product for you.

Hi, I'm Françoise and I am a gaming freak. I have multiple gaming machines and spend almost 10-12 hours playing different online games. I got my first gaming PC on my 15th birthday and since then I have used multiple gaming chairs to enjoy the maximum possible comfort.
Unfortunately, I suffered a lot with low quality chairs and that is where I decided to jot down my expertise to facilitate millions of gamers around the world. So I collaborated with Mr. Danny Williams and Solomon Wilson MD. and joined their team on ComfySittings.